While many Parisians have fled the city for the month of August, the city is far from dead. It's a great time to be in Paris: the streets are less trafficked, perfect for biking with a velib, you can make your way around the city to the many events happening almost daily – here are some of our top picks:
Paris quartier d'Eté
: This annual event proposes a wide choice of entertainment (including dance, music, theater) in some of the cities most beautiful places. Enjoy concerts in the Jardin du Luxembourg, theatre in the Palais Royal or even Jazz in the Arena of Montmartre. See their site for full listings – events run until August 15th.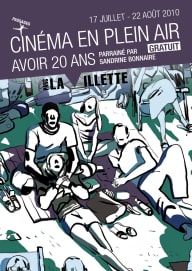 Cinema Plein Air: this is a great event, almost every night you can enjoy a film in the open air at La Villette park. As the festival is celebrating its 20th Birthday, this year's theme is "Being 20 years old", thus the line-up has a youthful feel. Don't forget to pack a picnic and a blanket – It's on until August 22nd.
Here are some films in English:
Thursday August 5 – Juno – Jason Reitman,  – 2007 – 1h31  USA – Canada
Saturday August 14: Vicky, Cristina, Barcelona – Woody Allen – 2008 – 1h37 – USA
– Sunday August 22: Grease – Randal Kleiser – 1978 – 1h50 – USA
Paris Plage – This annual beach has become a successful tradition in Paris and gets better every year. The quais along the Seine have already been transformed into a beach, with sand and deck chairs. Take a stroll along the beach and you will be able to enjoy an ice cream in a friendly atmosphere, or even do some sports (on through August 20).
Some of the interesting activities this year include; Smoothie workshop, Badminton, Scientist workshops and the music festival "FNAC indétendances"
F    Lots of fun for all ages – have a great summer!
Comments