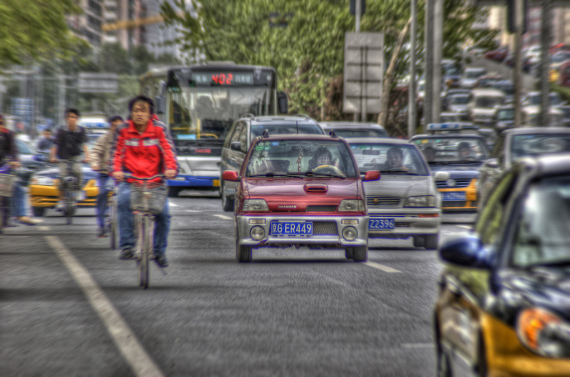 You're in Beijing for just a few days and you want to pack in all the top sites—the Forbidden City, Tiananmen Square, the Great Wall, the Summer Palace, and maybe the hutongs, 798 art district, and a few other temples. China's capital is a massive, sprawling city with much to see. To get around Beijing with finesse and without stress, read on.
METRO
The Beijing metro's daily ridership tops 3.6 million. At a cool 465km, it is the world's third longest metro system, coming in just behind Shanghai. It's quite easy to navigate; ticket machines have an English option, and all signage is written and stops called out in English. If you don't have a lot of baggage and are staying by a metro station and going to somewhere near one, this is a good option. For a mere ¥2 (US$.33), the metro can take you across the city, to the Summer Palace, Tiananmen Square, the Forbidden City, the hutongs, and the Olympic Stadium; a connecting express train whisks you to and from the airport. Trains run every two to three minutes. Beijing traffic is terrible, and you can spend hours stuck in a taxi, making the metro a quick option. The metro is not for agorophobes; during rush hour (8:30am-10am; 5pm-7:30pm), passengers are packed in like sardines. During the same time, however, it can be nigh on impossible to get a cab. During these hours ff you can get one, it's certainly more comfortable, but will take more time.  If you are taking the metro, also be prepared to have your bags scanned prior to entering for security measures.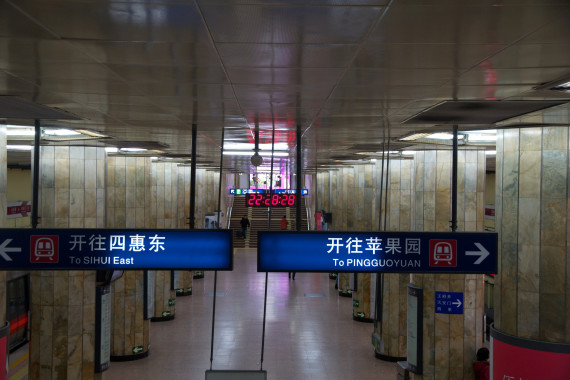 TAXI
Taxis in Beijing are cheap and plentiful, unless it's raining or rush hour. Cabs start from ¥13 for the first 3km, ¥2.3 is charged for every kilometer thereafter, up to 15km. Once 15km has been charged, it's ¥3.45 per kilometer. From 11pm-5pm, it's ¥2.76 per kilometer. Every ride has a fuel surcharge of ¥1. If you know you need a cab, ask your hotel to book ahead, especially during rush hour; you won't be able to find one otherwise. Cabs are best for far-flung areas like 798 art district and the Temple of Heaven and for getting to places that would require several metro transfers. Make sure you have the name—and if necessary, the address—of your destination written down in Chinese characters. Cab drivers do not speak English, making a written Chinese address vital.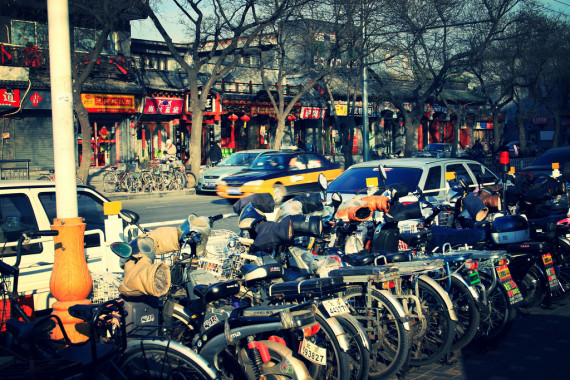 WALKING
Shanghai is a pedestrian paradise compared to Beijing, which is so massive that it cannot effectively be covered on foot. There are, however, some neighborhoods where walking is best. Narrow alleyways that they are, traversing the hutongs makes for a delightful afternoon stroll—just watch out for the cars that try and squeeze in alongside. The area immediately surrounding Tiananmen Square and the Forbidden City is off limits to cabs, so if you're staying at a nearby hotel, such as the Peninsula or the Hilton, you're better off walking. Though you may want to get to it in a cab, Sanlitun is great for pedestrians, and you can easily pick up rickshaws here too, if you're feeling adventurous.
Comments