Throughout late November and December, people flock from all over the world to visit Central Europe's fairytale Christmas Markets. The offerings range from the magical to the downright tacky, so we've consulted our local experts to bring you the best festive fairs in Berlin, Budapest, Prague and Vienna.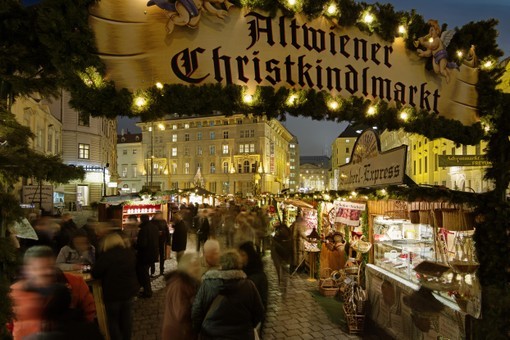 Our docents tend to skip the larger, more commercialised options in favour of the Old Viennese Christmas Market on Freyung. It's an intimate affair with less traffic (human and vehicular!), surrounded by the scenic First District. The items for sale are more unique too. "The key to the market is, first of all, warmth — you want to try out the food and drink that has heat!" explains docent Lisa Regan. "Among drinks there are two major warm beverages:  Glühwein and Punsch.  I'm an agnostic in the Glühwein vs. Punsch debate; the Punsch has more alcohol (usually rum) and is deadlier, but it comes in more flavors, some of which are really fun. But my favorite Christmas Market snack is the gebrannte Mandeln — they're almonds roasted with sugar and served hot in a paper cone and they're delicious." Read more from Lisa about Vienna's winter festivities.
Berlin has numerous Christmas Markets, many of which are best avoided unless you like overpriced food and generic gifts. The crowds can be overwhelming as well, which can dampen the experience. To find unique presents in a cosy atmosphere, Berliners head to smaller, one-off indoor markets like the hip Voodoo Market at Urban Spree (Dec. 8, 2014) in Friedrichshain or the seasonal edition of Nowkoelln (Nov. 30, 2014), which takes place in a former redbrick factory in Kreuzberg; both feature stallholders who are local designers. If you're a sucker for tradition, head to Spandau Old Town, well worth the 15-minute train journey for a more authentic atmosphere. Alternatively, Charlottenburg Palace provides a beautiful setting, plus you can explore the surrounding area, including the fantastic Berggruen Museum.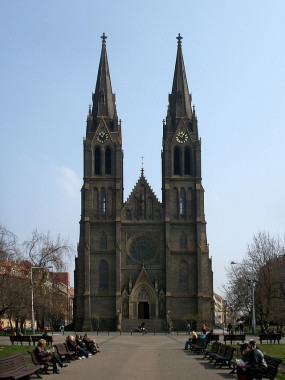 December in the City of One Hundred Spires can become quite hectic if you remain in the Old Town, which swarms with tourists visiting the major Christmas Markets. Instead, seek out the pretty market at Namesti Miru, which takes place under the shadow of the Church of St. Ludmila, about 15 minutes' on foot from Wenceslas Square and well worth the walk. Another alternative is the farmers' market at Jiřího z Poděbrad, accessible from the city centre via metro line A. Taking place year-round from Wednesday through Saturday, the market shares a square with a stunning modernist church by Slovene architect Josip Plecnik, as well as an impressive Christmas tree during the festive season. A perfect off-the-beaten-path option for sampling some local delicacies and an authentic ambiance.
St. Stephen's Basilica provides the backdrop for one of Budapest's best-loved Christmas Markets: a stylish affair complete with its own ice rink. For something less obvious, there's a smaller market in front of Octagon (alight at the eponymous metro station) between Jokai ter and Liszt ter. For a taste of a true Hungarian neighbourhood, take the M1 north to the end of the line, get off at Újpest-Központ and walk to Szent István tér, where you'll find a charming little Christmas Market. Újpest is one of the city's newest districts and has a very different feel to the rest of the city. Further afield is the quaint town of Szentendre, located just under 25 km from Budapest centre and easily accessible by suburban train. It's great for shopping, sightseeing and sampling (including the National Wine Museum and the Marzipan Museum), and has its own wonderful festive market.
Local tips
DO take a mug home! At most markets, you get a mug if you buy a Glühwein or other hot drink, and it usually has the name of the market, a picture, and sometimes the year.  You pay a small deposit — a euro or two — for the mug, and if you don't hand it back (and they have plenty of them), it's a nice and inexpensive souvenir.
DON'T forget to take care of your belongings, despite the festive cheer. Sadly, pickpocketing is rife at crowded events like Christmas Markets.
Comments