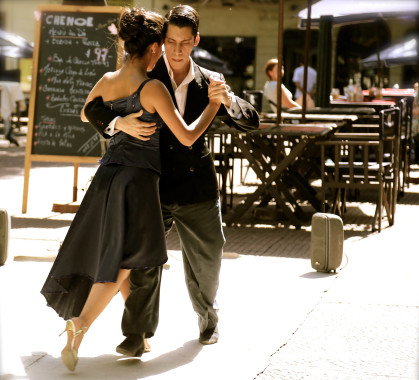 A great cultural fascination of Argentina is unquestionably the enigmatic world of tango. We're thrilled to have as one of our first walks in Buenos Aires Tango, Beyond the Dance, a three hour walk which takes visitors on an insider tour of this art form. However, to supplement the walk, we've asked a few of our tango docents to reveal some of the secrets to embarking into tango culture in Buenos Aires on your own, here are their tips.
The evenings of Buenos Aires resonate with tango. While the area of San Telmo might live and breathe tango, across the whole city there are  hundreds of Milonga, dancehalls and other venues where tango is danced. One of the most essential things to know before even entering a Milonga is to understand the etiquette.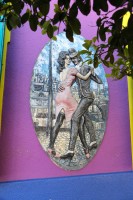 Docent Salomé Boustani, an actress and tango aficionada, explains that it depends on where you go dancing, but in general, it is important to know that Argentine dancers give great importance to "eye contact" and "cabeceo" (inviting someone to dance by a movement of your head). This means that people who are interested in dancing with you will first make eye contact to let you know that it is ok for you to ask them to dance (if you are a man) or that they want to ask you to dance (if you are a woman). If you are looking at a woman who does not look back at you (but who has noticed you were looking at her) she most probably does not want to dance, and you might not want to expose yourself to get rejected. So Argentines don't just come up and ask people to dance, they are aware of this before asking. If your looks coincide, then the "cabeceo" can take place. Or a more common "do you want to dance?" will work too, if you are still a bit confused or shy to go for the "cabeceo." The important thing is to first have some sign that the person is interested in dancing with you.
Once you have the etiquette down, it's time to put on your dancing shoes and descend on a Milonga. Docent Teresa Marcaida, a professional contemporary dancer, recommends these four Milongas which shouldn't be missed: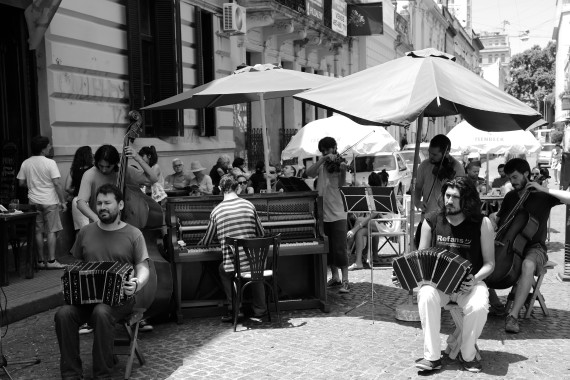 Docent Ana Lia Gromick, a tango teacher and dancer, has these other Milongas to suggest:
Ventanita de Arrabal (Almagro, Av. Rivadavia 3832, open from 10pm till morning) It's organized by a group of musicians, the Sexteto Fantasma, in an old house with several rooms were you can have a meal, have some drinks or dance and listen to the musicians and their guests. It's free of charge, but you will be asked a collaboration for the musicians (voluntary contribution).
El Faro (Villa Urquiza, Av. Constituyentes 4099 y Pampa): Another really nice place to see live performances (not dance) is the "bar notable". It's a bit far but the musicians are really great, the homemade food delicious and the site very traditional and with the "barrial" spirit. Every Friday there's a different performance (mainly singer and a guitar, sometimes a pianist and a bandoneon is included, but not bigger orchestras).
If you are looking to watch a show rather than participate Teresa also recommends attending one of these three excellent shows:
Astor Piazzola Theater ( Florida 165): Set in the gorgeous historic Guemes theater, it's one of the most eminent tango theaters in the world. Visitors can attend either dinner and/or tango dance and music show performed in the spirit of legendary musician Astor Piazzolla.
Esquina Carlos Gardel (Anchorena 565): Another beautiful venue, it located on the site of the former restaurant of early tango singer Carlos Gardel.
Senor Tango (Vieytes 1655): This theater near the port is set in a vast former general store established almost a century ago by newly arrived Italian immigrants. The now elegant building is the largest venue in Buenos Aires for tango.
She also offers up these annual dates to pencil into your tango calendar:
Late April-early May: Campeonato Metropolitano: A week and a half long contest open to any couple willing to participate. It takes place in Milongas and there are three every night. The round of eliminations lasts a week and in the following three days, the semifinal and the final take place. The winner of the Campeonato Metropolitano gets to go immediately to the finals of the World Tango Championship.
Mid-late August: World Tango Championship. An annual competition held during the Buenos Aires Tango festival. It has two categories: "Tango de Pista" (Salon tango) of milonga dancing and "Tango Escenario" (Stage tango) a more choreographed dancing.
December 11th: National Tango Day. Outdoor stages are built along the whole of Avenida de Mayo hosting different tango performances.
Context runs our Tango, Beyond the Dance as both group and private walks. We can also arrange evening custom walks with a docent accompanying you to a Milonga.
Comments