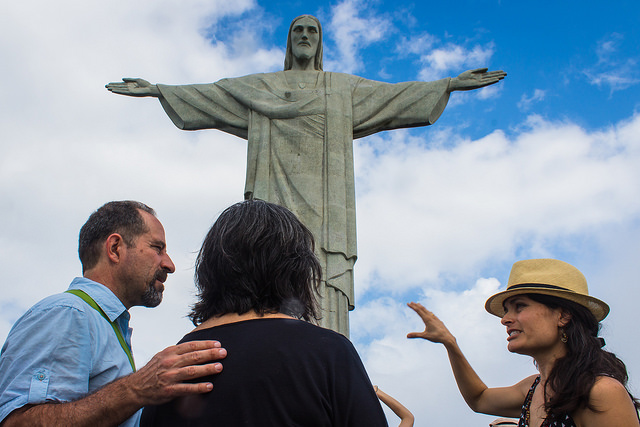 Rio has been getting a lot of attention recently, and we'll be the first to admit that not much of it has been great (for more information, watch this quick primer on the country's recent political troubles). Many visitors are now asking themselves "is Rio safe?" before considering a trip to the city. However, Brazil's been in a slump or two before (ahem, a military dictatorship from 1964-1985), so political turmoil is nothing new. In fact, Brazil consistently ranks in the top 20 happiest countries in the world in spite of the tumult, a fact that reflects a fundamental truth about Brazil: its people can put aside their problems and enjoy the fruits (proverbial and literal) of their country.
This doesn't mean visitors have carte blanche to wander in Rio—especially its favelas, which cycle through periods of relative peace and violence. Earlier this year, an English woman was shot while driving through a favela in Angra dos Reis, a few hours from Rio, leading many to wonder, "is Rio safe?" Some feel as though a whiplash effect has taken place, with the millions poured into the city's development and marked uptick in security in advance of the 2016 Olympics now giving way to a new, darker period as the city receives less international scrutiny.
So, is Rio safe? Like many cities, it depends on where you go, and how you act while you're there. Per the US State Department, you should "[a]void favelas, even if on a guided tour. Neither the tour company nor the city police can guarantee your safety when entering favelas." The British government echoes the sentiment, saying that "all favelas are unpredictably dangerous areas, and remain high risk given the level of violence within them and the severe strain on police resources. You're still at risk even if you visit favelas with organised tours. Violence, particularly aimed at police and officials, can occur at anytime and overspill to areas close to the favelas." While "[m]ost visits to Rio de Janeiro are troublefree…crime levels are high," and "you should be vigilant, particularly before and during the festive and carnival periods."
This sentiment is echoed by our experts on the ground. Rio docent Amber Daniela states that "Rio is like most large cities in that you need to be street smart. Don't bring an expensive camera or gold necklace, because it just sends the message to someone in a desperate economic situation that you have valuable things. Don't put your cellphone in your jeans pocket and be mindful of it at all times. Theft here is based on opportunity to snatch something quickly or without detection."
Meanwhile, Juanjo Gonzalez, another Rio docent, says that "the trouble in the favelas right now is an internal one, essentially one gang fighting another gang for territory. Since the Olympics, the state has gone broke and there is not the same funding going into to security deep within the favelas. Therefore, it's given the gangs the chance they've been waiting for to reclaim or extend their "turf." It's quite sad, as the favela is an incredibly interesting and culturally rich place, and these gangs have essentially highjacked them from even those who live there."
Over the past few years, we've run a tour in the Complexo do Alemão and Mangueira favelas in Rio, exploring the neighborhoods with a local and visiting a local school, with a portion of the proceeds benefitting the Estrela da Favela organization. Because of the recent uptick in violence and warnings from governmental organizations, however, we have suspended this tour; we're keeping a close eye on the situation, and hope to resume operations in the near future. In the meantime, donations to Estrela da Favela, which seeks to provide educational and sporting opportunities to children in favelas aged 4-14, can be made here.
Visitors wondering "is Rio safe?" should always proceed with caution, no matter where they are in the city; however, at this moment, the favelas are best avoided altogether. For a full guide on how to stay safe in Rio, we suggest reading the British government's guide to Safety and Security in Brazil.
Despite this, we're betting on Brazil's future—with Rio looking particularly bright. Despite the political rollercoaster, the Brazilian market is looking on the road to recovery: the Real is on the rise, markets are stable and even growing with new investments in tech start-ups and booming hedge funds. Famed New York jazz club Blue Note is opening a Rio location, promising to bring big names to the Marvelous City. And what was recently one of the city's most economically depressed areas (though culturally wealthiest), the Valongo Warf in Rio's Centro neighborhood, was designated a UNESCO World Heritage Site. Now Cariocas (residents of Rio) are imagining bold next steps, perhaps in the form of a Africa-Brazil Museum. And we are personally thrilled about the reopening of CRAB, the Center Reference for Brazilian Handicrafts, after many years of construction.
So, is Rio safe? Like any great city, it depends on where you go, and how you conduct yourself when you're there. This being said, we wouldn't hesitate to visit—for the savvy traveler, the embarrassment of natural and cultural riches are well worth the (minor) risk, provided the suggested guidelines are followed. See you on the beach.
"BRAZIL IS NOT FOR BEGINNERS."
-Brazilian proverb
For more on our experiences in Rio's favelas, see our guide to a visit from last year.
Comments