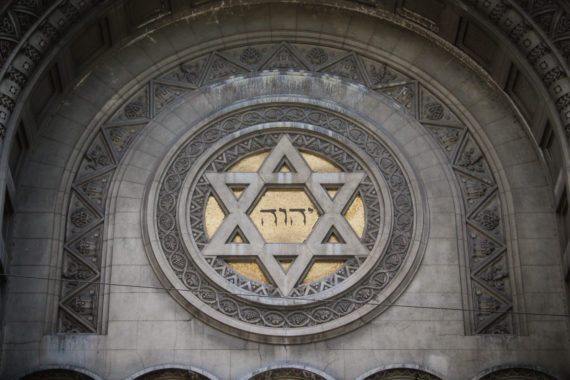 Buenos Aires hosts the largest population of Jewish immigrants in Latin America, a topic that we explore on our Jewish Buenos Aires tour. We sat down with historian Natalia Jerez who leads this tour and asked her about the history of Jews in Argentina and where travelers should go in Buenos Aires to learn more.
Jews in Argentina
We were curious to know why there is such a presence of the Jewish community in Argentina generally. Natalia explained that Jewish immigration happened in two phases. The first occurred alongside the foundation of the city by the Spaniards. Around 1500 AD survivors of the Spanish Inquisition immigrated to Argentina as colonists. Many of them were Spanish conversos, or so-called New Christians, who converted to Christianity and mingled with the general population. There was also a population of Sephardic Jews from Northern Africa that came with sheep and mixed with the indigenous community.
However, the largest population of Jews in Argentina was the Ashkenazi immigrants who came to South America at the end of the 19th century to escape violent persecution during Russian and Polish progroms. These immigrants were aided by a French Jewish philanthropist, the Baron Maurice de Hirsch, who paid for the ship that brought them safely to Argentina to work in the pampas, the inland agricultural lands. This began a large wave of immigration of Jews in Argentina; and these Argentine agricultural workers became known as the original Argentine cowboys, or Gauchos. That's right: Jewish cowboys. How cool is that?
Their largest remaining colony in Argentina is 9 hours north of the city of Buenos Aires, in a UNESCO World Heritage Center called Moisés Ville.
Buenos Aires
Before WWII, many Jews in Argentina also settled into the neighborhood of Once (pronounced Ohn-say), or eleven in English, and set up wholesale clothing shops. This area evolved to become the industrial garment district of the city. And finally, there was a third wave of immigrants, mostly teachers, who came to Buenos Aires from Russia and Poland to educate their Jewish population.
If you're interested in Jewish heritage in Buenos Aires, then Once is the place to visit.
What to See in Once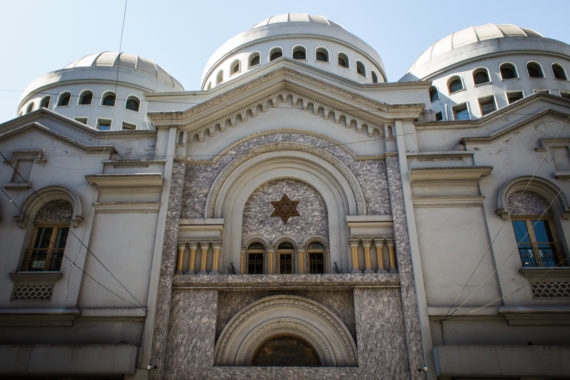 A key attraction in Once is the conservative Synagogue Gran Templo Paso. This is the main reason the community has located themselves in the neighborhood. In Buenos Aires, as in France and Israel, there are mostly conservative as opposed to reformist synagogues popular in the United States. The Gran Templo Paso welcomes Jewish visitors with service in Spanish and Hebrew. Insider's tip: The rabbi, originally from New York, is a busy man, but happy to have a conversation with you in English if you can catch him during one of his rare free moments. Here, the men and women sit together at synagogue and adhere to a dress code policy that asks women to wear a long skirt and men to wear a kippah. For Shabbat, the synagogue prepares a meal for all attendees, but a donation is expected. The remaining food left after the meal is given to the neighborhood's homeless.
The Asociación Mutual Israelita Argentina (AMIA), is the Jewish community center in Once. The center features an interesting tour of Jewish history and of the center and shows a short film about Jewish immigration. It costs about $15 per person and is recommended to get main idea of Jewish community in BA. Bring your passport. (We also offer an in-depth, 3-hourJewish Buenos Aires tour.)
While walking around this historical garment district, be sure to stop in to one of the wholesale clothing shops and chat with the staff. They can give you a vivid portrait of life in the neighborhood.
Another recommendation is a night of Yiddish theater at Idisher Folk Theatre (IFT) in Once on Boulogne Sur-Mer street.
Outside of Once, but not to be missed, is the former Embassy of Israel, where there is a memorial to the still unsolved bombing of the embassy in 1992. Although the perpetrators of the attack are unknown, it is thought to have been a result of international Israeli-Arab tensions of the era. There was a further terrorist attack on AMIA in 1994, and there is also a moving memorial there as well. And believe it or not, the Cathedral in Plaza de Mayo is a great stop on the Jewish Buenos Aires list. In 2013, months before becoming Pope Francis, Archbishop Bergoglio held a Jewish-Christian ceremony commemorating Kristallnacht, and he dedicated a memorial plaque of the Jews of the Holocaust that can be seen inside the Cathedral. Lastly, Templo Libertad is another notable Synagogue that should be visited in Buenos Aires.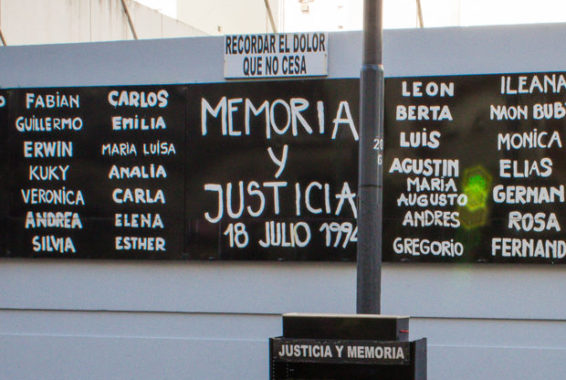 What to Eat
Nearby is the first kosher BBQ in Buenos Aires, called El Galope. It is very popular, so a reservation is necessary. If it's too busy, in front of it is a kosher sushi restaurant Pi-Chi-Klin. And if you are in a rush, there is even the only kosher McDonald's in the world outside of Israel here in Once neighborhood.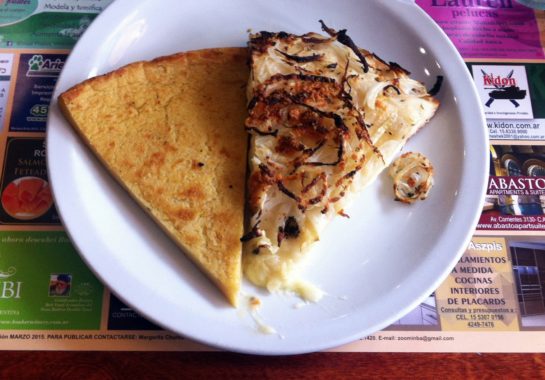 Where to Stay
There is only one kosher hotel in Once, the Abasto Hotel. They serve a kosher breakfast and dinner and observe shabbat on Friday evening and Saturday all day. It is walking distance to Gran Templo Paso and familiar with the Synagogue's practices and customs.
Jewish Heritage Tour
We offer a fantastic inside look at the Jewish Quarter of Once and other notable areas on our Jewish Buenos Aires tour. On the walk, one can visit the best of Jewish Buenos Aires in a 3 hour excursion which might include a meeting with the Rabbi at Gran Templo Paso (subject to availability), in addition to a stop at a historical bakery, pizza shop or BBQ, a look inside AMIA and end at either the Synagogue Libertad or the Former Embassy of Israel. We can also arrange as part of a custom tour a visit to the Jewish town Moisés Ville.
Comments