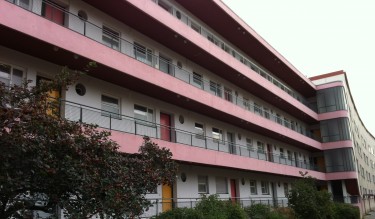 In Berlin, you could convincingly say, all architecture is post-war architecture. First razed by Allied bombs between 1943 and 1945, Berlin, or what was left of it, was then sliced in two by barbed wire and wall. Very little of the city's architecture escaped unscathed. In the years after World War Two, buildings in Berlin were variously skeletal, in tatters, conspicuously absent, or brand new. Today, the pre-war structures that saw it all and survived tell the story by means of bullet holes and, if a structure is considered significant enough, signs pointing out those bullet holes. To see in the city's stones the insignia of Kaiser Wilhelm II, Germany's last emperor king, is rare.
For the most part, the signatures here are more recent: from starchitect-studded Potsdamer Platz, a once desolate waste now winking with buildings designed by Renzo Piano and Richard Rogers, to David Chipperfield's wonderful reworking of the Neues Museum, originally built in the mid-nineteenth century and badly damaged in World War Two, Berlin is a veritable autograph book of contemporary architectural names. Even the Reichstagsgebäude — opened in 1894, burned in 1933, ruined during the war, girdled by the Berlin Wall yet mostly empty until German reunification in 1990 — is nowadays known for its Norman Foster-constructed dome, and, lest Hitler's horrors and his downfall ever be forgot, the graffiti scrawled on the building's walls by victorious Soviet soldiers in 1945.
All architecture in Berlin, then, is post-war architecture: Berlin is a city incredibly, and indelibly, marked by the events of the twentieth century from the coming of the Third Reich on. But is this really the whole story? Scars and starchitects for one moment aside, what else should we look out for if we want to understand the city's topography, its urban history, and its architectural scope?
There are three UNESCO World Heritage Sites in the greater Berlin area. These are the palaces and parks of nearby Potsdam, the Enlightenment triumphs of Musueminsel, or Museum Island, in the centre of the city, and, latterly but by no means least, a series of modernist housing estates constructed between 1913 and 1933. Called Siedlungen in German, designed by some of the most innovative architects of the time, these six individual ensembles were erected in response to turn-of-the-century-Berlin's terrible housing conditions. Collectively they represent a period of German history — the pre-war, Weimar era — socially, aesthetically, and politically opposed to what later came. Licht, Luft, Sonne — air, light, and sunshine — was the estates' motto. The houses and apartments that constitute them were built to provide decent, efficient and hygienic homes for those whose incomes had previously restricted them to overcrowded tenements and a single toilet shared between many families. That, according to the estates' inclusion on UNESCO's list in 2008, sets the Berlin modernist housing estates on a cultural and historical par with the Vatican, Stonehenge, the Great Wall of China, and the Pyramid Fields from Giza to Dahshur.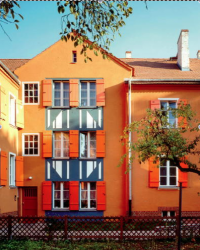 Two estates in particular stand out. The first of these, built by Bruno Taut in collaboration with a co-operative between 1913 and 1916, is Gartenstadt Falkenberg. By eschewing expensive stucco ornamentation in favour of gorgeous wads of painted colour, Taut simultaneously sent shock-waves through the establishment and provided affordable, spacious housing for Falkenberg's new inhabitants. Located on the outskirts of the city, Falkenberg today is a lush yet hushed environment,beautifully maintained and obviously much loved. A second estate worth visiting is Ringsiedlung Siemenstadt. Enabled by the efforts of a socialist city councillor for urban planning, this estate was contributed to by a collection of architects seminal in output and impact: Walter Gropius, Hans Scharoun, and Hugo Häring all have buildings here. In contrast to Falkenberg, Siemenstadt is more recognisably modernist in show. Terraced structures, aligned so as to make the most of the sun,supersede the cumbersome blocks of the nineteenth century; defined lines rather than bright colours provide the rhythmic flow. Completed two years before the Nazis came to power, Ringsiedlung
Siemenstadt's calm composure and determined hopefulness is instructive, a very necessary reminder of an alternative path. Of course, it too was damaged by World War Two bombs. Since repaired and rebuilt, it is today home to nearly three thousand Berliners.
Comments