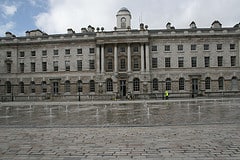 Are you a book lover? An Art lover? If you are in London any time between October 6 and October 12, you should not miss this wonderful event. The prestigious Courtauld Institute will open its doors for a book sale.
The sale opens publicly this Wednesday 6 October and runs for just over a week. There are thousands of books and some real treasures on all subjects.
For those unable to come during the day, the Courtauld will be open until 8 pm on Wednesday 6 October and Tuesday 12 October. In addition, the sale will be open tomorrow evening (Tuesday 5 October) in a special preview evening from 5-7 pm, if you wish to come along then.
All proceeds benefit student travel grants, one more reason to buy books! All details below:
The Courtauld Annual Book Sale 2010
The Courtauld Institute Foyer
Somerset House, Strand
Thousands of new and used books on art, culture, and all subjects at tremendous bargains.
Weekdays
Wednesday 6 October – Wednesday 13 October
10.00 am – 5.00 pm
Late openings
Wednesday 6 October & Tuesday 12 October
10.00am – 8.00pm
Open to all!
All proceeds benefit student travel grants.
In an effort to help the environment, please bring your own bags if possible.
Comments