Meet Jillian Adams. A jack (or Jill) of many trades. Docent for our Melbourne Coffee Tour and creator of the first coffee academy in the city to train up baristas. A Cordon Bleu graduate from Paris and in proud possession of both an MA and a PhD. Author of two coffee related books – one a textbook for baristas on the perfect espresso – the other a history of coffee 'A Good Brew'. We had a chat with Jill about Melbourne coffee culture. Here's what she had to say.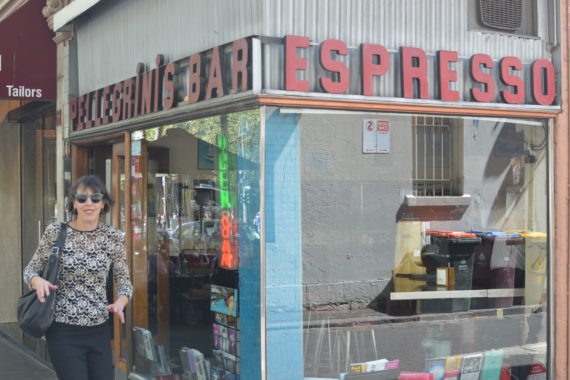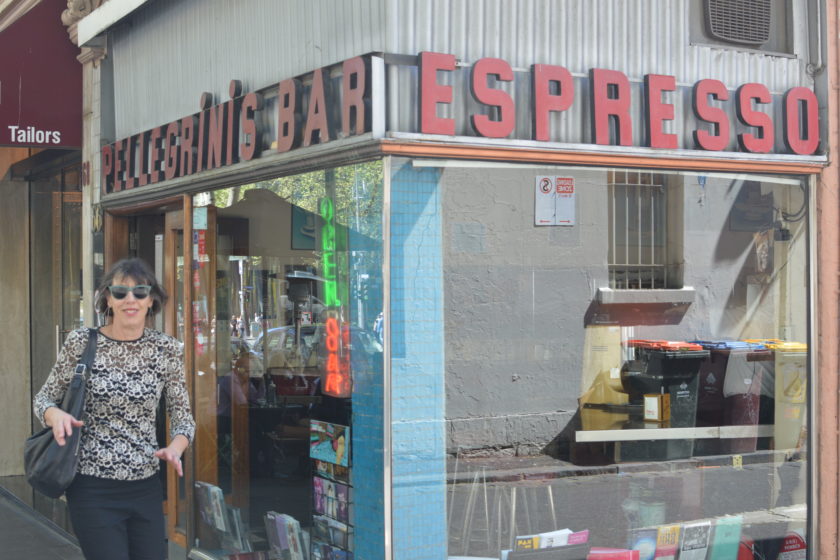 Jill, first up, do you remember your first cup of coffee? How old were you?
My first coffee was from a can. We called it coffee muck. I must have been about 10 but it was a nestle product. Coffee and condensed milk – you just added water. Then as a plump 14-year-old I was told black coffee 'filled in the gaps' so I tried very hard to drink black coffee. As a teenager, I would go to a place in Melbourne called Quists. They had filter coffee and big platters of biscuits that were free if you had coffee. Thinking about it now, in the 60s there were not many places that served espresso coffee and our Melbourne coffee culture was very American – filter coffee and nestle instant!
What got you involved in the in Melbourne coffee culture?
I started working in coffee when I responded to a job ad as a trainer for Lavazza. Lavazza was marked then as quality, sophisticated Italian coffee and was the first company to offer comprehensive espresso coffee. When I started working there a good espresso was hard to find. Melbourne coffee culture is very much changed now. It's hard to find a bad one!
Tell us a bit about the coffee school you started? 
I started the coffee academy at William Angliss, a culinary college in Melbourne. By then industry people and educators had got together and decided national standards for espresso training. We developed the training manuals and texts and went national with them. Whenever I drink coffee now I feel proud that I was part of the standard we now expect. I lost count of the number of baristas we trained over the years.
What's your favorite coffee?
I think my favorite is a well-made cappuccino but I am not really fussy. I do like filter coffee and I love filter coffee and half and half when I go to the US. I do need a coffee each day – it 'cheers me up'. I still prefer tea to coffee. I find it more refreshing and I like filling up my cup from the pot – it has to be leaf tea.
Ah, that's interesting you prefer tea to coffee. What brought along the change?
I came back to tea after researching a family business history of Bennetts a company that has been importing tea and now coffee since 1912. I saw the industry in a completely new way and was seduced by tea-tasting charts, tea-growing countries and stories about sourcing and importing tea.
Is there a date you would particularly attribute to the start of coffee in Melbourne?
We have always drunk coffee in Melbourne but espresso really kicked off here in the late 80s early 90s.
Why do you think Melbourne is such a city for coffee?
I have no idea why it's become so much a part of the Melbourne narrative but I suspect it's just that … a story that has been taken on by a big city.
Is there another world city you've visited with a similar coffee culture to Melbourne?
Wellington in New Zealand and Seattle in US.
For someone who has not been to Melbourne before, what is the one piece of advice you would give them if they were a coffee lover?
Of course … come on a Context tour!
(Jill is talking about our "Flat Whites and Short Blacks" Melbourne Coffee Tour)
What do you like about leading our coffee tours?
I enjoy seeing my city from visitors eyes. I love showing people parts of Melbourne that they would never find for themselves. I also want to tell a historically correct story about coffee as the one people hear is about espresso and not coffee. America has been and continues to be our biggest influence as we move more towards specialty coffees.
Can you tell me 3 of the stops you visit on our Melbourne Coffee Tour? Do you have a favorite stop? 
We stop at Pelligrini but don't necessarily have coffee there. We also go to Sensory Lab to taste a single origin brewed 3 ways and we stop at Brother Baba Budan – if there is a spot for us. We also go to the Windsor Hotel – a beautiful marvelous Melbourne old coffee palace and if you love cheese – the fromagerie at the spring street grocer. I am a foodie and love pointing out good places to eat as well!
From personal experience, what do you think is the hardest coffee to make?
 It's hard to make a good coffee. There are so many variables. That's why trading has been so important. Espresso is a delicate balance and so many people have an input – from grower along a long chain to barista.
What's your favorite Melbourne coffee roaster?
I still like the old school roasters – Genovese, Dimattina for espresso and the new roasters are doing great work with single origins.
I've noticed here that people have particular requirements in terms of glass vs. mug and really stick to it. How does a vessel affect the drink within?
I think there is a bit of elitism in coffee drinking – paper definitely changes the flavor. Ceramic cups work best for me.
While there are many great coffee places, where would you suggest for someone to have a coffee and a good breakfast? 
St Ali in South Melbourne is well worth a visit for coffee and breakfast. Any of the places in Degraves Street – my personal favorite is Degraves Street Cafe. Avoid anywhere that offers discounts like the $8.00 bacon and eggs and coffee. Usually rubbish.
What is it about the Melbourne coffee culture that you think appeals to travelers?
I think the appeal is the style and location of our cafes – lots of thought and money goes into fit outs and if you go looking for coffee you end up in interesting laneways and arcades. I would also suggest that tourists venture beyond the city to Carlton, South Yarra, St Klda and South Melbourne. It doesn't stop in the city.
And lastly, how would you describe the Melbourne coffee culture in 3 words. 
Coffee lover utopia.
Comments