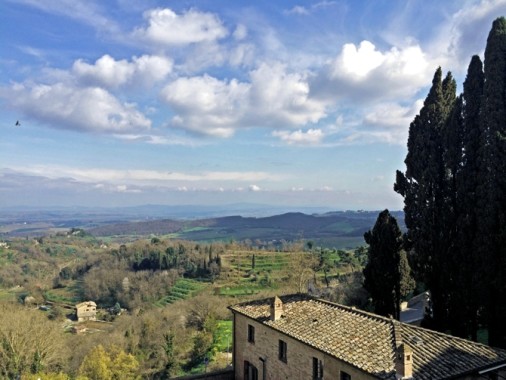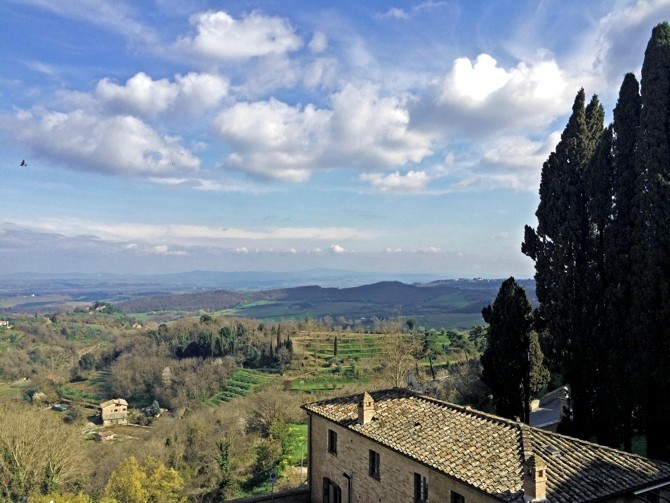 Clinging to a hilltop surrounded by rolling vineyards, the charming medieval town of Montepulciano in southeast Tuscany makes for a unique excursion, perfect for culture and culinary lovers looking for an authentic experience. We recently checking in with our Tuscan culinary docent Adrienne Kovats to have her top tips on making the most of a day trip here and discovering the area's special Vino Nobile di Montepulciano.
Kovats notes that it is an easy and picturesque drive from Siena, much less crowded than the latter and other villages like San Gimignano, making the village a beautiful representation of Tuscany. The town's origins date back to Etruscan times, but you will see a mix of the ages as you stroll along its streets with their medieval fortifications, stoic churches and elegant palaces built during its Renaissance Golden Age by the local allies of the Medici family. If you have time, stop in at the small but fascinating local museum situated in one of the aforementioned regal palaces. Once you are finished your cultural touring you can also start exploring its culinary and wine traditions directly at the enotece (wine bars) and cantine (wine cellars) located in the city-center.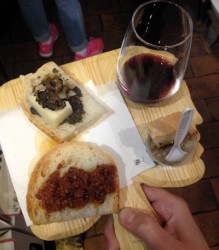 When thinking about the wines of Tuscany, Chianti or Brunello di Montalcino are often the first to come to mind. However, one of the best and oldest wines of the region is the lesser-known Vino Nobile di Montepulciano. The Vino Nobile di Montepulciano DOCG (Denomination of Controlled and Guaranteed Origin) wine should not to be confused with wines made from the Montepulciano grape and produced mostly in the region of  Abruzzo. Wine from Montepulciano was first documented in 789 AD. It grew in notoriety from the mid-14th century, culminating in the 1600s and even heralded as 'the king of all wines!' by doctor, naturalist and poet Francesco Redi in 1685. It was in 1787 that the appellation received the title of "Nobile" (noble); fit for nobles. Despite its decline in popularity through the 19th century, it experienced a resurgence from the 1930s onward, gaining the DOCG status in 1980.
To sample these wines, Kovats suggests starting at one of the several great enotece on the main street in on the Corso Via di Gracciano. It could be worthwhile beginning at the  Vinoteca Terra Toscana (Via Ricci 14, Tel: +39-0578-757708), a wine shop with an extensive selection of Tuscan wines. While primarily a retail wine shop, some wines are available by the glass.
Another good option is Enoteca del Consorzio del Vino Nobile di Montepulciano, Piazza Grande, 7, Tel: +39-0578-757812), the city-center base of regional wine consortium, here you can taste wines from all its member wineries at very reasonable prices.
Otherwise Adrienne recommends the La Bottega del Nobile – Caffe Wine Bar(Via di Gracciano nel Corso 93-95, Tel: +39-0578-757016), a medieval cellar with a wine bar, restaurant and wide selection of Tuscan wines.
If you have time to tour the neighboring vineyards, Kovats highly recommends including a visit to Avignonesi (Via Colonica, 1 53045 Valiano di Montepulciano, Tel +39 05 78 70 74) as the domain has superb organic and biodynamic wines, in addition to fantastic vino nobile. The experience is accentuated by the winery tour during which you can see old-style Italian barrels (botte). They also have a restaurant serving delicious tasting lunches with wine pairing. Her other favorite wineries are the elegant and modern Poliziano and the historic winemakers Gattavecchi, carrying on the family tradition dating back to the 15th century.
If you haven't ordered some nibbles from one of the enotece to go along with your glass of vino nobile, Adrienne commends these local restaurants:
La Grotta (Via di San Biagio, 15, Tel:+39 0578 757479), located just outside of town you can dine in their charming outdoor garden. You might like to start with their tasty antipasto on their home-made garlic and walnut bread or the house specialty of Pappa al pomodoro (Tuscan tomato soup with garlic, bread and basil.) For a main course, try the grilled zucchini alla parmigiana with spinach and garlic, but save room for their amazing bitter chocolate cake.
La Dolce Vita Enoteca (Via Voltaia Nel Corso, 80, Tel: +39 0578 758760), this winebar and restaurant serves a delicious aperativo of bruschetta, traditional with garlic and tomato as well as with prunes, pecorino and honey, order these with a glass of rosso di Montepulciano. Or the farro (spelt) soup with spinach and tomato is also one of Adrienne's favorites.
Le Logge del Vignole (Via dell'Erbe, 6, Tel:+39 0578 717290), is another good choice, it has a lovely setting and warm traditional decor, serving tuscan specialities with modern flare. They have both a tasting menu and à la carte options.
If you would like to discover Montepulciano with a docent, this can be arranged on our custom excursion the the Val d'Orcia, contact us for more information.
Comments