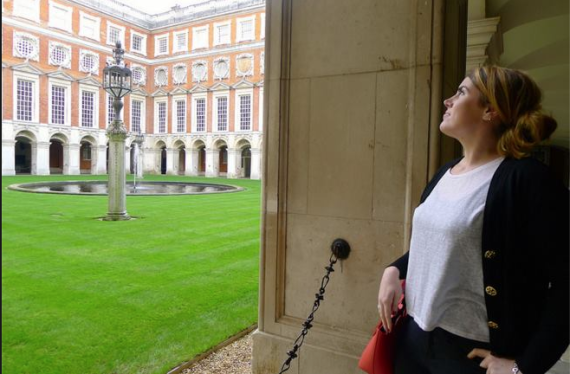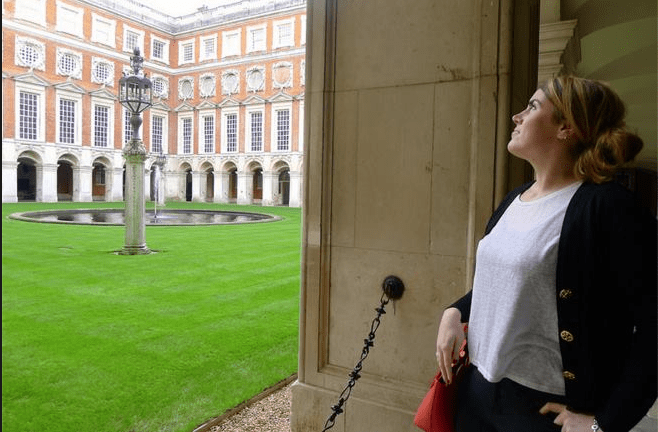 I consider London my second home for so many reasons. In a literal sense it was, in fact, my home for four years. More abstractly, I love the that the yin and yang of this metropolis is continually evolving. It is both traditional and contemporary, refined yet a bit cheeky, serious but still whimsical. I consistently feel as if I'm viewing London with new lens. Perhaps it's because I'm older (and hopefully wiser), but it's also definitely because the city is an alive and growing entity.
I live and breathe London daily. I take inspiration both from what travelers are interested in seeing, and what locals are doing, to craft my idea of what London means to me. My colleagues on the ground are also an invaluable resource. From new restaurants, like Hopper's, a Sri Lankan gem, to the tucked away Wallace Collection in my dream neighborhood of Marylebone, they're always pointing me in an unexpected direction. After a whirlwind trip, I'm excited to share my the experiences that my colleagues helped to shape, and my reflections on the a sides of London I hadn't seen before.
Do something you don't think you would be interested in.
One thing I love about working for Context is that I get to go on walks I normally would never think to do. Left to my own devices, I might just be looking at street art, local food markets, and some contemporary architecture. For example, when I lived in London, I had little interest in the royal history. Yet when I took part in the Hampton Court walk, it was impossible to not be enthralled with the stories of the Tudor dynasty, plus you get to feel quite clever when you begin connecting the dots as to how this era contributed to the London you see today.
You've heard a million times how travel opens your mind. Take this a step further and delve into an area you don't know much about when you travel. Is there a neighborhood you've never been to or heard of? Check it out with a local. You can also branch out further into a subject you're already invested in. Perhaps you are an art lover who shies away from the contemporary scene. Spending a few hours with an expert who knows how to convey complex ideas to others is the ideal way to dig into a topic you didn't even know you liked. I came to Hampton Court knowing that Henry VIII's break from the Roman Catholic Church was significant, but I had yet to discover the almost Shakespearean twists and turns behind this decision. Being in Hampton Court, while the learning the ins and outs of his days, his fierce love of sport and competition, and his relationship with Cardinal Woolsly, Thomas More, and other advisors, unraveled the complexities of this epoch in history, and made this lesson come full circle. You could almost feel the weight of his decision to break away from the almighty church while walking through the ornate corridors of the palace.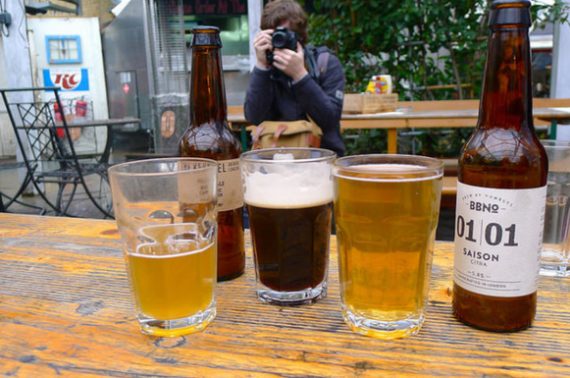 Every aspect of your trip is a learning opportunity
Neighborhoods, food, and beer are all excellent points of entry to discover more about London culture. One of my favorite neighborhoods in London is Shoreditch. This hip area of London is often overlooked by tourists, yet serves as an up and close way to understand the transformative processes talking place in the city these days.
Our Ales and Pubs tour brought us to the Crown and Shuttle pub, which quickly became my new favorite 'local'. (The 'shuttle' is actually in reference to the French Huguenot weaving apparatus. The Huguenots were skilled weavers and the first immigrant group to the neighborhood centuries ago). It's a dash Victorian and a dash quirky, with a full range of craft beers (my favorite being the Cita Saison made by Brew by Numbers, just down the road.)
This area also offered some fundamental insight into the contemporary art scene in the UK. Tracey Emin's, one of the pivotal 'Young British Artists', who spearheaded the creative shift to the East, still lives and works here. Some colleagues and I came upon her White Cube studio while strolling the streets of Shoreditch. The artistic legacy of this corner of London has been cemented even further with its constantly changing street art. Works from the likes of internationally known Banksy, and Shepard Fairey, are sprayed right next to those of up and coming talents. Artists from around the world are using the streets of East London as their canvas.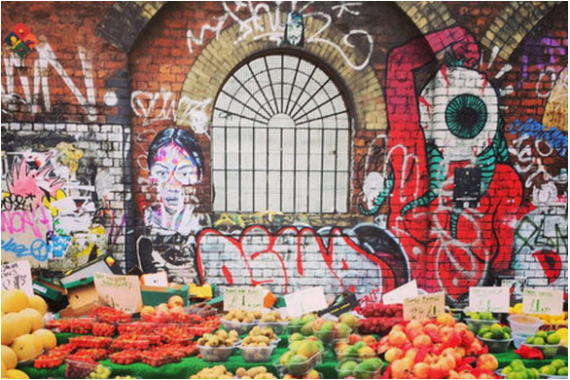 The London Eye adds a sleek and pretty touch to the riverside landscape in central London, but elevated views of the city hardly end there. While in London, I scoured the skies for some other noteworthy vantage points.
Up until the 1960s, St. Paul's was the tallest structure in London. Over the next few decades height regulations were massively lifted, and skyscrapers began to sprout up through the concrete. In the City of London, the skyscrapers that dominate the city skyline today are required to give something back to the community, typically in the form of a public art, or a public space. The Sky Garden atop the Walkie Talkie building (the nickname given to 20 Fenchurch Street) is the public space atop the tower that swells high above its neighbors. The Sky Garden is open to the public, and there's also a vibrant bar and restaurant area. Sipping a cocktail ('Chelsea Garden' was my libation of choice) and immersing yourself in the sprawling skyline is a pretty unbeatable combination.
The Roof Terrace at One New Change, a swanky shopping venue, provides a stunning view of the nearby St. Paul's Cathedral. It's a rooftop rarely frequented by tourists. I was in the company of mostly well suited professionals working in the area, taking a mid-day "nature break" amid the bustling city.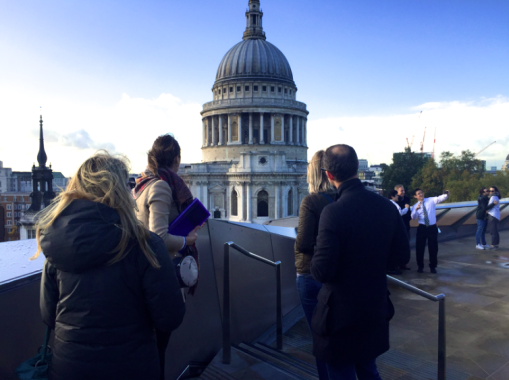 For this one you don't need to go up, just out a bit. Londoners love to slip out to Greenwich for a reprise from the core of the city. Our To the Sea Greenwich tour combines a boat trip down the Thames and an foray into of this gorgeous sect of London, complete with lush green spaces, science, and romantic Baroque architecture. After a day of exploration, relax in Greenwich Park, watch the sunset over London, and reflect on how lucky you are to be in one of the best cities in the world.
Comments