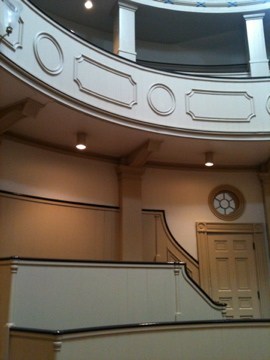 Most people visit Philadelphia to learn about its early colonial history and the pivotal role the city played in the American Revolution.  The Liberty Bell, Independence Hall and the Betsy Ross house are frequent destinations on the Philadelphia history trail.  What many don't know about the city is that it played an incredibly important role in the history of modern medicine, and was second only to Edinburgh, Scotland as a mecca for medical innovation in the 19th century.  The following are some key sites and works of art that are worth adding to your itinerary on your next visit to the city:

Pennsylvania Hospital was the nation's first hospital.  Founded in 1751 by a group of civic-minded residents (led by Benjamin Franklin), the hospital today still maintains a historic building featuring the original library with collections of important medical, scientific, and natural history volumes, some dating back to the 16th century, as well as a number of spectacular medical illustrations. The hospital's first surgical amphitheater, built in 1804, is the oldest example in the United States, and initially sold tickets to the public, introducing surgery a spectator sport.  And Benjamin West's massive painting "Christ Healing the Sick" presides over the entrance to the entire structure.
Fittingly, Philadelphia is not short on masterpieces relating to the medical field.  Thomas Eakins painted "The Gross Clinic", a portrait of Samuel D. Gross in 1875 for the Centennial Exposition of 1876.  Dr. Gross, a surgeon at Thomas Jefferson Medical College, was a particular inspiration to Eakins, who was dedicated to learning as much as possible about human anatomy to improve his skills as a painter.  The painting was owned by Jefferson Medical College until 2007 when it was jointly purchased by the Philadelphia Museum of Art and the Pennsylvania Academy of Fine Arts.  Not to be outdone by Jefferson Medical College, the University of Pennsylvania Medical School also commissioned Eakins to paint "The Agnew Clinic", a portrait of surgeon Dr. D. Hayes Agnew in 1889.  This painting is still owned by the University, but can often be seen in the American art galleries at the PMA.
Philadelphia is also home to the United States' first professional medical organization, the College of Physicians, which is still highly active in promoting the awareness of health to the public.  Intriguingly, the College owns an outstanding collection of medical oddities, including archival photographs of unusual deformities, diseases, and other afflictions on display at the Mutter Museum.
You can learn more about Philadelphia's medical heritage and some of these sites on our newest walk in the city, Ars Medicina: The History of Medicine in Philadelphia.
Comments