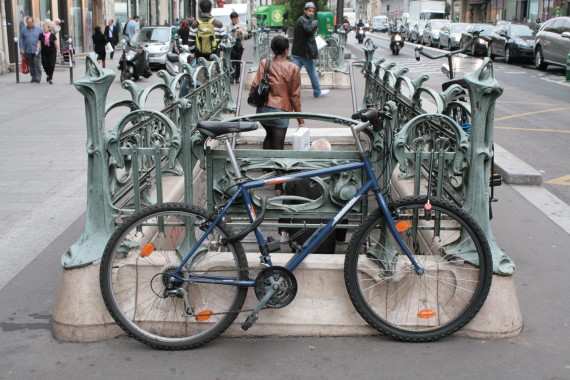 As exciting as it can be to visit a new place, sometimes getting there can be a hassle. Many people automatically default to taking a taxi, but most cities have numerous other public transit options that are almost always cheaper, and often much quicker. To make the journey as easy as possible, we're compiling a list of the options for getting to and from the airport via public transit in all of the cities where we operate. To start off, we have Paris, Barcelona, and Madrid.
Paris:
Cost via taxi: €50 – €60 plus baggage fee depending on traffic
Cost via transit: €10 or less
The RoissyBus is a bus that services Charles de Gaulle (Roissy) Airport and runs directly to the center of Paris.  The terminus is Opéra, where you can then get a taxi at a nearby stand or take the metro (lines 3, 7, 8).  Buses run every 15 minutes between 6 AM and 8:45 PM and every 20 minutes between 8:45 PM and 11 PM.  Tickets cost €10 one way and can be purchased in cash from the driver.  Note: buses also run from Opéra to CDG–this is a cheap way to get back to the airport for departing flights as well.
Bus lines 350 and 351 run from CDG to Paris.  Although they are cheaper, they take much longer, do not come as often, and do not run at night.
The RER B metro line runs directly from terminals 1 and 2 at CDG and takes about 45 minutes to get to the center of Paris.  Tickets cost around 9 euros one way and can be purchased either at the machines in the metro station or at a window.  Note: if you are going to pay by credit card and only have an American card that operates with a magnetic band and not a "chip" (all European cards have this), you must pay at the window, since the machines only take cards with chips.  The best stations to take the RER B to in Paris are Gare du Nord (Metro 4, 5. RER B, D) and Chatelet-Les Halles (Metro 1, 4, 7, 11, 14, RER A, B, D)
Orly airport is serviced by the ORLYVAL, which is a tram that goes between the airport and the RER B station Antony.  It runs about every 10 minutes and is a short 8 minute ride to the RER B. It's then possible to take the RER B to one of the aforementioned stations.  The ticket you purchase at the airport costs just under 10 euros and is valid for transfers throughout the whole trip into Paris.
The OrlyBus runs between Orly airport and the RER B stop Denfert-Rochereau (transfer to metros 4 and 6 are also available here).  The cost of a ticket is 7.20 euros one way.  The first departure is at 6 AM and the last departure is 11:30 PM Mon-Thurs and Sundays, and 12:30 AM Fridays and Saturdays.
Barcelona
Cost via taxi: around €30 
Cost via transit: €5.90 or less
Aerobus services both terminal 1 and 2 of the airport and takes you to the city center at either Placa Espanya (25 minute ride) or Placa de Catalunya (45 minute ride).  The cost of a one-way ticket is 5.90 euros.  The bus runs every 5-10 minutes between the hours of 6:10 and 1:05 AM.
The RENFE train is a budget-friendly way to travel into the city center.  The entrance to the train station is in terminal T2B (please note if you are arriving in Terminal 1, it is not possible to access this entrance.  You must take the shuttle bus to Terminal 2).  There are machines to purchase tickets–they are The train runs between 5:42 AM- 11:38 PM.  Two airport trains run during the hour to and from the airport and the approximate travel time into the city center is 20 minutes.  Please note that if you have a lot of luggage, the train may not be the best option seeing as seating and space can be limited.

Madrid
Cost via taxi: €30 – €35 
Cost via transit: €5
There is a metro in terminals T1 and T4 that runs directly into the center city Nuevos Ministerios metro station.  Metros leave every 5 minutes between 6 and 2 AM, and the travel time into the city is only 12 minutes.  The cost of a one way metro ticket from the airport is €5.  You will likely have to transfer at least once to reach your final destination, so may not be the best option with people carrying a lot of luggage.
Express Aeropuerto bus which is a 24 hour bus that services only 3 stops: O'Donnell, Plaza de Cibeles, and Atocha.  The bus runs every 15 minutes during the day and every 35 at night.  The journey to the city is about 40 minutes and the cost of a one way ticket is €5 (can be bought on board)
Comments