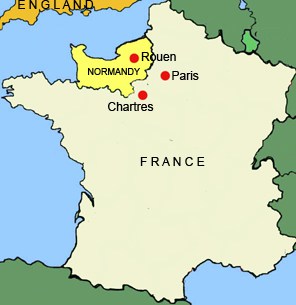 There is no denying that Normandy, the vast territory northwest of Paris covering 30,627 square kilometers, has much to offer. Spanning from the coast inland, the region is divided into two parts: Haute-Normandie, location of historic coastal resort towns and the famous D-Day beaches; and Basse-Normandie, a gorgeous agricultural center and home to the département de Calvados, where the eponymous apple brandy is produced.
As such, it's no surprise that clients often come to us asking how to see it all in a day! We certainly understand the desire, but considering Normandy's size, it's simply not possible. Instead, here are some ideas for a narrower, more digestible focus for a day of touring:
The D-Day Landing Beaches
Allied-forces invaded the Norman coast on June 6, 1944, beginning an assault against the German forces that lasted essentially until the liberation of Paris on August 19 of that year. There were multiple points of entry, or landings, along nearly 100 kilometers of coastline. Now, battle remnants, bunkers, and bomb craters serve as a memorial to the invasion which was a turning point in the war. Given the length of the coastline, the full-day (and a vehicle) is required to fully experience the essence of the beaches. 2014 celebrates the 70th anniversary of the invasion.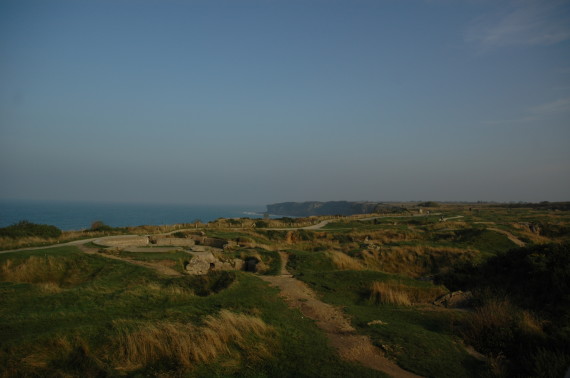 Historic coastal towns: Honfleur and Deauville
The lovely old port of Honfleur is known as one of the most charming on the Norman coast, and dates back to the eleventh century. Boasting a varied history, Honfleur was a strategic town during the Hundred Years' War, after which it became a principal departure point for New World explorers. In the nineteenth century, Honfleur became a favorite destination for artists such as Gustav Courbet and Monet. By spending a morning here, visitors can peel away the layers of history before breaking for a pot sur le port. We then recommend a stroll along the promenade of nearby Deauville, or an afternoon exploring it's less prestigious counterpart, Trouville.
Medieval Normandy: Caen and Bayeux
The medieval cities of Caen and Bayeux are closely linked to William the Conqueror, the first Norman King of England, who reigned in the late 1000s and commissioned the famous Bayeux Tapestry, which tells the story of his successful invasion of England in 1066. Though now displayed in a museum, the Tapestry would have been displayed in the 11th century Bayeux Cathedral, also commissioned by William. In nearby Caen, William constructed a castle and two abbeys, all of which are extant.
Mont Saint-Michel
The abbey of Mont-Saint-Michel, declared a UNESCO World Heritage Site in 1979, is located on an island 1 km from the coast, amid salt fields and powerful tides. Thanks to its unique position, the visually stunning abbey (and the village within its walls) is one of the most iconic monuments in France, and represents a medieval architectural achievement.
*Considering Mont Saint-Michel's exceptional distance from Paris, we recommend staying overnight in the village or in a neighboring town. 
Interested in one of these options with a Context docent? Our custom Normandy Excursion helps visitors create the perfect day to meet their needs, all led by a Context scholar.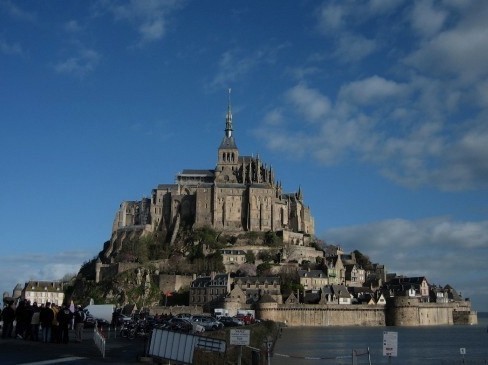 It is fairly easy to travel by train to Normandy from Paris–trains from Paris's Gare St. Lazare run frequently and direct to Caen, Bayeux, Trouville, Le Havre, and Rouen. Once in Normandy it is recommended to rent a car, as public transportation is sparse.
For better idea of just how enormous the region is, we offer some information on driving and train distances from area to area:
Paris to Caen – 2.5 hours by car/2.25 hours by train (238 km)
Span of D-Day Beaches – 1 hour and 15 minutes by car (100 km)
Caen to American Cemetery – 45 minutes by car (50 km)
Caen to Mont Saint Michel – 1 hour and 20 minutes by car (125 km)
Caen to Bayeux – 30 minutes by car (35 km)
American Cemetery to Mont Saint Michel – 1 hour and 40 minutes by car (150 km)
Caen to Deauville – 50 minutes by car (60 km)
Deauville to Honfleur – 30 minutes by car (17 km)
American Cemetery to Deauville – 1 hour and 20 minutes by car (115 km)
Comments