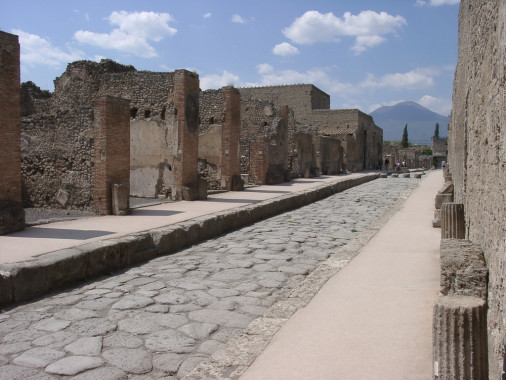 Preserved for some 1,600 years under layers of mud, ash and lava, Pompeii offers a unique and staggeringly descriptive insight into the daily lives of citizens of this ancient Roman city. As our docent Maria Laura Chiacchio describes it, Pompeii is "frozen in time". Rarely will you visit an ancient site that bridges the gap between past and present with such vividness. This makes it a fantastic place to visit for anyone travelling to Italy, especially when combined with visits to nearby Herculaneum, the Archaeological Museum in Naples, the ancient sites of Naples or Rome, or indeed Mount Vesuvius itself. Our docents lead a number of walks in and around the site and are experts in navigating and illuminating its history. We sat down with three of our docents who regularly lead these walks, Maria Laura Chiacchio, Iris Mueller and Fiorella Squillante, to ask for their tips and tricks on making the most out of a visit to Pompeii.
1. What are the top areas to visit?
Once home to about 15,000 people, Pompeii is a sprawling site that can be intimidating for a first time visitor. Meandering through the streets and imagining the atmosphere of the public fora, you'll pass by a catalogue of ancient buildings and monuments that offer a glimpse into this lost world.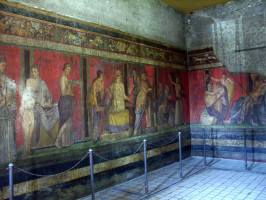 Of Pompeii's top sites to visit, Maria Laura suggests "the private dwellings around the Forum such as the House of the Faun (the largest house in town) and the House of the Tragic Poet, which was recently restored". She also recommended the "amphitheater, especially if you're planning to spend time in Rome and visit the Colosseum" so that you can compare these two arena-like structures. Iris notes that it's important to visit the Villa of Mysteries as well, which has some of the best Roman frescoes you'll find in Italy.
2. Which entrance is best?
Pompeii can be entered from various points. If you're travelling from Naples or Sorrento, the Porta Marina Superiore entrance is closest and if you are visiting the site without a guide, you can pick up an audio guide from this entrance. We would recommend the Porta Marina Inferiore (Piazza Esedra) however, which is often less busy than the Superiore entrance, bringing you right into the theater district, just a short walk the Forum. If you are with an official guide (including Context docents) you can also skip the line here.
3. Where is good to eat nearby? Would you recommend taking a picnic?
Finding a good place to have lunch after a tiring morning in Pompeii can be a bit of a challenge with a number of average quality and highly-priced cafes near to the site. We'd recommend Bacco e Arianna on Via Villa dei Misteri, 6 (+39 081 536 2282), a simple restaurant just outside the Villa of Mysteries. If you fancy splashing out on something a little more special, you could give 'Il Principe' a go, which is a short walk from the Circumvesuviana train station. It is possible to take a picnic with you but people often find this a hassle to carry and, as Fiorella pointed out, it had be difficult to find a secluded spot during the busy season.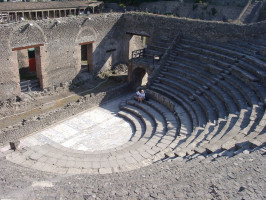 4. Is Circumvesuviana safe?
Consisting of five regional railway lines, the Circumvesuviana links Naples to various suburbs around Mount Vesuvius and stops at Pompeii (the stop is called "Villa dei Misteri" – Villa of Mysteries). If you're based in Sorrento then it's definitely the best way to get to Pompeii. During the summer months, however, the train can become pretty overcrowded, particularly at weekends when it can be hard to find a seat. There have also been reports of pick-pocketing especially during this busy season so be sure to keep your bags zipped up and close to your body. If you're coming from Naples, however, you may prefer to book a car service (which we can arrange on your behalf) as there are many stops on the Circumvesuviana line and the train doesn't exactly race through them!
5. Should you also go to Herculaneum and Archeological Museum in Naples?
If your visit to Pompeii has whet your appetite for the ancient Roman world, you may decide to visit Herculaneum and/or the Archaeological Museum in Naples. The museum holds a vast collection of paintings, mosaics and artifacts from both Naples and Pompeii, together with the monumental sculptures of the Farnese collection from Rome. According to Fiorella, "the mosaics, frescoes and secret room are a must!".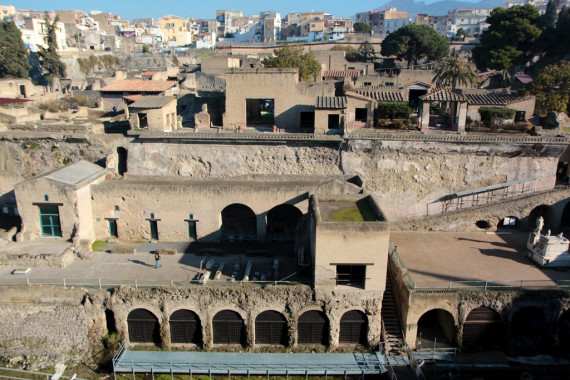 Herculaneum, succame to the same 79AD eruption of Vesuvius as Pompeii suffering the effects of pyroclastic flows (a high-speed current of hot gas and rock). This meant that the city was preserved in a slightly different way to Pompeii; "the solidified volcanic material is very dramatic" according to Fiorella. You may not get to get the monumental buildings of Pompeii, Iris told us, but there are many more villas to explore that still look like houses, some of which have reconstructed roofs giving visitors an even more evocative insight into the lives of those who perished.
Comments