Traveling between Amsterdam, Berlin, Prague, Vienna and Budapest by train is not only a wonderful way to experience the changing landscape; it's also often more efficient than flying, when you factor in journey times to the airport and the rigmarole that accompanies air travel. We've put together a guide that answers your oft-asked questions about train travel in Central Europe.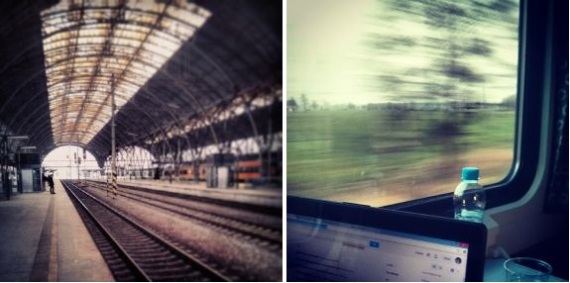 Amsterdam to Berlin
The Dutch landscape is famously as flat as the proverbial pancake, and things don't change much as you cross the border, though you will start to see more of the majestic wind turbines for which Germany is known. Direct trains leave Amsterdam Centraal station every two hours during the day, between around 7 am and 7 pm. Direct services are operated by IC (Intercity) trains, and are generally comfortable and well-equipped in both first and second class. Your IC train will have a dining carriage ("BordRestaurant") and we highly recommend sampling some of the surprisingly good local dishes served up by friendly staff: A simple but delightful experience that retains an old-fashioned sense of luxury. The CNL (City Night Line) service operates nightly between Amsterdam and Berlin, with a direct service from Berlin and one change required going the other way. Click here for further details of CNL fares.
Journey time: ~ 6 hours 15 minutes
Where to book: Deutsche Bahn
Price: from €39 per person, one-way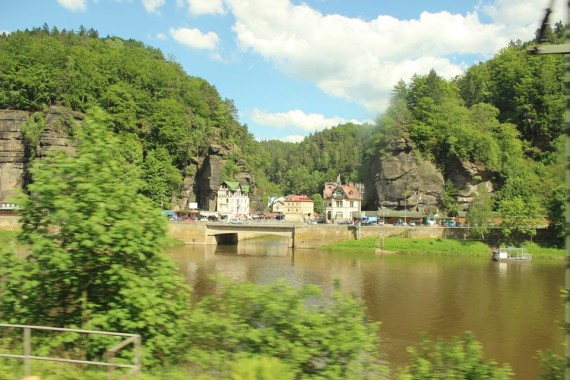 Berlin to Prague
Trace the route of the lovely river Elbe as it winds through Germany and across into the Czech Republic. Here, you'll start seeing some longed-for gradients; as you approach the border, look out for the Elbe Sandstone Mountains and some of the most spectacular scenery of this voyage.  Direct services leave every two hours from Berlin Hauptbahnhof (Main Station) and are operated by EC (EuroCity) trains. This will either be a German or Czech train, and both offer a similar standard, including a dining car and electrical sockets. The last direct service of the day leaves just before 6:30 pm and is a EN (EuroNight) train that arrives just before 11:30 pm. These trains are also generally of a high standard but since it's not necessary to overnight, there's no need to book a couchette or sleeper cabin for this leg. However, if you're going straight through to Budapest, this is a good option, with a leisurely journey time of 14-hours and range of sleeping options available, from an adaptable seat to a private deluxe cabin.
Journey time: ~ 4 hours 40 minutes
Where to book: Deutsche Bahn
Price: from €39 per person, one-way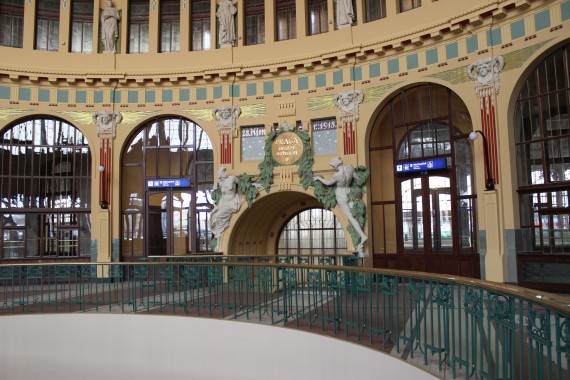 Prague to Vienna
Trains to Vienna leave regularly from Prague's Hlavní Nádraží (Central Station), with the first service departing just after 6:30 am and the last daytime service going just after 6:30 pm. Again, this is an EC train with all the accompanying service offerings. Though not quite as intuitive as the Deutsche Bahn website, the Czech Trains booking engine is easy to use and provides handy details about each individual train and its composition. The last direct train is another EuroNight sleeper which leaves Prague at 11:45 pm and arrives at 6:17 am the following morning. Vienna has a number of train stations (while the city patiently awaits the imminent completion of its new Hauptbahnhof) and for this service you can alight at one of three stations: Wien Simmering, Wien Meidling, or Wiener Neustadt. Again, all trains to Vienna continue through to Budapest, with an average journey time of 7 hours. Local tip: Arrive to hlavní nádraží with some spare time to check out Prague's beautiful old Art Nouveau station, which can be accessed by following signs from the new concourse.
Journey time: ~ 4 hours 40 minutes
Where to book: Czech Trains. Check details and availability here; book here
Price: from CZK 540 per person, one-way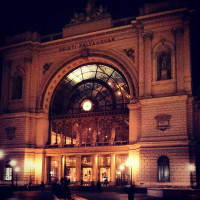 Vienna to Budapest
Direct trains from Vienna depart Wien Meidling station at regular intervals, with the first of the day going just after 6 am. For the early morning services (before 8 am), you'll catch the tail end of the EuroNight trains, but of course won't need to book a sleeper. Thereafter, you'll be on Austrian Rail's flagship train, the plush Railjet, complete with free WiFi. The last Railjet of the day leaves just after 7 pm and the final direct train of the day is another EuroNight at just after 8 pm. On arrival in Budapest, you'll alight at the spectacular Art Nouveau station, Keleti.
Journey time: ~ 2 hours 45 minutes
Where to book: ÖBB
Price: from CZK 540 per person, one-way
Frequently Asked Questions
When should I book?
For the best fare, book in advance. Fares are released around 3 months in advance and usually the cheapest fares are offered first, with prices increasing the closer you get to the date of travel. It is possible to book tickets at the station but this does risk not getting the train or seats you'd like, since it is more likely to be full.
What's the difference between first and second class? Is it worth paying extra for first?
The answer to this question really depends on the individual carrier and service. In general, second class is comfortable, great value and offers outstanding service. There is only one restaurant carriage, shared between both classes. In general we'd recommend checking prices for each class and making a call on a case-by-case basis. Sometimes it's possible to find excellent first class fares and so it may be worth treating yourself.
Still have questions? Don't hesitate to contact our local manager for assistance.
Comments