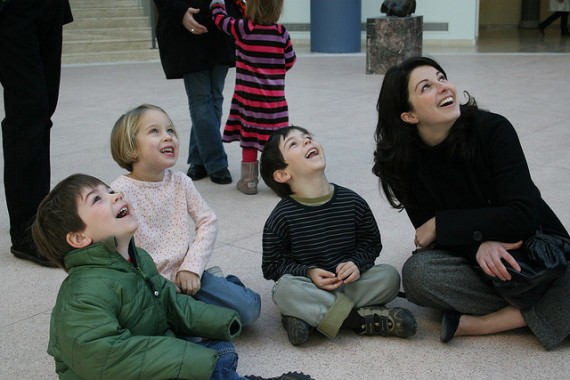 For most visitors to Rome, a trip to the Vatican Museums is an absolute must. But with over 7km worth of museum containing some of the most awe-inspiring and precious works of Western art, this can be a daunting experience especially if you bring your kids with you. With the help of our family docents, who lead our Vatican for Families tour through the museums, we've put together a list of practical tips to make your family visit as enjoyable and stress free as possible!
1) Timing
Crowds in the museums can become very busy particularly in the summer months when tourists flock to Rome. Try and get to the museums soon after lunch at around 2 or 3 pm when they are less crowded. Mondays and Fridays can also be busy so it's best to avoid those days if possible and experience the museums at a calmer time.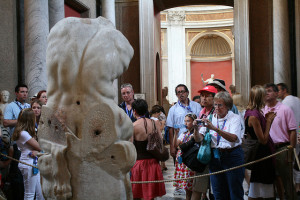 2) Take a pair of binoculars
One of the tricks our docents often use to keep kids entertained on our walks, is to bring a pair of binoculars. Giving your kids the opportunity to look at the ceilings, walls and some of the larger works of art in detail is a great way to keep them engaged and to have some fun inside the museums.
3) Take a water bottle or plastic cups to fill up at the Cortile Pinacoteca
It's not possible to take water inside the museums but if you decide to take a moment's rest outdoors in the Cortile Pinacoteca, be sure to fill up your water bottle direct from the fountain. Otherwise, water can be purchased from the cafe located at the Atrio dei Quattro Cancelli or at Caffe Sistina on the stairs leading to the entrance of the Sistine Chapel.
4) Bring snacks
Again, the Vatican don't allow food inside the museums but we always recommend keeping some snacks in your bag in case your kids' energy starts to wane. So after filling up your water bottle take a short break to refresh and restore.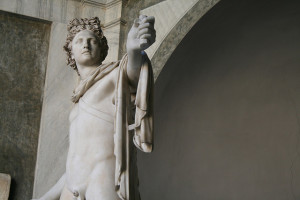 5) Stop by the Etruscan Museum to experience the virtual reconstruction of the Regolini-Galassi tomb
The reconstruction of this Etruscan tomb discovered in 1836, is a fantastic way for kids to interact with history. By moving their arms into certain positions, children can virtually explore the tomb as it would have been when it was first closed.
Visiting the Vatican Museums is a unique way of introducing your kids some of the most important artists in the world. With these tips, we hope that you'll get the most out of this unparalleled artistic and architectural treasure.
Comments