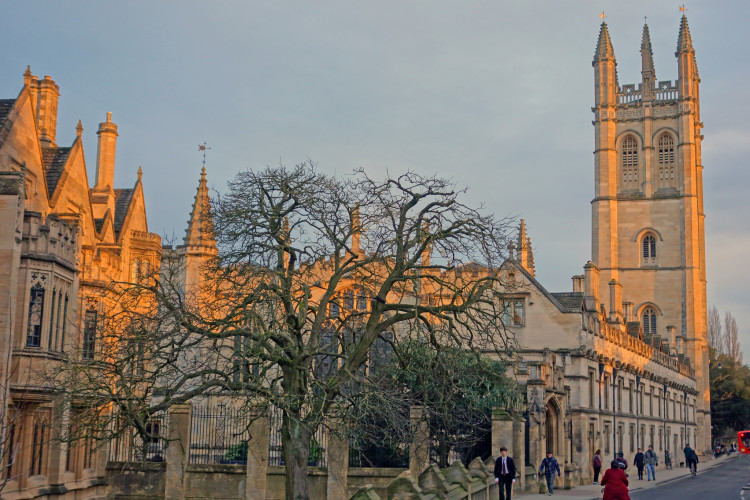 Nicknamed the City of Dreaming Spires by poet Matthew Arnold for its harmonious university architecture, Oxford is nevertheless much more than just its acclaimed academy. Docent Emily Knight, local resident and Ph.D. candidate at Trinity College, shares her favorite facts about the eccentric city she calls home.
Growing up in Oxford, as I did, you do not often stop to admire the staggering beauty of James Gibbs's Radcliffe Camera as you race to meet your friends for coffee. Nor do you stop to peer through the gates of Trinity College to watch students knock croquet balls on its striped lawns, or gaze at the elaborate fifteenth-century vaulted ceiling of the Divinity School. Returning to Oxford as an art history Ph.D. student after a ten-year absence, however, I find these quirks start to stand out like never before.
From Oxford Bumps to Subfusc, here are my seven favorite quirks in the City of Dreaming Spires
Oxford University is Nowhere and Everywhere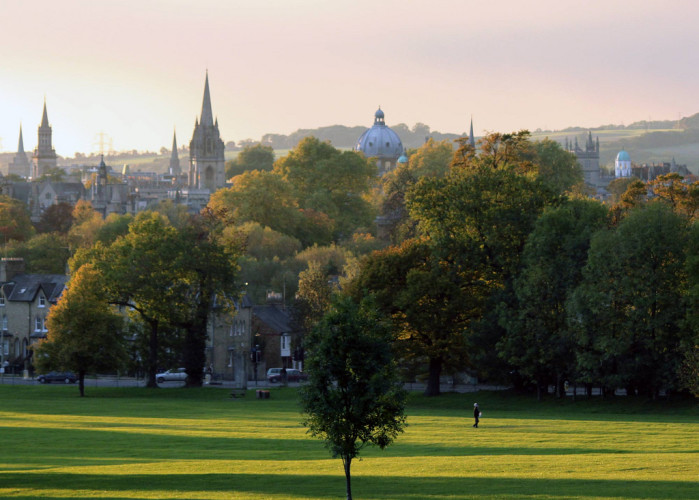 One the questions I'm mostly frequently asked by visitors is, "Where is Oxford University?" The truth is, it is nowhere and everywhere. The university is made up of numerous colleges and halls, departments, libraries and ceremonial halls, which are spread throughout the city. Arguably the oldest university in the English-speaking world, it has expanded slowly in a patchwork way, shaped by the demands of patrons, donors and religious figures. Colleges are an integral part of student life. For undergraduates, college is where they sleep and eat, it is where most of their teaching takes place and is often their main social hub. It many ways they are like mini universities dotted throughout the city, much like the setup in Cambridge, that other famous British hub of intellectualism.
(Nota bene: For those interested, we run a Cambridge Tour and Day Trip from London.)
Oxonians Use Some Baffling Words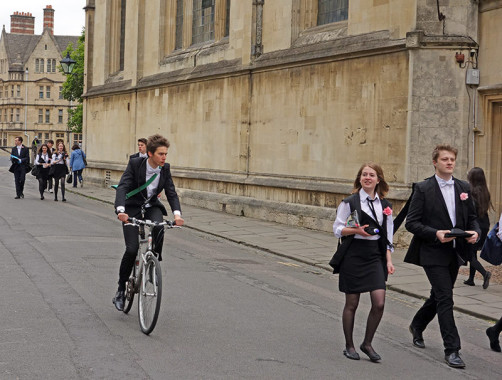 Oxford, birthplace of the world's most famous English dictionary, has developed its own, very distinct vocabulary that most visitors would be hard pressed to understand. Walking through the cobbled streets of the city centre you may hear a student exclaim that they need to race back to college to grab their subfusc for collections later that day. Or perhaps, that they need to pay their battels before they can enjoy the college bop that night. College welcome packs often provide new students with a glossary of Oxford terminology but for visitors, these terms can be mystifying. So let me explain. 'Subfusc' is 'clothing of a dark or sombre colour; esp. the dark formal attire worn under a gown for formal occasions at certain universities, such as Oxford' (OED). These occasions include matriculation, examinations, graduation and for some students, meetings with the head of their college. 'Collections' are end-of-term examinations when subfusc is required, 'battels' are termly bills from your college and 'bops' are college parties.
Oxford Students Go "Bumping" Twice a Year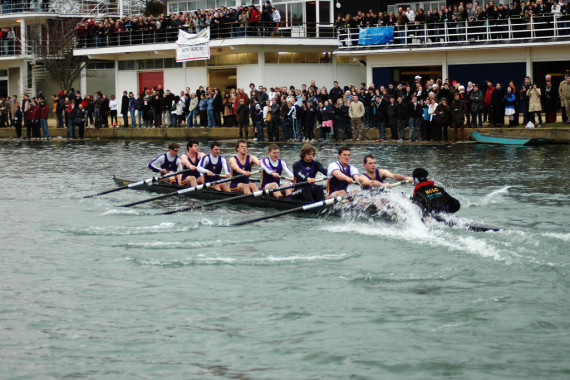 Another set of strange terms. 'Bumps' are rowing races held on the River Isis between Oxford colleges during 'Torpids' in the spring and 'Summer Eights' a few months later. Ever since the first bumps race in 1815 between Jesus College and Brasenose College, crowds have gathered in college boathouses along the riverbank to watch this eccentric tradition. Due to the narrow width of the river, boats cannot line up side by side so align themselves down the river around 1.5 boat lengths apart based on their ranking final the year before. Crews progress up the division in the hope of becoming 'Head of the River' by bumping into the boat in front. During 'Eights Week', both boats must stop rowing, but during 'Torpids' the hit boat must continue to row the length of the course and risk being bumped again.
Oxford's Choir Schools Unite Locals and Students ("Town" and "Gown")
One of the reasons I love being a docent for Context Travel is that I am both "town" (a local) and "gown" (a student), and get a great deal of pleasure from sharing my experiences and historical knowledge with visitors to this fascinating city. The notion of town and gown may imply a divide between the two but there a numerous ways in which the city and its university come together. The choir school system is one such example. Created to provide education for the choristers of college chapels, there are three choir schools in Oxford each associated with a particular college: New College School (founded in 1379), Magdalen College School (founded in 1480) and Christ Church Cathedral School (founded in 1546). These schools now provide education for a far greater number of students but they are still very much engaged with their colleges. Every May Day morning, for example, an annual celebration spring enjoyed by all of the city's residents, the Magdalen College choir ascends to the top of its Great Tower and sings Hymnus Eucharisticus, composed in the 17th century by a fellow of the college.
Oxford Has Another University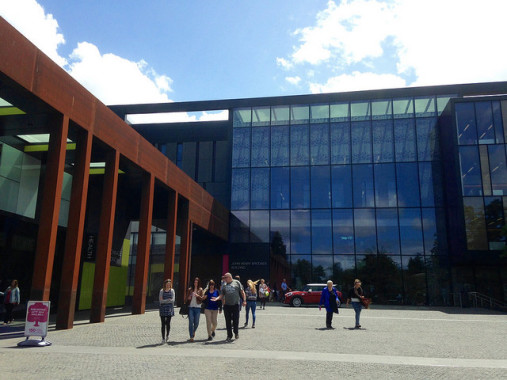 All around the world, Oxford is known for its historic university but fewer know about Oxford Brookes University. With origins dating back to 1865, it became the city's technical school and in 1970, a polytechnic. In 1992 it became Oxford Brookes University and since then has emerged as a respected academic institution. Situated in various locations just outside the city centre, it may not have the domes and spires of the original university but it does boast some of the finest contemporary architecture in Oxfordshire, including the newly built and multi award-winning John Henry Brookes building.
Oxford is Littered with Literary Locations
It should come as no surprise that Oxford, with its academic and lexicographic reputation, has provided inspiration for writers. In the 1930s and '40s, a casual literary discussion group called the Inklings met in a local pub, and named JRR Tolkien and CS Lewis among its distinguished members. Today, if you want to bask in their reflected glory, head to the
The Eagle and Child and wash down the history with a pint of real ale. Likewise, Oxford's colleges and parks are said to have inspired Lewis Carroll's Wonderland, and a bench in the Botanic Garden provides the backdrop for the final scene in Philip Pullman's epic trilogy: His Dark Materials. Finally, for the Harry Potter fans, Christ Church's Great Hall inspired JK Rowling's depiction of Hogwarts, and the college was later used as a location for the films.
Oxford is Close to London but a World Away
Located just under 60 miles from London, Oxford is easily reachable by train from Paddington station, with a direct journey time of about an hour.  A single ticket costs GBP 25 and for that relatively reasonable sum, you can be whisked from the chaos of the capital to a scene of civilized surroundings and distinctive architecture. I always look forward to leading Context visitors around the city, from the fabled colleges and churches to old cinemas and theaters. Many people are taken aback at how different this "England" is to the one they encounter in London, and it's wonderful to be able to show them a side to the country, its landscape and traditions, that they might otherwise miss.
Comments