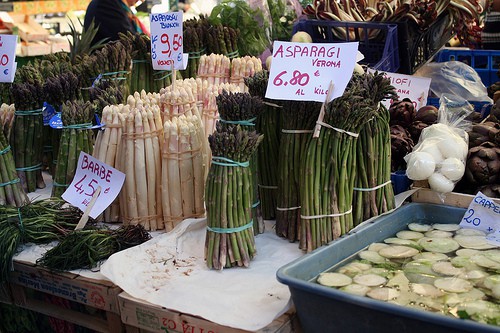 Almost since Venice's beginnings, Rialto has been the center of Venetian life, and it remains so today.  Monday through Saturday one finds the area filled with locals purchasing fruit, vegetables, fish, meat and flowers.  The market rings with the shouts of the vendors, and the crush of Venetians inspecting and buying their goods.  Rialto is also a popular space for informal social exchange, especially on Saturday mornings, as Venetians regularly run into friends here, often ducking into a bar together for a quick coffee or ombra (small glass of wine) before continuing on to the next stall.
In fact, this marketplace has functioned as a center for exchanges of all sorts – economic, informational, social — for centuries.  Rialto developed early in Venice's history as an important locus of economic and political power.  By the tenth century, with Venice emerging as a center of international trade, Rialto was filled with stalls bearing silks, spices, furs and other items that moved between East and West.   It teemed with travelers from all over the known world, including cities like Constantinople, London, Antwerp and Damascus.  It was here that Persian and German traders haggled over the prices of goods they would bring back to their homelands; here where some of the first forms of money exchange developed; and here that an early clock was erected in the fourteenth century to help merchants and vendors keep track of the time.  It was here that a platform was installed for the town crier to mount and spread important news throughout the city, and here that the very church that stands in Rialto's first square, Campo San Giacometto, was given an inscription urging merchants to treat their clients fairly – a clear indication of the way commerce imbued virtually every aspect of Venetian life! 
The energy that has characterized Rialto over the centuries and drawn merchants, diplomats and travelers to its stalls and trading houses continues today, albeit in very different form.   The old currency exchange house is now a popular eatery, though it still bears its original name of bancogiro.  Nearby, where Ottomans and Frenchmen once clustered to conclude their deals for sables or saffron, lawyers now congregate in front of the main court house.  If some of Rialto's activities have changed, however, others have endured: Rialto remains the best place for many sorts of purchases.  The best selection of cheeses, meats, seafood and produce can all be found here, viewed, inhaled, touched and especially tasted.  Nowhere else in Venice can you savor the city's flavours so intensely.  Venetians know this, which is why even though Rialto attracts many visitors, it remains a profoundly local space as well.  In sum, Rialto market is the colorful, lively, chaotic and authentic heart of Venice!
If you want to learn more about Venice and its traditional market, why not join our Venice Market walk.
Comments