In Spain, the Christian holiday Epiphany (January 6) is fêted with flair. Called El Día de los Reyes (The Day of the Kings), after the day on which the three kings arrived to bring gifts to the baby Jesus, it signifies the 12th and final day of Christmas, and traditionally, surpasses Christmas Day in the extent of its celebrations. The eve of the holiday is marked by colorful parades and fireworks, during which there is a procession of the three kings and their animals. Before bed, Spanish children polish and place their shoes, along with offerings of milk, fruit, and hay, on the porch of the house in anticipation of the kings' arrival. On Epiphany, children awake to find that the kings have left presents in their shoes. They then feast on Roscón de Reyes, or Kings Cake.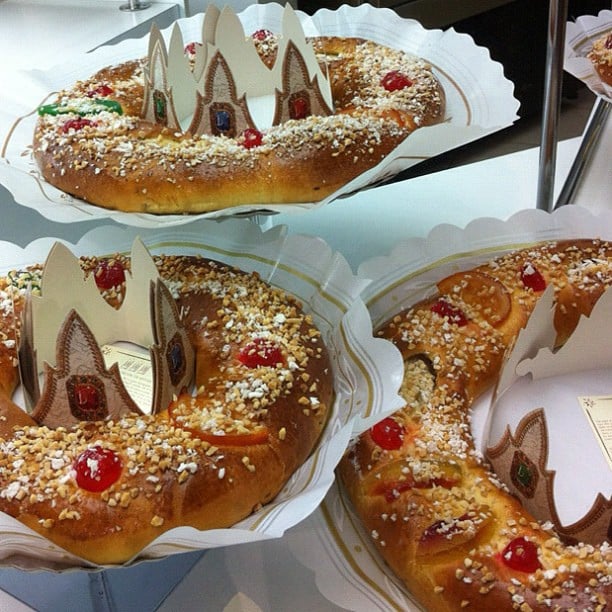 Roscón de Reyes is a sweet round cake, made plain or with special fillings–whipped cream (a local favorite, according to Madrid art historian and Context docent Clara Nchama), truffle cream, frangipane, chestnut cream, among others. The cake is usually then decorated with dried fruit and a crown, and inside are hidden little trinkets–customarily, a baby Jesus figurine and a fava bean. Upon dividing up and eating the cake, whomever finds the baby Jesus in his or her piece is crowned King or Queen for the day and blessed with good luck for the coming year. Whomever finds the fava bean is tasked with buying next year's cake . . . it's a risk worth taking for such a delicious and fun tradition!
Those lucky enough to be in Spain around Epiphany will find the treat in nearly every pastelería, or pastry shop. Both Clara and Madrid-based food journalist Vicky Hayward (also a Context docent) recommend the Madrid pastelería Horno San Onofre, on Calle San Onofre near Gran Vià. It is considered by madrileños to have the best rosca in the city. 
Comments