We run walking tours. So, obviously, we like to walk. But, sometimes we also like to pick up the pace, especially when we travel. Running while traveling is a great way to experience a new place. We polled some the runners at Context for their insider tips for places to run while traveling in 13 different cities worldwide.
Berlin
I'm not much of a runner myself, but I do like to walk my dog along a route that joggers love and I can imagine that this would be a really great place for running while traveling in Berlin . The Landwehr Canal in Berlin stretches for over 10 km across the city, so wherever you are staying, you're likely not far away. Plus, once you're by the water, it's really difficult to get lost. My favourite part is the section along Paul-Lincke-Ufer in Kreuzberg, where the canal is flanked by weeping willows and, outside of winter, locals sitting around soaking up the sun. I'd recommend finishing your run with a well-earned German beer or expertly mixed cocktail on the terrace of Spindler.  (Natalie)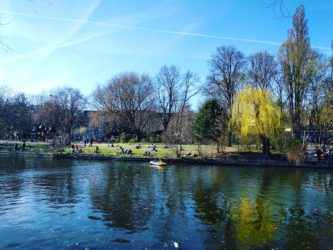 I go running in Tempelhofer Feld. It's becoming a well-known haven for sporty types, hobby gardeners, kite surfers, longboarders, and the like. There's just something so undeniably cool about jogging along the abandoned runways and access roads of a disused US military airport in former West Berlin. Beware of going on sunny days, though, as there isn't much tree cover and all the runways start to look the same after a while; it's easy to lose your bearings. (Stephanie)
Edinburgh
I recently moved to Edinburgh and found out it's a great city to run in. It has lots of green spaces and gentle hills, so plenty of places to exercise. For hard core runners, I would opt for Arthur's Seat. It's a stunning example of Scotland's incredible geological history and while the run up is extremely hard and will leave you a bit breathless, the view once you are up will make everything worth.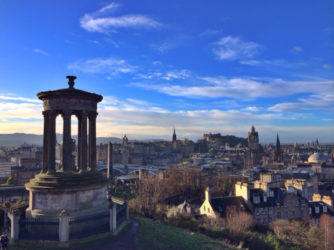 For a slightly less intense run, head up from the Princes Street Gardens and run to the top of Calton Hill. Possibly the most photographed site in the city, you'll have great views, lots of photo ops and the opportunity to restore your sugar levels and the lovely and always open (everyday- except for Christmas) cafe on top of the hill. (Petulia)
I used to run along the Water of Leith in Edinburgh regularly when I was studying there. It's a beautiful river and perfect running spot. (Lara)
Madrid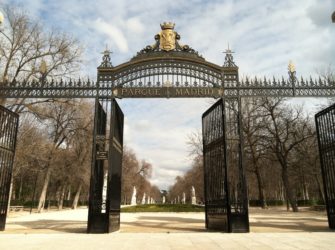 I think races and running while traveling in general are a great way to see a city: I did a 10k a little while ago where they closed off some really iconic main streets, (Gran Vía and Paseo de la Castellana) to traffic for the race and it was such a cool experience to run along them. El Parque de Buen Retiro is gorgeous and very popular with runners as is the Parque Oeste, which has the added novelty of an Egyptian temple in the middle. Lately for my long runs i've been using the specific paths along the river, where not only to you get nice clean air but you also pass cool buildings like the atlético Madrid stadium and the former slaughterhouse turned cultural centre el Matadero. Actually sometimes they do special markets there on weekends with the added bonus a great selection of food trucks, so my friend and I have been known to jog towards the food trucks for lunch! (Rachel)
Paris
On Sundays from 9am-5pm and on holidays, the stretch of quai along the right bank (from Quai des Tuileries to Pont Charles de Gaulle) is closed to traffic and open to runners, pedestrians and bicyclists. It's a wonderful, flat route along the Seine with breathtaking views of the city. For a more intense circuit, try the hilly Parc Montsouris in the 14th. (Lindsay)
I love running while traveling and in central Paris the best time to run on the narrow streets is early morning when the traffic is low and the city is just waking up. I usually stay in Republique, when I'm there. Parks and green spaces are few; so my route is heavily urban. It goes like this: down Rue du Temple through the Marais; across to the Ile de la Cite; a circumnavigation of both islands, and then back up through the Marais on Rue de Turenne, which has the wonderful result of pulling you through Place des Vosges. (Paul)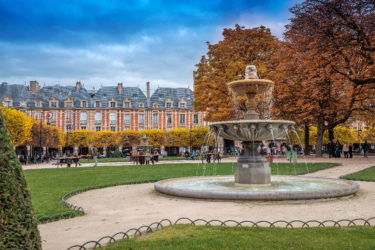 Living at Pigalle, I like to run along Boulevard Clichy and Boulevard des Batignolles to Parc Monceau. It's a straight path without too many twists or turns, and you end up at a lovely park where many Parisians go running after work. Parc Monceau is gorgeous especially in spring, but with statues, classical colonnades, and even a stone pyramid, it makes for a fantastic place to run year round.  (Lauren)
Note, we operate a Paris running tour, which is a great way to get to know the city.
Boston
If you're staying downtown, try the Charles River Esplanade running path near Charles/MGH and criss-cross along the Storrow Lagoon through Back Bay to the Mass Ave Bridge. It's especially pretty in spring, as it's dotted with weeping willows.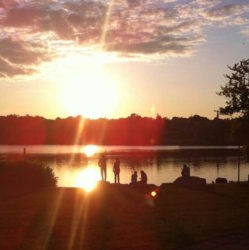 Further north of the city, catch the Somerville Community Path at the Davis T station. This is a lovely tree-lined jogging path that brings you to the Alewife Brook Reservation, a 120-acre reservation featuring meadows and wetlands. For a longer run from Alewife, continue north on the Minuteman Commuter Bikeway, a 10-mile tree-lined path, and plan to stop for a rest at the scenic Spy Pond. (Lindsay)
Philadelphia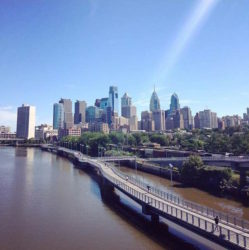 Home of the world famous Broad Street Run (named one of the fastest 10-mile courses in the U.S. by Runner's World) and the Philadelphia Marathon, there are a multitude of great spots to run while in Philly.  Most popular and convenient to Center City is the Schuylkill River Trail.  Jump on at the South Street entrance next to the banks of the Schuylkill River, careen down the new Schuylkill Banks Boardwalk, an over-the-water extension of the trail completed in 2015. Heading north, you'll pass the Philadelphia Museum of Art and the historic Boathouse Row, founded in 1858. The trail is perfect for long, uninterrupted runs and connects to Fairmount Park, a system of 63 parks that covers 9,200 acres, making it one of the largest urban green spaces in the country. (Lindsay)
Washington, DC
The National Mall measures precisely 2 miles from the Capitol Reflecting Pool (at the base of Capitol Hill) to the Lincoln Memorial. Paved paths keep runners out of traffic, and the loop is an easy, flat four miles. Looking to get away from the hustle and bustle of downtown? Try the C&O Canal Towpath. This shady path runs northwest along the Potomac River from Georgetown for more than 180 miles.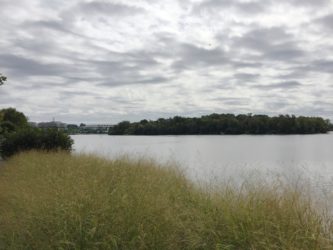 From the Georgetown Visitor Center, run (or bike) along the river through scenic (and historic) Cabin John; Great Falls National Park and Swain's Lock are located about 15 miles north of Georgetown, a great day trip for hikers, runners, and bikers alike. Note: bicycle and kayak rentals are available at the Boathouse at Fletcher's Cove, accessible via Canal Road; the towpath is mostly gravel, and not ideal for skinny road bike tires. (Lindsay)
Cartagena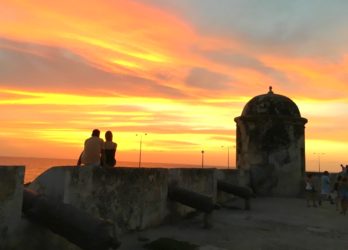 One of my favorite runs in the world is a loop around the old town of Cartagena on the walls of the city. You can run on much of them, and do a pretty neat loop of the central city and Getsemani in about 4 miles. A highlight is the stretch that runs right along the Caribbean Sea for about a mile. Spectacular. (Paul)
Hong Kong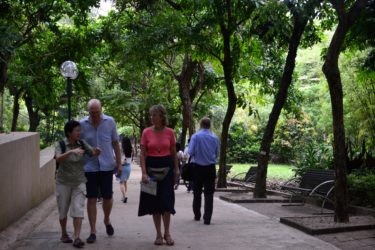 Bowen road lies on HK island above Central and Wan Chai and stretches for a few miles without any cars and offers great views of the city. You run in the depths of the 'concrete jungle' as HK is often described. It's a great place to people watch too as there aren't just runners but old locals doing all sorts of stretches and tai chi, along with a man who takes his bird for a walk in its birdcage.
Happy Valley Racecourse in Causeway Bay offers a great running track too for exercising and is a rather cool setting too. (Lara)
Istanbul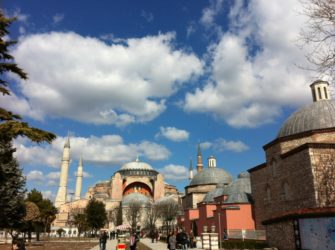 I often run along the Moda Seaside (Moda Sahil) in Kadikoy, which is quiet and peaceful in the mornings. It's one of the few quiet spots in the city, with grass and trees and a splendid view of the Sea of Marmara. In one direction (on clear days) you can see the jagged Princes Islands offshore, in the other direction there's a perfect panoramic view of the Hagia Sophia, the Blue Mosque, and Topkapi Palace. It's a good running incentive! In the summer, the sun sets exactly between the Blue Mosque and the Hagia Sophia. (Katie)
Rio de Janeiro
I'd recommend an incredible city oceanfront jog down the coast of Rio. This route is 15 km in total and starts at the Museu do Arte Moderna (MAM) in Centro and goes all the way down the coastline, mostly on a separated pedestrian and bike path, to Mirate de Leblon, a stunning overlook with a view of the entire Leblon and Ipanema beaches. You could take the metro to Cinelândia and the trail begins just a few blocks away at MAM, which is next to Marina da Glória.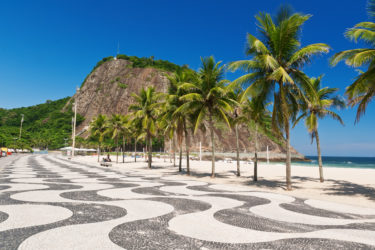 Or if you are looking for a shorter jog, you can start anywhere along Ave. Atlántica in Copacabana for a run of approximately 8 km. The route passes Centro, Flamengo, Botafogo, Copacabana, Ipanema and Leblon neighborhoods. On sundays much of that stretch has additional street closures and is a favorite leisure hotspot for locals. Wear your swimsuit under your jogging gear to take a mid-job dip or two in the ocean! (Amber)
Rome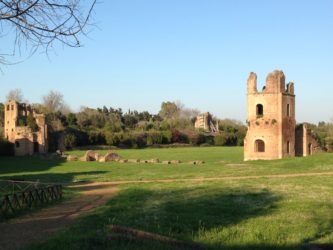 When I trained for the Rotterdam and Rome marathons I was living in Rome. I really looked forward to my long runs at the end of the training, which would take me from the Esquiline, through the walls of Rome, and out on the Appian Way. There are few things more sublime that running 20 miles on a 2000-year-old road in the stunning Italian landscape. (Paul)
Venice
When I lived in Venice, I had a couple of favourite routes that I'd pick depending on the landscapes that I felt more inclined to seeing on that particular moment. Certain days, I'd start from the Fondamente Nove, which face the Northern part of the lagoon and the island of Saint Michael with its tall cypresses, and jog all the way to the Arsenal, passing from the back. On the way, I would take the chance to explore the tiny alleys that populate this side of Venice, Castello, so quiet and residential, especially around the Celestia water bus stop. A long metal gangplank, suspended on the water, flanks the perimetral wall of the Arsenal, exposing you to a very unique view of such an iconic site.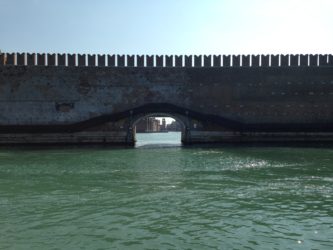 Other times, I'd go to the Giudecca, and jog from tip to toe of the island. One of the advantages here is that there are very few tourists also during the busiest times of the year, making it easier and very enjoyable. Also, you get to appreciate St Mark's square and the Doge's palace from one of the best vantage points ever. (Luisa)
Comments