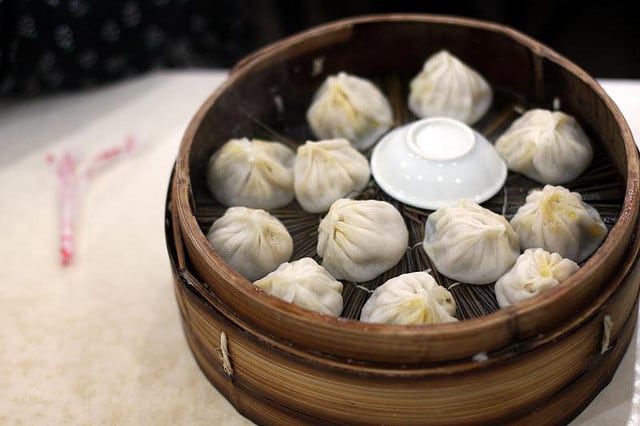 In case you haven't noticed, we here at Context love food.  Just as much as the museums and monuments that reside in our cities, the cuisine of a location brings insight and nuances that fill out a fuller picture of that city.  It's no surprise, then, that when opening operations in Shanghai in December 2011, we immediately set out to look for culinary experts to help highlight Shanghai's cuisine.
Christopher St. Cavish has been living in Shanghai since 2005 and after a ten-year career in the kitchen, working with everyone from Norman van Aken in Miami to Paul Pairet in Shanghai, has transfered over to writing.  Christopher covers the food and beverage scene in China for a myriad of publications and also leads our market walk and annotated lunch in Shanghai.  Christopher was kind enough to answer some questions about the intriguing culinary scene that awaits visitors to Shanghai.
Context Travel: What first drew you to Shanghai and its culinary scene?

Christopher St. Cavish: I came by accident. I had traveled to Hong Kong a couple of times, loved it, and decided I wanted to move there. At the time, I was a line cook in a fine-dining place in Miami. About a year later, I showed up and went job-hunting, though I really only had my eye on The Peninsula. That didn't work. But what I didn't know was that at the time (2005), Shanghai was really booming. Its economic pull just sucked me in, and I ended up with a sous-chef job at a new restaurant at the Pudong Shangri-La, Jade on 36. After a year, I left to explore to pursue a self-education of the food, and the city around me. As a full-time cook, you just don't have the time to do that. That was 2006. I've been writing here since.
CT: What makes the cuisine you find in Shanghai unique as opposed to the rest of China?
CSC: Everything is available here. Food from all the over country. The city has restaurants from every province, and given Chinese cuisine's breadth, that's quite a draw. I can't speak for other cities, but I know in Shanghai at least, the city's history and development are also fairly evident in its cuisine and mix of restaurants. In part, that's because as a major city, Shanghai is quite young – about 150 years. Its cuisine was a pretty blank canvas, and was filled in by the waves of migrants from other parts of China that were drawn to its riches until the 1940s, and again in the early 1990s. What's thought of as "Shanghai cuisine" these days is a patchwork of regional dishes.
CT: What are some common misconceptions that most travelers have about Chinese cuisine?
CVS: The biggest is that there is a "Chinese cuisine." I don't the think regionalism is emphasized enough. It's like saying "European cuisine." When people go out for dinner here, they don't say "Let's have Chinese." They say, "let's have Sichuan hot pot, or let's go to that Cantonese soup restaurant, or let's have Hunan food, or I feel like Shanghainese home-cooking."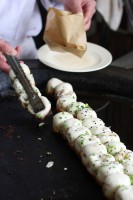 CT: What are the dishes that travelers must try when visiting Shanghai in order to get a real traditional taste of what it has to offer?
CVS: Hongshao rou is one of the city's calling cards. It's pork belly braised in soy sauce, Shaoxing wine, sugar, ginger, and aromatics, and is a great example of how the Shanghainese combine soy and sugar to get something greater than the sum of its parts. The other one is xiaolong bao, the small 'soup' dumplings. In a twist on other soup dumplings, the 'soup' is actually inside the dumpling. This is probably Shanghai's most internationally well-known food, though it's only about 100 years old. It's been funny to watch it become a 'foodie' trend in the west in the last five years or so.
Finally, I'd say shengjian bao. You could say they're a cousin to the xiaolong bao. They start with the same ground pork and 'soup' on the inside, but instead of a thin wrapper, they have a fluffy 'bun', which allows them to be pan-fried. I think they're better than xiaolong bao. It's only a matter of time before they become trendy in the west as well.
CT: Any favorite spots for a special dinner celebration in the city?
Xindalu at Hyatt on the Bund for regional Shanghainese, and Peking duck; Lee Garden in IFC for outstanding Cantonese; Mr & Mrs Bund for fun French on the Bund; Franck for French in a more intimate, neighborhood setting.
CT: What about a quick lunch or light meal?
CVS: Charmant, in the French Concession, for Taiwanese. Wagas, a very successful Shanghai chain, for healthy sandwiches, salads, smoothies, and coffees. I think they're up to about 25, so they're pretty easy to find.
Thank you for taking the time of share your thoughts Christopher.  You've definitely given us a lot of new "research" we'll need to do the next time we're in Shanghai.
Comments