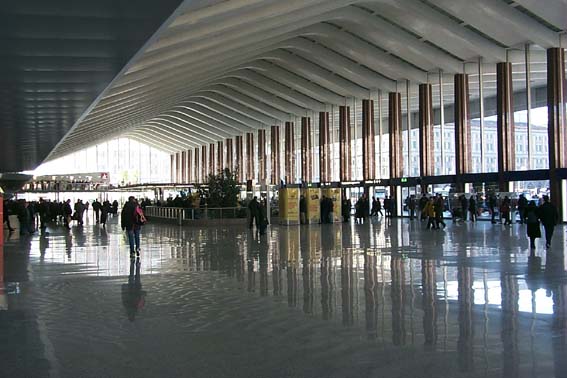 The Context staff in Rome spends alot of time passing through the city's main train station, Termini. Whether we are going to Venice, Florence or Naples for work and elsewhere for leisure, Termini is one of the hearts of the city – with tourists, travelers, and commuters passing through by the hundreds on a daily basis.
The main and basement levels of the station house dozens of shops, snack bars, and self-service restaurants. Many are the same you can find in stations and high streets all around the world (Sephora, Benetton, Nike, etc.) but there are some gems to seek out if you find yourself waiting for the Leonardo Express out to Fiumicino airport or if you just missed that Eurostar to Florence. Here are some of our favorites:
– Sia Home Fashion (main level – close to via Giolitti entrance)
A Swedish chain of home furnishing shops with an emphasis on simple, rustic Scandinavian design. Very cute children's items like bedding, hangers and toys. The sale items are usually excellent – glass and silver flower vases, high quality picture frames and candles. Around the holidays, there are always nice decorations and gifts.
– W.O.K. (World Oriental Kitchen) (basement level – close to entrance for B metro line)
Surprisingly, I do not recommend this new Asian-inspired chain for its rice and noodle dishes but, instead, for their breakfast specials. Yes, the cornetti are of the frozen variety but of the high-quality Tre Marie brand (owned by Barilla) and they have a wider selection than your average Roman coffee bar (muffins, tarts, quiches). On weekdays, there is a "cornetto and cappuccino" special for 1.50 euro. That's usually why there's a line that permanently snakes out of the place from 7AM to 10AM.
– UPIM (western wing – along via Giolitti)
This year, the new CEO of UPIM and its sister chain Oviesse, revolutionized both brands and put them on the path to becoming sleeker and more desirable shopping destinations. Though Oviesse (now OVS Industry) is decidedly the chicer option, visitors to UPIM can still find good deals on basics, sleepwear and home furnishings (located on the rarely visited mezzanine level).
– Borri Books (main atrium – Piazza del Cinquecento)
Borri is a massive bookshop that extends across all three levels of the station (a glass elevator makes the trip between the levels). The basement is mostly technical manuals, non-fiction and children's books, the main level is dedicated to fiction and classics and the mezzanine level houses the travel guides and a surprisingly large English book section (as well as sizable sections of other major European languages). One of its gems is a huge selection of Penguin Classic editions priced at around 4-5 euros.
Comments