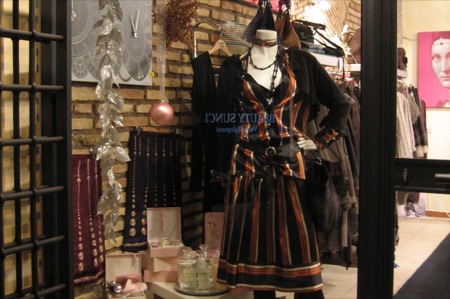 It is hard not to shop when you are in one of the most fashionable countries in the world. Context Rome offers two personalized shopping itineraries, the Custom Shopping walk and Artisan Shops of Rome, each tailored to suit your specific needs and interests.
Where to go? If you are feeling splashy, or just really need that Gucci bag or pair of Ferragamo shoes from the original store, then you should stroll down via Condotti and the surrounding streets. And of course, via Veneto always provides "la dolce vita" feeling Fellini made famous in his 1960 film. Other great, though slightly less posh, shopping areas run along via Cola di Rienzo (the street named after a 14th century Roman revolutionary and friend of Petrarch) and via Appia Nuova, just beyond the San Giovanni in Laterano not far from the ancient Coliseum. Don't miss LEAM (via Appia Nuova 26-32) for great deals on a great selection of all leading Italian designer wear compiled in one store; the top floor is an outlet where you can find the likes of Prada, Dolce & Gabbana, and Valentino at half-price.
One quaint, cobblestone-lined area I especially like for boutique shopping is called Monti. There are a plethora of fun, funky shops here filled with unique things from local and up-and-coming European designers. For clothes be sure and see Paraphernalia (via Leonina, 6), B (Piazza Madonna dei Monti, 1), Nota Bene (via del Boschetto, 134) and Le Gallinelle (via del Boschetto, 76). For jewelry and accessories, ESCAT (via dell'Angeletto, 10) is a gem of a store filled with playful pieces from local designers, and L'Eliodoro (via del Boschetto, 109) is a small artisan shop offering one of a kind pieces in gold. Shoes to die for can be found at 244 via Panisperna—that's the name of the store as well as the address (makes it easy!). If you want some divine made-to-measure wear and have time to get fitted, make a stop at the shop run by a family of famous Roman tailors, Pellegrino (via dei Serpenti, 153); prices, worth every cent, start at 130Euro a shirt and you pick the cloth, style, cut, and every other detail. For made-to-measure women's wear and retro-style ready wear pay a visit to Tina Sondergaard (via del Boschetto, 1D).
Keep in mind that store hours in Rome are typically 9am-8pm, with the smaller shops closing for lunch between 1pm-4pm. Note too that many shops are closed on Monday mornings; hey, the shopkeepers need to sleep in once in a while to survive the fall crowds of frenzied shoppers. If you decide to book a shopping tour with Context Rome, I look forward to leading you firsthand to all the best, hidden shops in our wonderful Eternal City!
-Danielle Pollack
Comments