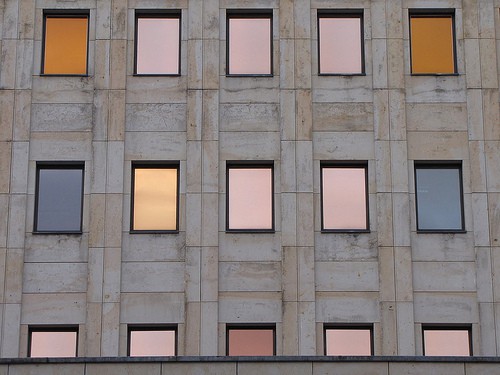 On April 22 we are running our Divided City tour of Berlin for €1 per person in honor of Slow Travel Berlin's annual gathering. We love this organization, which seeks to promote a slower, more sustainable—and, therefore, deeper—approach to visiting Berlin. Not only does it gybe well with our own mission, we think it makes great sense in a city like Berlin, which far too many visitor breeze through too quickly. This is a dense, complicated place that holds some amazing experiences for the patient visitor. (Yeah, I know, we're head-over-heels in love with Berlin. What can we say?)
We sat down with Paul Sullivan, founder of Slow Travel Berlin, to find out more about the organization and what he loves about his city.
CONTEXT: Why did you start Slow Travel Berlin?
PAUL: I founded STB shortly after I moved to Berlin in 2008. I have a background in music and travel writing, but had developed a growing interest in subjects such as Sustainable Travel and the Slow Movement and wanted to set something up that took a 'broader' and 'deeper' view of the city.
CONTEXT: So, not trendy?
PAUL: Right. Things like family-friendly activities, parks, public spaces, hidden histories, urban fringes, as well as more conventional aspects like architecture and Berlin's burgeoning food and art scenes. I wanted to approach the city in a variety of non-typical ways with "deep" (i.e. longer-read) content and push the boundaries of what a travel site can be.
CONTEXT: Have you been successful?
PAUL: Yes. When I think of pieces like Jack Orlik's exploration of Berlin's rubbish, Adam Butlers's 39 things you might learn if you visit the Stasi Museum with a 10½ week old baby, and photo essays of crematoriums.
CONTEXT: Why is "slow" traveling significant to Berlin?
PAUL: Berlin is now a top travel destination in Europe, with 10 million visitors per year and over 22 million overnight stays. This trend has been growing since the wall fell. As much as the revenue is fantastic for a city as notoriously poor as Berlin (unemployment here is still twice as much as the rest of Germany), there are negative effects of such mass tourism.
CONTEXT: For example?
PAUL: Increases in prices for local services, rising rents, disruptions of local communities, etc. Our aim is to try and spread the physical and economic load by directing tourists to some of the alternative, lesser known sights, galleries and museums in the city and promoting local, independent businesses over multinationals and chains. It's also just a wonderful city to wander around and "get lost" in. It's generally very safe, public transport is great and reasonably priced, and the city is full of random pockets of historical significance not covered in any guidebook or travel site.
CONTEXT: Do you have a favorite of these pockets?
PAUL: I have so many I really can't settle on just one, it wouldn't be fair! To choose a random example, I particularly love Tempelhof, the former Nazi airport that has been transformed into a vast public space. You can barbecue there in summer (designated areas), fly kites, cycle or skate along the former runway. It like it also because it's very "Berlin" in that it's slated to become one of the world's largest urban parks; since land and property is still relatively cheap here and there's a lot of space still it hasn't been sold off to property developers as it might be elsewhere. Berlin is slightly bigger than New York but has half the population.
CONTEXT: What do you think are the most common things people get wrong about Berlin?
PAUL: Funny you ask as we're about to write a feature on the Top Ten Myths about the city. Common misconceptions include rents still being cheap (they might be relatively cheap compared to NYC or London, but they're not exactly cheap any more); that it's an urban/industrial city when in fact it's one of Europe's greenest; that everyone here is a digital creative or youthful hipster (there are many regular folk here too, thank goodness); that Prenzlauer Berg has Europe's densest population of families and children (this one has been particularly persistent – it's just not true, even if it feels like it is around areas like Kollwitzplatz and Helmholtzplatz). Conversely, all the cliches you hear about the city being suffused with the powerful scars and reminders of its 20th century history, the libertarian nightlife, expansive creative scene and vitality of a city that's still becoming rather than one that's "completed" – they're all very much true.
CONTEXT: So, what happens on "Slow Day" in Berlin?
PAUL: The day is intended to be a celebration of Berlin creativity, culture and cuisine. We are taking over the fantastic Markthalle IX for the day, a century-old covered market hall that re-opened last year and has a great sustainably-minded food market at weekends. We'll create a small food market of our own with a big emphasis on food made from locally-sourced ingredients, and surrounding this will be a range of pop up artisan-themed workshops, a literature lounge, some live music, chess matches, art happenings and more surprises on the day. This is all in the afternoon (12-6pm). The morning will be dedicated to exploring the city via a range of free (or specially discounted) sustainable city tours, which is where Context will come in. We're big fans of Context's sustainable approach and the breadth and depth of your tours fits our own vision perfectly. Your Divided City tour will give unique insights into the city history and will be a perfect compliment to our other tours that morning, which include an architecture tour, a street art tour, and an exploration of Christopher Isherwood's Berlin.
CONTEXT: Cool! We can't wait. Thanks for chatting.
PAUL: No problem.
Comments