With rolling, verdant hillsides lush with blossoming flowers and a mild climate (albeit with the occasional rain), spring is an ideal time to venture around Tuscany. It is, however, also the beginning of tourist season. Fortunately, at 8,875 square miles, it's also large enough to find hidden enclaves, local favorites, and a few surprises away from the crowds. To make the most of spring in Tuscany, see our guide below, featuring Florentine tradition, a seaside escape, and the gorgeous Tuscan countryside.
Piazza Duomo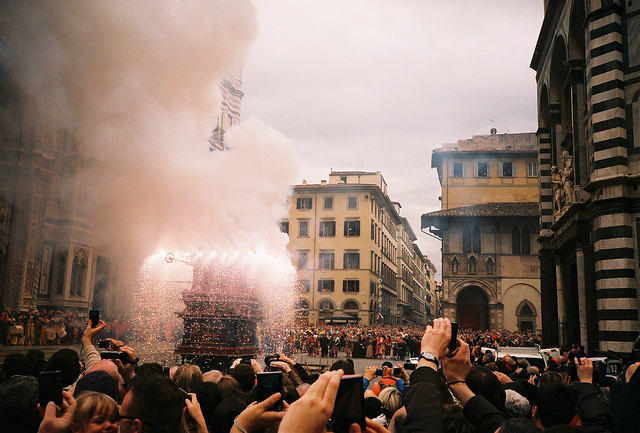 The most dramatic Easter commemoration in Tuscany, the Scoppio del Carro (Explosion of the Cart), takes place in Florence's Piazza Duomo. A tradition dating back to the Middle Ages, this ritual is said to have originated when a member of the noble Pazzi family returned from the First Crusade around the year 1000 with pieces of flint from the holy sepulcher in Jerusalem; his bravery and valor is celebrated every Easter Sunday since that time. The flint from the holy sepulcher held in church of SS. Apostoli are rubbed together to light a pyre held in an ox-drawn cart, which is then paraded through town with musicians, dancers, and drummers in period costumes. Once the cart reaches the Duomo, it sits in wait until a priest inside lights a dove-shaped rocket, which hurtles towards the cart, resulting in a fabulous explosion of fireworks located inside. It's a revered tradition for ringing in spring in Tuscany among locals, but if Easter pyrotechnics are not your thing, there are ample options in the countryside over Easter weekend.
Val D'Orcia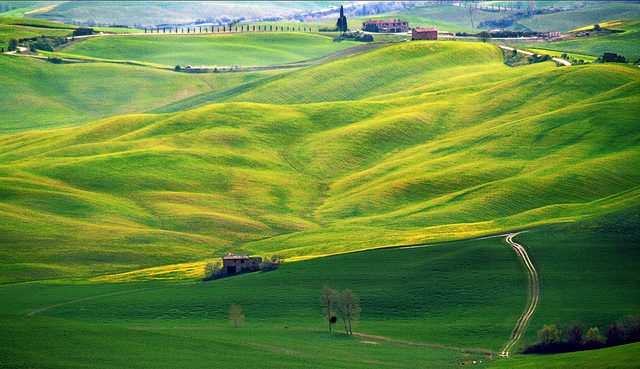 There is no better way to see spring in Tuscany than to meander the back roads by car, stopping to enjoy the views of rolling green springtime hills and wild irises bordering the roadways. We suggest driving out from Florence to Val D'Orcia to see the less frequented side of the region, and a UNESCO World Heritage Site. Known both for its views and for being the cradle of the Pecorino Toscano cheese and the famed Brunello di Montalcino wine, it's a feast for multiple senses—and one we explore on our Val D'Orcia Tour with a culinary historian. After enjoying spring in Tuscany in the countryside, drive on towards Bagno Vignoni, where you can enjoy natural hot springs first discovered by pilgrims making their way to Rome on the Via Francigena.
Porto Santo Stefano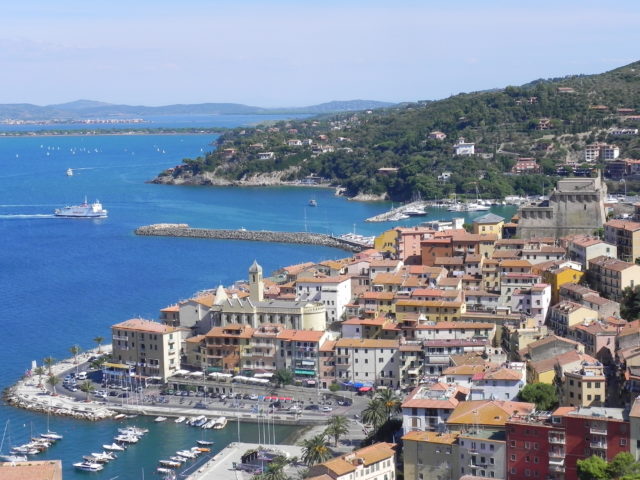 Tuscany is not only rolling hills and vineyards, there are about 250 miles of coastline in this region. On Easter, tiny seaside town Porto Santo Stefano has an early morning procession and a sailing race culminating on Easter Monday (Pasqua in Vela). Enjoy spring in Tuscany with a walk on the promenade as you soak up the springtime sunshine before stopping for lunch in a local trattoria to enjoy fresh caught seafood and a local white wine called Ansonica. Additionally, you can a ferry boat from here to charming Isola del Giglio for a day trip—tickets for the ferry should be purchased online in advance.
Viareggio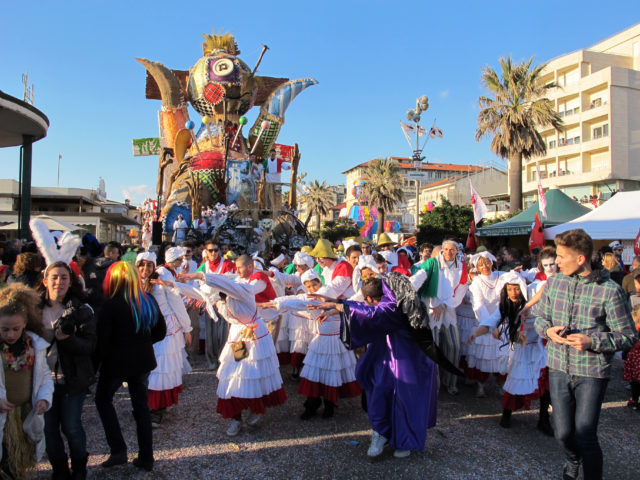 If you are in Italy during Lent, Viareggio is a destination to not miss. While Venice's carnival celebrations are famous the world over, Viareggio provides a equally festive counterpoint far less frequented by tourists. Parades and floats up and down the seaside promenade every Sunday during Lent and on Fat Tuesday and Fat Thursday. Enjoy the belle epoque architecture and seaside charm of this turn of the century resort town. Don't miss the fried fish at La Barchina along the jetty, or try another local speciality: Cecina, a pizza made from chickpea flour most famous at Da Rizieri in the center of town (on Via Cesare Battisti 35/37). Viareggio is easily reached by train or by car.
Need more reason to go to Tuscany? See our list of four reasons to explore Tuscany.
Comments