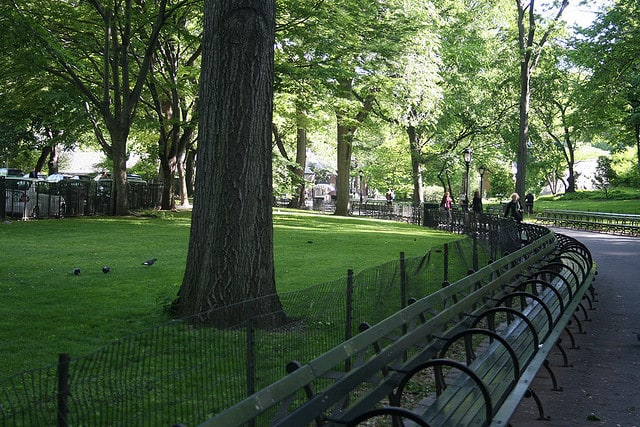 Everyone has their favorite season for visiting New York City, but we think the early spring, when the trees and flowers are starting to bud and bloom, and before the heat sets in, is prime time for a weekend trip. If you already have a weekend booked, or are considering a last minute trip, here are some of our top activity picks you won't want to miss.
The week of March 16th to 24th is Asia Week, so there are exhibitions, auctions and programs galore happening in the city. And you don't have to be a serious collector or expert in pan-Asian cultures to partake. Our favorite events are a curator-led gallery talk of masterpieces of the Asian Art collections at the Brooklyn Museum, an artist-led talk on contemporary art and Korean ceramics at The Korea Society, and a curator-led tour of Himalayan sculpture and modernist art exhibitions at the Rubin Museum. If you're visiting in April, the entire month marks the celebration of hamami, or cherry blossoms, and an afternoon at the Brooklyn Botanic Garden–just off the 2, 3, 4, or 5 subway lines– is the perfect way to experience these delicate pink blossoms at their finest.
Are you planning to be in the city with your family for spring break? We have a few suggestions that will engage all ages. Spend a morning or afternoon in the Meatpacking District. The recently opened High Line Park– built on a defunct elevated railway– offers a variety of family programs such as storytelling, puppet shows, and hands-on workshops. Follow your explorations up with lunch or a snack at the Chelsea Market, which is housed in the former NABISCO factory. Have you ever wondered how a city like Manhattan actually works? Learn about the building blocks of the city– skyscrapers, trains, streets and parks– with a practicing architect or educator on our new urban planning and architecture family walking tour. Or, if the weather is less favorable, explore the world of abstraction, the avant garde, and modern art with a museum educator at MoMA.
And about dinner… New York has a famously, overwhelming array of restaurants to choose from and sometimes it is hard to know where to begin. We recently had an unforgettable historic and gastronomic experience at the newly opened restaurant, Pulqueria located in Chinatown. Specializing in Mexican food with a pre-Colombian twist, their sikil pak (Mayan pumpkin seed dip), tostada de pata, and housemade pulque cocktails had our tastebuds singing. We were also lucky enough to be led in this annotated meal by a culinary historian and Context docent. Her expertise gave us a whole new appreciation for the history and provenance behind the dishes and their ingredients. Finally, to satisfy that sweet craving, be sure to visit Nunu Chocolates and Cacao Pietro in Brooklyn for artisanal treats made with local ingredients– such as bonbons filled with craft beer-infused ganache. Yum.
Comments