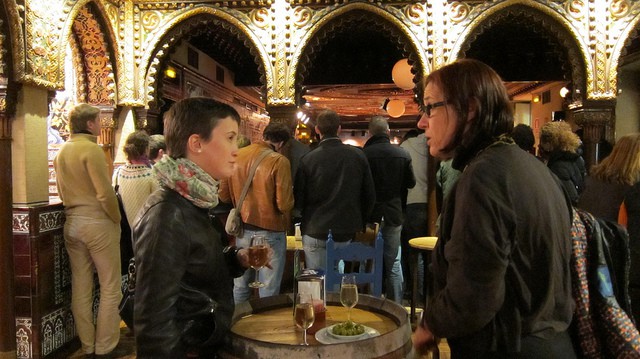 A literary cafe by the British Museum, in London may not be the natural setting to discuss Spanish culinary traditions and trend. Nevertheless I cannot miss this opportunity to share a piece of cake and a good coffee with food writer Vicky Hayward, as she is on a quick layover in the city.
Since a recent visit to Madrid I have been fascinated by the development of Spanish food, and in particular the tapas phenomenon. Coming from a traditional Italian background, I find the idea of drinking and eating standing up a bit foreign, but I am about to learn more.
Context Travel-Spanish food seems to still be under the positive influence of Ferran Adria's fame. But when did Spanish food begin to change?
Vicky Hayward: I think today's creativity is rooted in a couple of changes further back. Around 1910 Spanish chefs' hearts were won back by their own regional cuisines after two centuries of menus dominated by French cuisine. The excitement of that rediscovery was still alive when the Basque chefs launched their nueva cocina, reinterpretiing nouvelle cuisine, in the 1970s. That is really when today's changes began- experimental avant garde cookery has been riding a wave ever since.
CT: So, what are the staples of the cocina madrilena?
VH: There is a saying that the sound of chickpeas falling into a pot is one typical of Madrid, so I'd pick its chickpea pot-au-feu, called cocido madrileno, as the most emblematic dish. More surprising, but also longstanding staples, are the city's marvellous fish and seafood, and its offal dishes, like pig's ears.
In a country so solidly planted on family values, how does the tradition of tapas come about? 
Well, the story of tapas is a southern one, Pablo Amate, an Andalusian food writer, has scratched behind legends. His findings are that wine shops turned to making an extra peseta by offering a little food with wine, sold at the counter, jokily calling it a tapa– meaning that it would tapar, or cover, your hunger till you could eat properly. Then tapas came north with the Andalusians as they emigrated in search of work.
So the name tapa does not come from food being used as a cover for a glass of wine?
There are so many appealing legends, but none are documented. What is true is that inns could only legally offer lodging, not food, till well into the modern period, so cities like Madrid, full of hungry visitors doing business, were full of tavernas. Later these and bars provided fertile soil for tapas to take root.
Are changes in cuisine reflected in tapas?
Yes, but I think Tapas reinvent themselves all the time as a reflection of social change too. So pintxos took off in the 1970s as part of the new Basque cooking, but that itself reflected chef's desire to do bold new things in the spirit of the new democracy. Right now chef's bite-sizeconceptual tapas are a reflection of them responding creatively to the economic crisis.
Anything new on the horizon?
One can see just the first tentative tapas emerging from Spain's Latine American and Asian cooks- for the time being it's just here and there, but I think that could be fantastically exciting.
After this talk I am even more fascinated by the history of Spanish food. I may not get to some authentic tapas right away, but I just got a great list of books on the subject from Vicky, and this bookstore seems to have a few. I order another flat white and start reading.
About Vicky Hayward: Vicky Hayward has been living in Madrid for over twenty years. She grew up in England, where she trained and worked as a cook before studying history at Cambridge University. Her interest in social and cultural history shaped her work as a book editor at Weidenfeld & Nicolson and later at Booth-Clibborn Editions, the London-based publisher of cutting edge visual books. For two years she lived in Vanuatu as it came to independence, working there as a translator, interpreter and editor. As a features writer in London she covered popular culture, social issues, food, the arts and women's issues. She first got to know Spain as a child on family holidays and in 1990 her writing about Spanish food brought her to Madrid. Features for the international press since then have covered food and culture, in particular flamenco, which led on to collaborations in other media. Her travel writing began in the 1980s; it includes pocket guides to the Costa Blanca (1991), Madrid (1994), and Valencia (2006), and writing for Michelin Green Guides (2011). In recent years her interests in food and history have come together. She contributed articles to the Oxford Companion to Food on areas of Spanish food culture and for five years she has been working on her translation of a classic eighteenth-century Spanish cookbook. She leads culinary walks for Context Travel in Madrid.
Comments