'A man who has not been in Italy, is always conscious of an inferiority, from his not having seen what it is expected a man should see'
-Samuel Johnson
'O Rome! my country! city of the soul!'
-Lord Byron
If, as a 21st century visitor here in Rome you ever feel overwhelmed by, well all of it really, let me take a moment to ease your mind. You are not the first.
Take a stroll through Piazza di Spagna knowing that in the 18th century it was known to the Romans as "er ghetto de l'Inglesi". Foreign travelers were all thought to be English milordi pelabili clienti (milords, clients easily fleeced).
One such milord was 20 year old Lord Burlington, who arrived in 1714 with five gentlemen, six servants and his dogs (1). Feeling pangs of guilt at the likelihood of a hefty excess baggage charge on your own  return home?  Take solace in the fact that His Lordship returned to England with 878 trunks and cases (2).
Rome has accommodated merchants, pilgrims and tourists not just for centuries, but for  millennia. This rich, eclectic city takes what it wants and simply shrugs off the rest. For centuries religious pilgrims made their way here using every thinkable means of transport and by the early 1800s the not so religious pilgrimage to Rome had become  a necessary requirement for membership to the fashionable society of British dilettanti and literati. Their readiness to be 'fleeced' was obviously reflected in the course of Italian art and whilst large heavy  paintings with a clearly Catholic bent would not be welcome on Aunt Agatha's elegant Protestant drawing room walls, smaller, handleable prints and paintings of romantic Italian locations were 'de rigeur'. Look at the works of Canaletto and Piranesi before you visit Piazza Navona.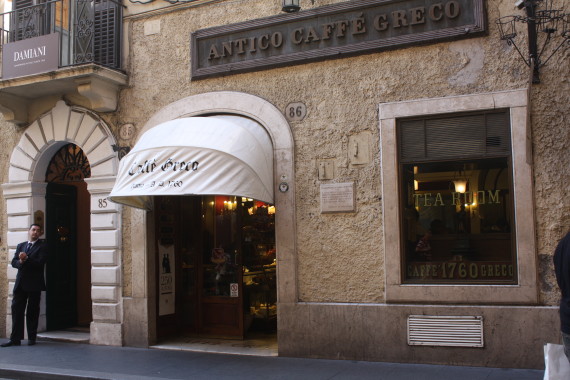 Rome's literary heritage is as rich and varied as any of the arts. During the the Age of Romanticism (which  broadly spans the period between the French Revolution in 1789 and the coronation of Queen Victoria in 1837) Rome, and in particular the area around Piazza di Spagna had become a stopping off point for a veritable shopping list of intellectuals and artists. It had undoubtedly earned its "English Ghetto" status.
In 1821  25 -year-old John Keats coughed himself to death in a little room overlooking the Spanish Steps, now immortalised in the Keats-Shelley Museum.
For 250 years the nearby Caffè Greco has been the very symbol of international Rome. Casanova recalls, in his Mémoires, a risqué episode from his youth.  Andersen lived on the floor above and still to this day you may take a seat on his very own sofa. Other regular visitors were Goethe, Wagner, Bizet, Liszt, Tennyson, Thackeray, the Brownings, Stendhal, Byron, Shelley, Keats, Gogol, Mark Twain, Dickens. The list goes on and on…
Perhaps it was here where Shelley was inspired to write:
'Go thou to Rome, – at once the Paradise' (3)

'It was at Rome, on the fifteenth of October 1764, as I sat musing amidst the ruins of the Capitol, while the barefooted friars were singing Vespers in the temple of Jupiter that the idea of writing the Decline and Fall of the City first started to my mind.'Conjecture that may be, but we certainly know that it was another part of Rome, just a twenty minute walk from here where Edward Gibbon first conceived the idea of composing his history of not just the city but the whole Roman Empire.
The moment is known to history as the "Capitoline vision"
The six volume 'The History of the Decline and Fall of the Roman Empire' earned him the reputation as the first modern historian of Ancient Rome. That certainly was some vision.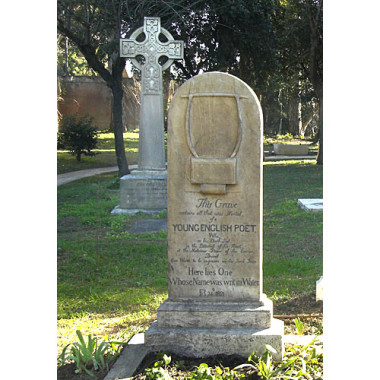 Do you feel you might be inspired to pen some of your own Roman memoirs if you could just find a peaceful inspirational place? There can be nowhere more suitable than the Non Catholic Cemetery.
For me it's one of the most beautiful, peaceful and thought provoking places not just in Rome but in the world. Go through to the oldest part and sit on a bench near Keats and Shelley's graves. Keats' grave bears the simple words 'Here lies one whose name was writ in water'.
Just a year after Keats' death Shelley drowned in Italy in a tragic sailing accident. A copy of  Keats'  poetry was found in his pocket. The poetry had  been viciously slammed by critics but is now seen to be amongst the most beautiful  poetry ever written in the English language.
"A thing of beauty is a joy for ever:

Its loveliness increases; it will never

Pass into nothingness; but still will keep

A bower quiet for us, and a sleep

Full of sweet dreams, and health, and quiet breathing."
John Keats (from Endymion)
Take the opportunity for a quiet moment here. Your postcards home might take on a quite different tone.
Comments