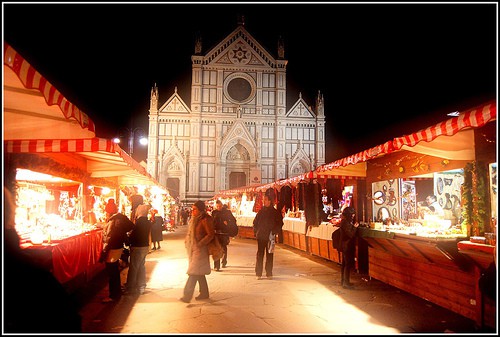 As the next installment of our holiday guides for our cities (did you check out our great wrap-up for London, provided by docent Imogen Aylen?), we would like to share some tips for Florence.
As in most Italian cities, Florence's city center comes alive with sights (streets festooned with lights), sounds (holiday concerts in churches and museums) and smells (roasting chestnuts on street corners). The biggest yearly holiday event in the city is the traditional Teutonic-style market in Piazza Santa Croce (pictured above). The market usually sets up shop just after the Immaculate Conception (December 8th) and runs until January 6th (Epiphany). Mulled wine, apple strudel and handmade wooden ornaments and toys flank the stalls that border the elegant piazza. Smaller towns in the Tuscan countryside that will be hosting Christmas markets during the last three weeks of December include: Greve in Chianti, Vicchio and Bagno a Ripoli.
After gift shopping marathons on Via Tornabuoni and Via della Vigna Nuova, stop for a hot chocolate at Rivoire (Piazza Signoria 5).
For holiday meals (Christmas and New Year's Eve), our top choice is;
Rifrullo
via San Niccolo' 55r
tel: +39.055234 2621
They will be serving a prix-fixe menu that exalts local, seasonal specialties. Make sure to book in advance.
Throughout December, choral and ecclesiastical music will fill artistic and religious spaces. On Saturday, December 12th at 6PM, Florence's Duomo Choir will perform traditional holiday music at Palazzo Davanzati. At Orsanmichele on December 6th at 6:30PM, a choral quartet will perform selections by Pachbel, Vivaldi and Haydn.
On Christmas Eve, watch for Babbo Natale (Santa Claus) as he makes his way by boat up and down the Arno river, delivering presents to Florentine children!
Comments