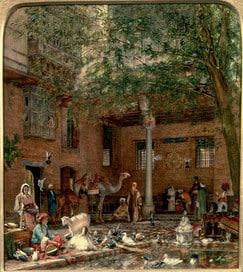 This show that just closed at Tate Britain is a splendid exhibition of well-known and totally new works of the seventeenth to twentieth centuries.
British (and occasionally French and American) painters' images of Constantinople, Egypt and the Holy Land from this period show us the tensions between dominating a culture, absorbing it, and entering into it. Some of the painters were travelers, recording their views of the Holy Sepulchre or gardens in Cairo as souvenirs for their return home. Other paintings were of diplomats abroad, painted in fancy costumes, both to show their exoticism to the people back home, and also to demonstrate respect for the cultures of the Ottoman court, or the Egyptian marketplace. The strength of many of these paintings, however, is the Victorian British love of detail, whether it be tile patterns on a wall, icon paintings in a monastery in Sinai, or the pattern of light passing through a mushrabiya window onto a Persian carpet. Visiting this exhibit (which should take an hour or perhaps two) and then moving into Tate Britain's permanent collection (free entrance) helps to put the Orientalist paintings into the context of nineteenth-century Britain, its love of Romantic symbolism, genre paintings of daily life and the mastery of watercolour.
The show will be traveling to the Pera Museum, Istanbul starting October 2008. Our Paris docent, art historian Peter Miller, will be giving a lecture on the British Orientalist Painting at the Pera Museum in November.
For more information: Tate Britain, and Pera Museum
This post was written by Context London docent, art historian and archeologist Caroline Goodson. Caroline received her Ph.d. from Columbia. She is lecturer of medieval history at Birbeck College, University of London.
Comments