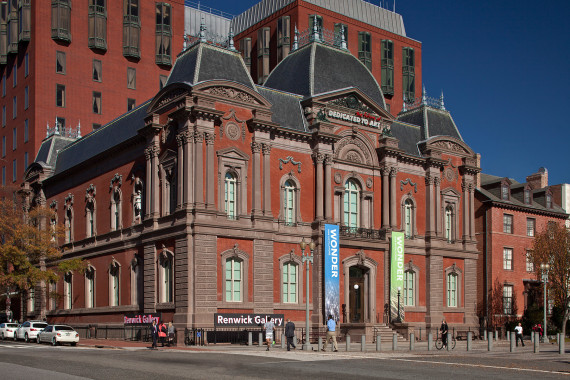 Washington D.C.'s Renwick Gallery, home to the Smithsonian American Art Museum's craft and decorative arts program, has been restored, reenergized, and reimagined. Located just a few blocks north of the National Mall, the museum reopened its doors to the public in November 2015 following a comprehensive two-year renovation, and if the lines of eager sightseers stretching around the block are any indication (or if a museum can be judged by its Twitter or Instagram feed) visitors really like what they see.
The renovation marks the first comprehensive reevaluation of the museum in more than 40 years, preserving one of the finest examples of Second Empire architecture in the United States while significantly modernizing the space and "greening" the museum's carbon footprint. Highlights of the project include a restoration of the building's original fenestration, repair of interior plaster and decorative moldings, and the removal of two 20th century drop ceilings, revealing hidden vaulted ceilings that add to the height and drama of the galleries. New lobby furnishings by metalsmith Marc Maiorana and a regal carpet for the grand staircase by French architect Odile Decq are the perfect finishing touches, welcoming visitors with a little bit of design-friendly whimsy.
The Renwick's debut exhibition, WONDER, features new site-specific installations by nine contemporary artists including Jennifer Angus, Chakaia Booker, Gabriel Dawe, Tara Donovan, Patrick Dougherty, Janet Echelman, John Grade, Maya Lin, and Leo Villareal. Each artist uses expressive materials ranging from tires, thread and insects, to branches, netting, glass marbles and LED light strips, to create larger-than-life installations that transform the museum into an immersive artwork. Artists were selected for their ability to transform spaces and for their focus on process and materials; each was invited to select a gallery and then create an installation inspired by that space. While the featured artists work in strikingly different media, they are connected by a shared interest in materiality and the labor-intensive creation of hand-made objects in a digital age.
Nicholas R. Bell, The Fleur and Charles Bresler Curator-in-Charge of the Renwick Gallery, organized the exhibition. "The concept of 'wonder'—that moment of astonishment in the face of something new and unknown that transports us out of the everyday—is deeply intertwined with how we experience art," said Bell. "These nine artists are masters of constructing works that startle us, overwhelm us and invite us to marvel—to wonder—at their creation. These elements matter in the context of this museum, devoted for more than four decades to the skilled working of materials in extraordinary ways."
With all of this "WONDERful" art in mind, here's a handful of works to watch out for when taking in the exhibition on your next visit to Washington.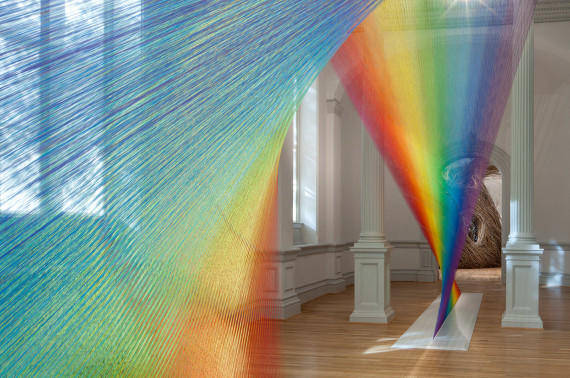 Gabriel Dawe's textile-based installation is made from thousands of strands of embroidery thread, all hung by hand, which appear as waves of color and light sweeping from floor to ceiling. The artist was inspired by memories of the skies above Mexico City and East Texas, his childhood and current homes.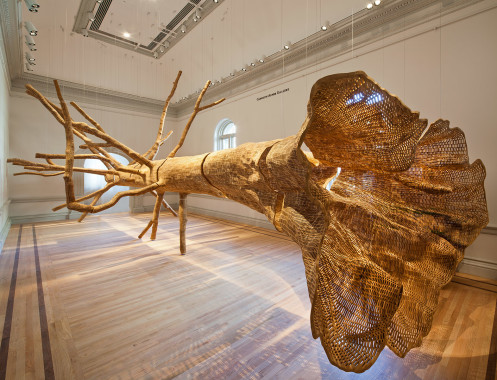 John Grade uses 500,000 of pieces of reclaimed cedar to reconstruct a hemlock tree approximately the same age as the Renwick's building, based on a complete plaster cast he made of the tree in situ in the Cascade Mountains. After the exhibition closes, Middle Fork (Cascades) will be carried back to the hemlock's location and left on the forest floor, where it will gradually return to the earth.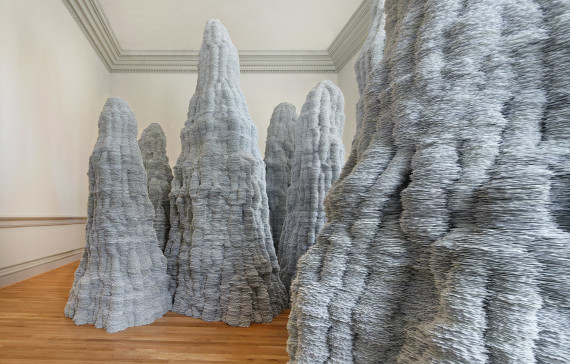 Tara Donovan's towers are constructed from hundreds of thousands of index cards that have been individually glued together to form irregular looking spires. By gathering up everyday objects we think we know, Donovan transforms the familiar into the unrecognizable through overwhelming accumulation.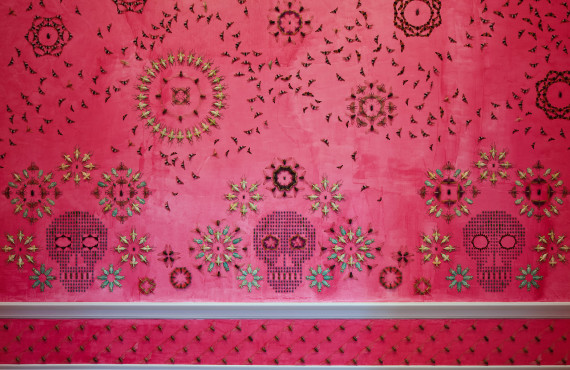 Jennifer Angus covers gallery walls in spiraling, geometric designs reminiscent of wallpaper or textiles – but look closely, and you'll see that these detailed patterns are actually fabricated from brightly colored insects. (Yes, the insects are real, and no, she has not altered them in any way except to position their wings and legs.)
Wonder what else you'll see? These – and other show-stopping installations – await visitors at the new Renwick. Plan your visit soon, however – WONDER closes on May 8th, 2016.
The Renwick Gallery is located on Pennsylvania Avenue at 17th Street N.W. It is open daily from 10 a.m. to 5:30 p.m., (except Dec. 25). Admission is free. Metrorail station: Farragut North (Red line) and Farragut West (Blue and orange lines).
WONDER is accompanied by a fully illustrated catalog written by Bell and published by the Smithsonian American Art Museum in association with D Giles, Ltd.
Comments