Even if you've never had an opportunity to visit to the world-renowned Museo del Prado in Madrid, you've likely seen images of two of the collection's most iconic works, a set of paintings by Spanish artist Francisco José de Goya y Lucientes called "The 2nd of May 1808" ("The Charge of the Mamelukes") and "The 3rd of May 1808" ("The Executions").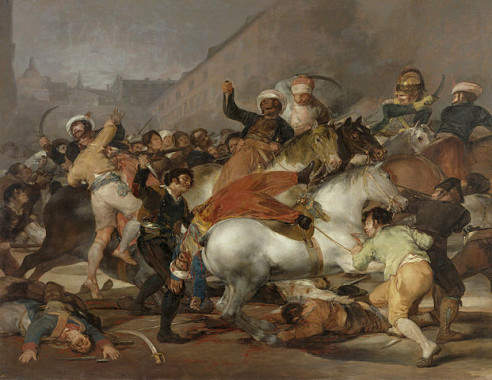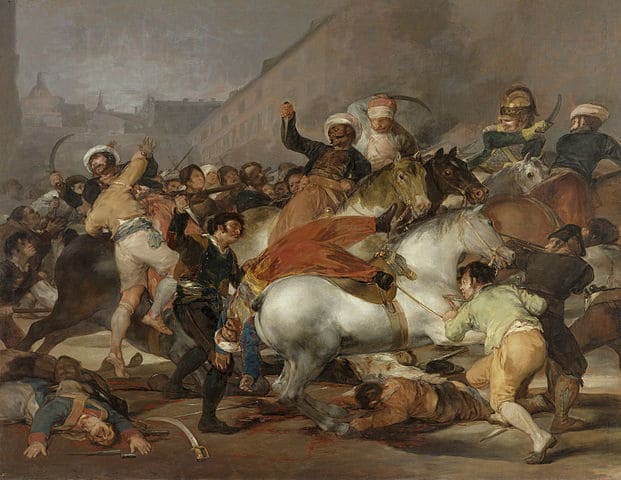 At first glance, we can deduce that the pieces illustrate a fierce, chaotic battle followed by an orderly execution scene. Though the backdrop is obstructed by smoke and, in the case of the second piece, a midnight sky, it's obvious that we are looking at a city scene. But what exactly do these pieces represent? What happened on May 2 and 3 1808 that compelled Goya to depict such events for posterity?
To understand the context of the pieces, one must first understand Spain's political climate of the time. In short, between the fall of 1807 and the spring of 1808, Emperor Napoleon of France deposed the Spanish Monarch and proceeded to occupy Spain. On May 2 1808, as the last of Spanish Royal Family were preparing to go to exile, the people of Madrid revolted.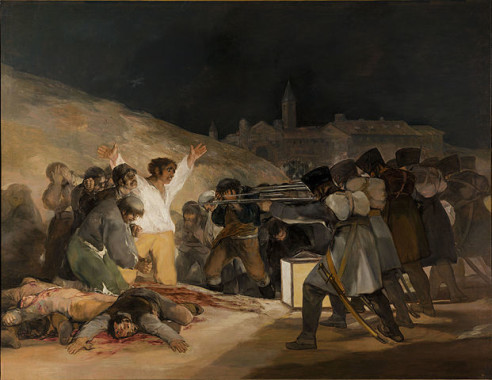 What followed was a bloodbath. During the course of the day, many hundreds of madrileños were killed fighting the French and Turkish soldiers of Napoleon's army.
The French eventually regained control of the city and the backlash was vicious. In retaliation, hundreds of madrileño were executed the next day. But word spread to other parts of the country, and the battle became the catalyst for the Spanish War of Independence, which was fought until 1814 when France was finally defeated.
Goya, though the first court painter to the Spanish crown, remained in Madrid during the war, and his work, realist and unsettling, provided an important record of the period. These companion works, commissioned at the end of the war, were a way to commemorate the courageous actions of his countrymen, at a time when emotions were still raw.
With context, the orderly fashion of the May 3 piece becomes suddenly haunting. The French firing squad, faceless and anonymous, aims at a group of madrileño heros. In his later years, Goya retained his characteristically loose brushstrokes but began painting darker scenes, psychological character studies shown illuminated against dark backgrounds. The 3rd of May piece is no exception, and the condemned are painted bathed in light, allowing us to see them as despairing emotional beings, though arms outstretched and defiant until the end.
Comments