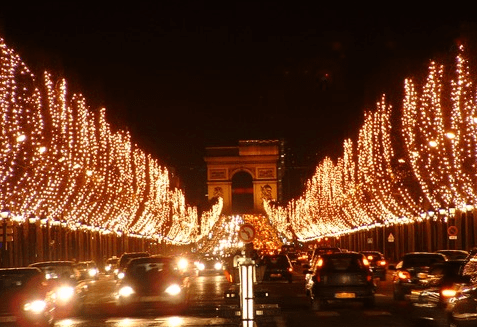 Paris is a beautiful and magical place to spend the holidays. The streets are laced with glowing lights, Christmas markets serve up hot cider and delicious tartiflette and creative window displays entice shoppers looking for the perfect gifts or delicacy to enjoy over Christmas dinner. Here is a special idea to create your own Parisian version of the 12 days of Christmas:
December 25 – Celebrate Christmas mass or a Christmas meal: Take in the Christmas Spirit with mass at the American Cathedral or traditional French mass at Notre Dame de Paris (service in Latin).
Many restaurants in Paris are closed on December 24 and/or 25th, however, Parisbymouth and about.com have pretty good lists of what is open.
December 26 – Browse around a Marché de Noel: You can continue the Christmas spirit at one of the many Marché de Noel dotted around the city. The markets usually run until at least December 27th and some until the 31st.  Pick up some presents for family back home and sample some vin chaud or hot cider or French winter food specialties such as tartiflette (from the Alps with potatoes, reblochon cheese, cream, and lardons) or spicy ginger cake. If you would like to explore a market and the French holiday culinary traditions – join our special holiday walk!
December 27 – Zoom down the slopes – in Paris? Paris might be far from the mountains, nevertheless, families can enjoy some winter sports at the Stade Charlety, which turns into a winter wonderland at with a 100m-long snow hill for tobogganing and skiing, an area for snow-shoeing and more! (Charlety Stadium 17 Avenue Pierre de Coubertin 75013 Paris, December 20th – 31st but closed on Dec 25).
December 28 – Take in a Christmas concert: The churches of Paris host concerts all year round, though over the holiday they usually feature festive repertoires. The Sainte-Chapelle is at the top of my list, and is holding Christmas concerts most nights over the holidays. The Eglise de la Madeleine is also a nice venue for concerts, with a changing program on many nights around the holidays including  Mozart's Requiem on December 28th.
December 29 – Stroll through the twinkling gardens of Vaux-le-Vicomte: The Palace of Versailles is on most visitors' lists, though if you are in Paris over the holidays, you might want to swap it for Vaux le Vicomte. Not only was Vaux the inspiration for Versailles and thus a fascinating site to visit, Vaux celebrates the holidays with lights and special decorations in the chateau and around the gardens, making the end of the year one of the best times to experience the site.
December 30 – Sing along to The Sound of Music: Rarely do visitors to Paris have the chance to attend theater in English, lucky visitors here over the holiday can enjoy the classic musical The Sound of Music at the Chatelet Theatre from December 7th to January 1st (advance reservations highly recommended).
December 31 – Ring in the New Year … where?: It's always difficult to know celebrate New Year's Eve in Paris, and it looks like there won't even be the fireworks display at the Eiffel tower. Most revelers head to the Champs Elysées, more for the "young at heart," and not appropriate for families with young children. If you are staying in an apartment it might be nice to stop by the local specialty food shop to pick up some supplies and champagne and celebrate "at home." If you are staying in a hotel, plan on reserving at a restaurant as they quickly fill up with locals. You could go out for oysters, a typical New Year's specialty, Le Bofinger (5-7, rue de la Bastille), serves up some of the best in Paris. Or if you are looking for someone livelier,  many of the boat companies are offering special dinners, plus a dinner-show and dancing, as you sail into 2013, we can also help you book this.
January 1 – Savor some hot chocolate and macarons: With most shops and museums closed on January 1st, take refuge from the chilly (and quiet) Parisian streets with a hot chocolate and macarons at La Durée, open 365 days a year and conveniently located at several sites around the city from the Champs Elysées to Rue Royale between Place de la Concorde and Place de la Madeleine or tucked away on rue Bonaparte near Saint Germain (exact addresses here).
January 2 – Admire the Steins modern art collection at the Grand Palais: You can travel back in time to turn of the century bohemian Paris through one of the best exhibits of the season, held at the Grand Palais and exhibiting the impressive collection of the Steins with phenomenal Matisse and and Picasso tableaux. Get the insider look at the exhibit in the company of an art historian on one of our special visits to the exhibit.
January 3 – Hunt down the best Marrons Glacés: Another holiday specialty is marrons glacés – glazed chestnuts. You can find them dazzling in shop windows around the city – some of the best ones can be found at the chocolatier/confectionist Chapon, one of the featured stops on our Baguette to Bistro walk.
January 4 – Go Skating! – Again, Paris might not come across as a sporty destination, but in a few different locations around the city you can find skating rinks set up over winter. My favorite is the one in front of Hotel de Ville. Go in the evening to admire this beautiful building illuminated (rental skates available for 5 euros).
January 5 – Pick up a roi de Galette for tomorrow: The Twelve Days of Christmas ends on the eve of Epihany on January 6th and French celebrate this with enjoying a tasting Galettes des Rois, a "Kings' Cake" made of flakey pasty and usually filled with marzipan, writer Ann Mah gives some good tips on finding the best galette in this article or try to make one yourself.
Wishing you a wonderful time in Paris over the holidays! Bonnes Fêtes!
Comments