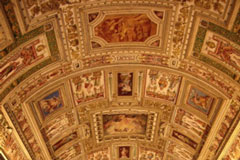 The Vatican has announced that as of January 2007 there will be new prices and entrance regulations affecting visitors. The main change is that the Museums won't be opening up to the general public until 10 am. The hours before that, from 8 to 10 am, are reserved for large tour groups (think 50 people and more) in an effort to reduce the crowding problems of the last year.
Independent travelers, professors with their students, and people who prefer to visit with small groups can enter after 10 am. No one is sure how these rules will change the landscape at the Vatican. One thought, and this is certainly the thought of the administrators at the Vatican, is that by getting all the huge groups through the Museums early, the galleries will become a more civilized place by midday. However, since the Museums close early through the winter (at 1:45 pm) many believe this will have the opposite effect.
We will be adjusting our walk schedule accordingly and trying to determine the best way to work within these new regulations. We expect very little to change during the spring and summer when the Museum's hours are extended. We normally schedule our walks in the afternoon, and will continue to do so. However, if we've learned anything in seven years of organizing itineraries at the Vatican, things can always change. We'll be monitoring the situation closely, and as we learn more and see the new hours in action, we will try to advise our clients and other independent travelers on the best time and way to visit this very complicated collection.
While the prices for after hours visits have skyrocketed 40%, the general admission price will only go up from 12 euro to 13 euro, with an extra 2 euro booking fee for the large group reservations.
Comments