Writer Thomas Mann once said about Venice it is "half tourist trap; half fairy tale." Nowhere is the first half more evident than in St. Mark's Square, which is usually mobbed by cruise-ship-going tourists. But, luckily, with a small amount of effort the second half is achievable. Herewith are six suggestions for things to do in Venice away from St. Mark's to make the fairy tale come true.
1. Climb Venice's Bell Towers
Venice offers several viewpoints from the bell towers of its many churches where the panorama can be absolutely jaw-dropping. A valid alternative to the crowded St. Mark's bell tower are the towers of San Giorgio Maggiore or Santa Maria Assunta. The climb will be worthwhile, since you will have access to breathtaking views of clustered roofs, apis-blue and gold mosaics, dotting the cityscape. To make it even more perfect, the views over the laguna are picture-postcard at sunset.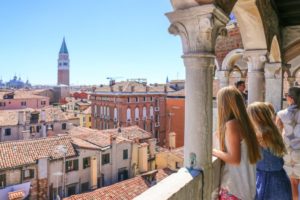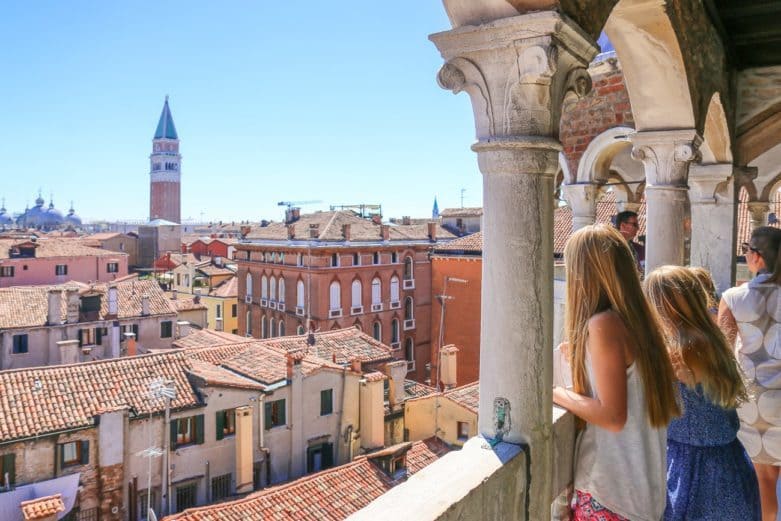 2. Visit an Organic Market
The Orto dele Meraviglie on the Giudecca island is not your regular organic market and a favorite thing to do in Venice. It is entirely grown and taken care of by female inmates from the prison of Giudecca. They grow approximately 30 varieties of veggies in their gardens. Everything sells out between 9am and 10am, so get there early.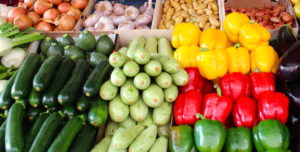 3. Walk the Narrowest Alley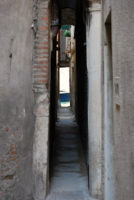 The urban plan of Venice is a maze of alleys (calle in Italian). One our favorite things to do in Venice is to forget our map and wander the maze. We are always surprised by how easy to either get lost or keep bumping into the same landmarks. The calle are very narrow and we wonder how ladies could walk them up and down in their 17th century sumptuous gowns. Calletta Verisco, in Cannaregio neighborhood, is the most narrow with a staggering width of 53 cm! Our own Cannaregio Venice tour explores the district in depth.
4. Footprints on F
isticuffs Bridge
Located next to Campo San Barnaba, the Ponte dei Pugni (Bridge of Fists) may look like any other bridge in Venice, but the story behind it tells us so much about history of the city. Four footprint marks are embossed in the bridge and mark the starting points for bitter fights between two opposed families: the Nicolotti and the Castellani. They used to wrestle each other on this bridge until they fell in the canal. Just a detail, there were no balustrades at that time! The Serenissima government initially allowed fisticuffs until punches were replaced by knives in 1705. Consequently, a new law was introduced and imprisonment put an end to such a rather bloody matter. For a full list of other fighting bridges, we recommend reading Atlas Obscura.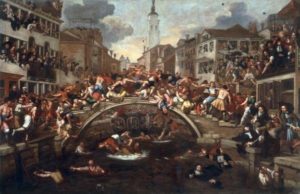 5. Explore Venetian Fashion at 
Palazzo Mocenigo
Palazzo Mocenigo is a former aristocratic residence of the Mocenigo family, one of the most important dynasties of the Venetian nobility. Furthermore, the family contributed to the Serenissima with seven doges. Palazzo Mocenigo should not be left out a traveler's list of six things to do in Venice, especially for those who are into fashion or are fascinated by costumes and precious fabrics. The palace is entirely dedicated to fashion and perfume history and houses the Centre for the History of Textiles and Costume, as well as precious furnishing and 18th-century paintings.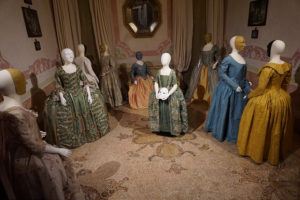 6. Live the 18th Century
A visit to Palazzo Querini-Stampalia, former home of the Querini family,  provides an excellent overview of Venetian lifestyle in the 17th and 18th century. In fact, the palazzo has been a House-Museum since 1869 and tells us a lot about what a noble home used to be like. We can find fine plasters, frescoes and fabrics, as well as precious sculptures, porcelains and paintings. (No surprise: our Renaissance Venice Tour with Historian visit this palace.)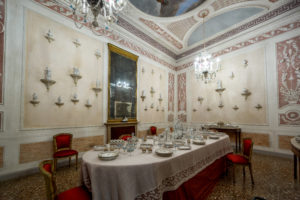 Comments