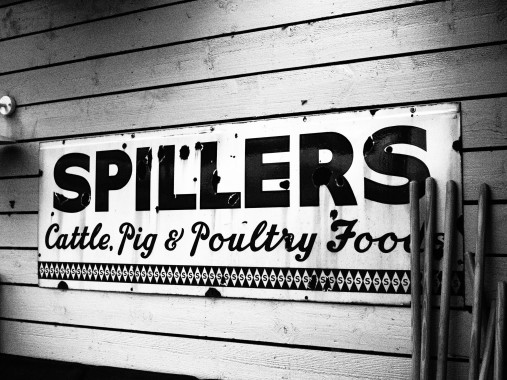 A Foodie's Guide to Edinburgh – From street food and unmissable markets to the best restaurants in Edinburgh.
Whisky, haggis, kilts and bagpipes… Scotland isn't short on stereotypes. But there's more to Edinburgh than its tourist hotspots, and one of the best ways to really get to know the city is through its food culture. Beyond the Castle and the Royal Mile, Holyrood Palace and Princes Street, there's a wealth of places where you can get an authentic taste of Edinburgh while rubbing shoulders with the famously friendly natives. Our docent Hilary Sturzaker, a culinary expert and longtime local, takes us on a journey through her Top 10 places to eat in Edinburgh.  Join us as we explore the city's hidden gastronomic highlights, from secret street food stalls and unmissable markets to the best restaurants in Edinburgh.
Top 10 Places to Eat in Edinburgh
1. Tea and Cake at the Secret Herb Garden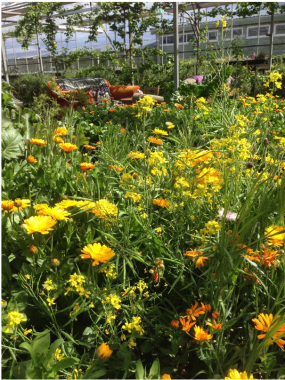 Just far away enough to provide respite from the urban buzz, the Secret Herb Garden is a haven of tranquility, home to a specialist herb nursery with a great cafe, a few bits of vintage furniture, plants and herbs for sale and plenty of open spaces to walk around and take in the fresh air and views of the beautiful Pentland Hills. This is the perfect place if you need a quiet cup of tea and a slice of cake to contemplate life and chill out. The venue also has some really exciting events planned over the Summer too such as the Full Moon Dinners with chefs including Brian Grigor (Balmoral Number One), Neil Forbes (Cafe St Honore) and Ben Radford (Timberyard).
2. Gyoza at Stockbridge Market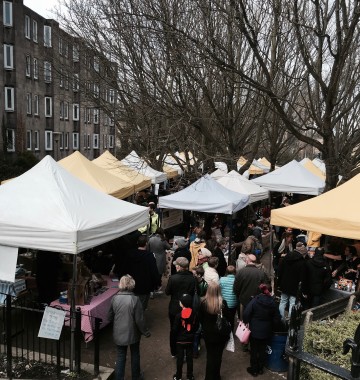 The weekly Stockbridge Market is a must while in Edinburgh. Every Sunday the stalls are set up from 9am until 5pm and offer everything: Coffee, cheese, artisan bread, street food, marshmallows, jams, chutneys, scotch eggs, gin, smoked salmon… The list goes on. One of the highlights is the pop up Harajuku Kitchen, a restaurant based in Bruntsfield that does a roaring trade at the weekly market. Order some gyoza–the dipping sauce alone is worth lining up for!
3. Poached Eggs at the Pantry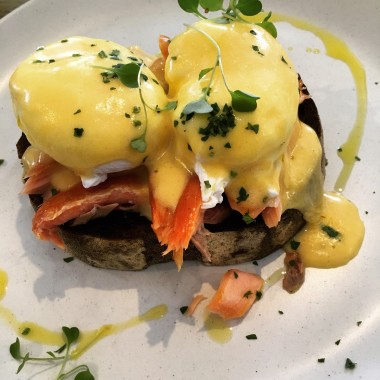 Of all the restaurants in Edinburgh, The Pantry serves the best poached eggs. Discovering them is a revelation; you won't be disappointed. Every Sunday there is huge demand for The Pantry's brunch menu, which runs all day. From eggs Benedict, and smashed avocado dishes to smoothie bowls, the food is healthy, clean and delicious. You can't reserve a table at the weekend so take some patience along with you; it's worth the wait, and if it's a sunny day just join the queue and watch the hustle and bustle of Stockbridge pass you by.
4. Big Blu Pizza at Pitt Street Market
It's not much of a secret if you know Edinburgh street food trucks, but the Big Blu Van doesn't show up that often in the city which is why it's made this list. The new and brilliant Pitt Street Market in Leith has found all the best street food vans around, and brings them together on the last Saturday of each month. Make a beeline for the Big Blu Pizza van from Dunbar, which serves authentic, fresh, thin, hot, crispy pizza with a hint of wood smoke.  Keeping ingredients simple quite often brings the best results. The market is a great way to spend a few hours on a Saturday. It runs from noon until 10pm and is becoming a real hotspot of local food talent. Don't miss it!
5. Lunch at New Chapter 
A new addition to the expanding list of excellent restaurants in Edinburgh, New Chapter has only been open for a couple of months but is already doing a roaring business. Not far from the Canonmills area of the city, the restaurant's mission statement of "serving quality, fresh, innovative Scottish and modern European food, always with a twist" appears to be pretty much on the money. Make sure you book before you arrive in Edinburgh. Top tip: The lunch menu is great value for money.
6. Cheese Toasties at Ian Mellis Cheesemongers
Every Sunday Ian Mellis Cheesemongers in Stockbridge do cheese sampling for passers by and have recently put up a table and toastie machine outside to make cheese toasties to order. Fantastic ingredients, a select Mellis cheese, artisan bread from the Bostock Bakery in North Berwick and a different chutney each week, combine to create an exceptional toastie. Simplicity is key yet again; it's mouth watering stuff. Buy one of these then head down to the market for a coffee from Steampunk's VW campervan and your set for a morning wandering around. You're also in the right place to take a walk along the Water of Leith from Stockbridge to the Modern Art Gallery. A perfect Sunday in Edinburgh.
7. Doughnuts and Coffee at Twelve Triangles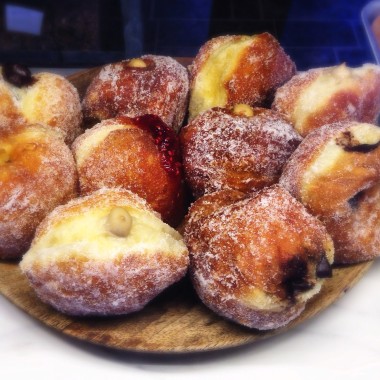 The lady bakers who brought Lovecrumbs–an artisan cake shop in Westport near the Edinburgh Art School–to the city have now spread their wings and are baking bread and doughnuts for virtually the whole of Edinburgh. Head direct to the source and enjoy a great cup of coffee and one of their spectacular doughnuts at their very small cafe Twelve Triangles just off Leith Walk. It's tiny with just a few tables, but if the sun is shining you can sit outside.
8. The Tasting Menu at Aizle 
Aizle is not quite as well known (yet) as some of the other Edinburgh restaurants but it certainly should be. Stuart Ralston and his wife Krystal Goff have created one of the 'must visited' restaurants in the city. Only open for dinner (Wednesday to Sunday) with a menu based on monthly seasonal ingredients, Aizle offers a five-course tasting menu with all the ingredients listed on a blackboard. (You don't know what the dishes are going to be in advance, but they will include all of the ingredients). Great fun. And some of the best food you'll eat in Edinburgh without a doubt.
9. Sourdough Pizza at Soderberg
Having recently contributed to some of the Edinburgh entries in 'Where to Eat Pizza', the new Phaidon book, I'd like to think I know my pizza. One of the best pizzas in Edinburgh is the thin, yeasty sourdough pizza created at the Swedish bakery, Soderberg. Toppings are simple: Anchovies, tomato, salami, and all pizzas are served with a side of palate-cleansing slaw. While you're there, you can't leave the bakery without a cardamom bun, a Soderberg classic. And with a beautiful location up at Quartermile, you're right next to the Meadows: Perfect for a post-pizza stroll.
10. The Window at Armstrong's Fishmongers
Not somewhere to go and eat but somewhere to go and look. Armstrong's fishmongers in Stockbridge has one of the finest window displays in the city. Every type of fish imaginable can be seen in their window. Crabs, langoustines, lobsters, scallops, mussels, sea bass, monkfish, plaice, haddock, lemon sole, turbot, smoked salmon… You name it, they've usually got it. The shop opened in 1942 and is a hive of activity, particularly on a Friday which is traditionally known as 'fish Friday', when most families have fish and chips for dinner: What we in Scotland call a fish supper.
To book a Context tour please visit: Context Travel
Context Culinary and Brewery Tours in Edinburgh
Full Day Distillery and Brewery Excursion
Eating Edinburgh: A Culinary Trail
E-mail: info@contexttravel.com
Follow our blog with Bloglovin
Comments