Undressing Tradition: The Story of Japan's Iconic Kimono and Yukata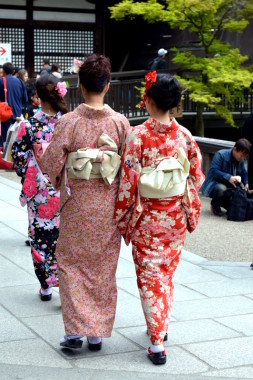 One of the world's most recognizable and distinctive garments, the kimono plays an important role in Japanese celebration and ceremony. But it's not just formal occasions that offer an opportunity to don this most iconic item of Japanese traditional clothing: The yukata is a more casual, everyday version that's often worn in summer, and features the same straight lines and wide sleeves as its silken sibling. But whether ritualistic or quotidian, kimono culture is going out of fashion, and with it the fine art of traditional dressmaking. We trace the history of the famous Japanese dress, find out why modernity compromises such traditions—and how creative efforts are being made to make room in contemporary culture for Japan's beloved kimono.
Japanese Traditional Clothing Explained – The Kimono and Yucata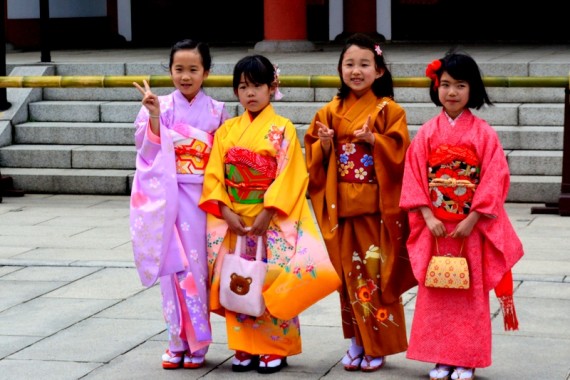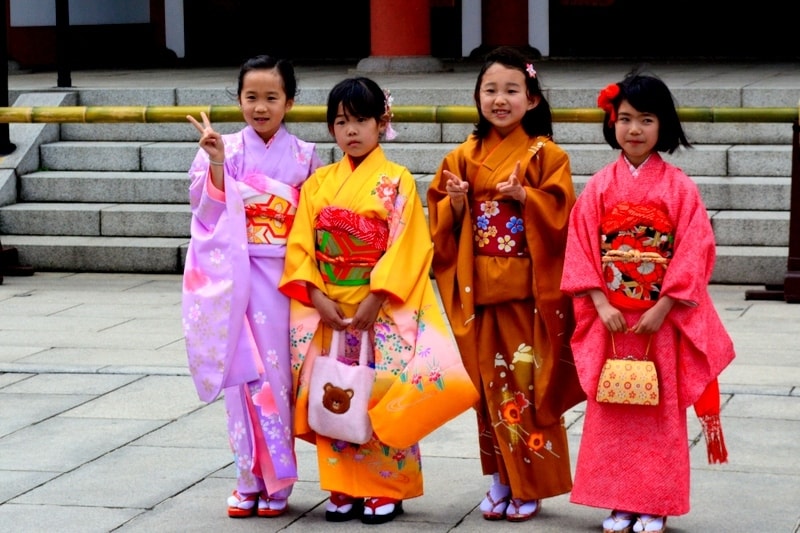 ---
Origins of the kimono
The roots of the kimono go back as early as the fifth century AD, to the traditional Han clothing of the Chinese. Under the Heian period (794-1185 AD) Japan saw the kimono robe develop a more characterful style. But it was the samurai who made it famous, during the Edo period (1603-1868). With the overthrow of the Shogun in 1853, Japanese ports were opened up to Western powers for the first time, ushering in an era of huge transformation across all spheres of life, including Japanese fashion. While kimonos were previously reserved for the ruling class, people from all walks of life were now free to wear them. The opening up of Japan also gave the West its first glimpse of this ornate and exotic robe, and by the 1870s, kimonos graced the window displays of decadent London stores. The cultural exchange went both ways, however, and Japan became influenced by western gendered dress such as suits, and more contemporary styles of clothing.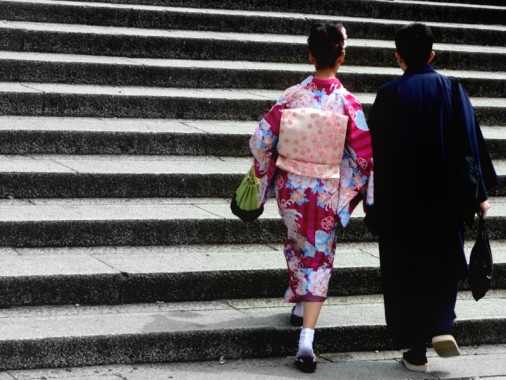 ---
So what's a yukata and how is it different to a kimono?
Technically, the yukata is a type of kimono. Where a standard kimono is made of silk and generally very expensive, a yukata is made of cotton or synthetic fabric. It's cheaper, more comfortable for everyday use, and mainly worn during the warmer months. The yukata often doubles as a bathing robe at hot springs and in public bathing areas. In fact, the word yukata derives from "yu" meaning bath, and "katabira" meaning undergarments. (Kimono means "a thing to wear" and comes from ki "wear" and mono "thing"). There are fewer cultural codes and obligations related to the yukata, and that, combined with its lower price and higher comfort, have seen it largely replace the kimono in Japanese fashion.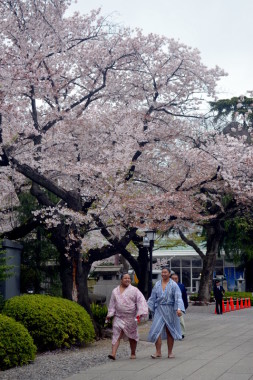 ---
Who wears kimonos in Japan today?
The kimono remains part of modern Japanese life, worn by men and women alike, albeit in ritualistic settings for the most part. Particularly among older generations, the high cost of a kimono makes it a status symbol. It is common for middle aged and elderly women, for example, to wear a kimono for a dinner or an evening at the theatre or kabuki. Similarly, women wear kimono during their graduation, coupled with a hakama, an extra piece of clothing tied around the waist and thought to give off a more scholarly image. Men are increasingly dressing in suits to such events. A tea ceremony requires those who are actively participating to wear a kimono, because many of the movements involved, such as the tucking in of a fan or the rolling up of the sleeves, were designed specifically for the robe. Likewise, weddings offer an opportunity for the bride, groom and guests to dress up. The groom will typically wear a single-dark coloured kimono, although the popularity of western clothes is increasing, and some couples combine the two by wearing both styles on the day. Another ceremonial reason is the 'Shichi-Go-San' (Seven-Five-Three), an age celebration when girls (aged 3 or 7) and boys (aged 3 or 5) dress up in kimono for the first time and visit a local shrine. Finally, a deceased person may be dressed in a kimono for their funeral, the only time it's arranged with the right side crossed over the left (among the living this styling is considered terrible luck).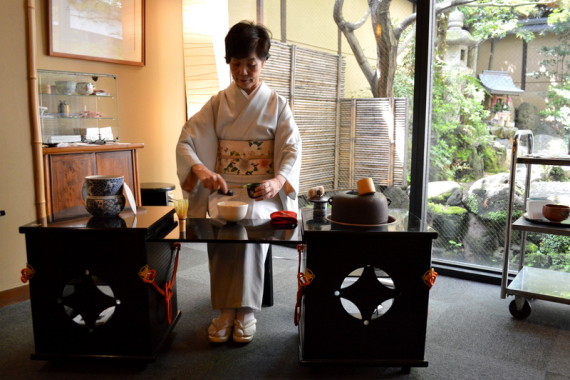 ---
The kimono and yukata in modern Japan
Like many traditions, the kimono is being eroded by forces of globalization, and many are concerned for the future of the distinctive Japanese dress. Sales of kimono were at 1.8 trillion yen in their peak in 1982: for the last few decades they've been at 300 million, a figure that is forever decreasing for an array of reasons, including expense, increased exposure to the West since 1853, and the rise of more contemporary styles. Tragically, aging artisans who have spent decades learning how to meticulously stitch every dot, and embroider with such detail are dying with their trade. There are nearly 1,000 processes required for the creation of one kimono, each carried out by different craftsmen who now suffer from a dwindling number of apprentices to teach these special skills. Contemporary culture, however, could hold the key to driving demand, in the form of high fashion. Tokyo-born designer and stylist Hiromi Asai filled a New York runway with formal silk kimonos during February's Fashion Week. "It's easier to just show the kimono as culture, but I want to show the kimono as fashion," Asai explained. "We don't use Japanese music or Japanese motifs in the show. We display the kimono in a Western setting." After all, the world remains obsessed with Japan's unique sartorial style. Ironically, it's the embracing of cultural fusion, rather than rejection of it, that could end up being the kimono's unlikely savior.
Comments