Right off Campo de' Fiori lays a historic Roman road that contains centuries of stories: Via Giulia. Half a mile long and paved with typical Roman cobblestones, this street has been in existence for a little more than 500 years.
Via Giulia, a Historic Roman Road
A historic Roman road, Via Giulia was designed in 1508 by the famed architect Bramante, who, at the same time, was also working on St. Peter's Basilica across the river. It was the longest road in town (1 kilometer long), and also the most rectilinear one, which gained it the nickname of Via Recta, the straight road.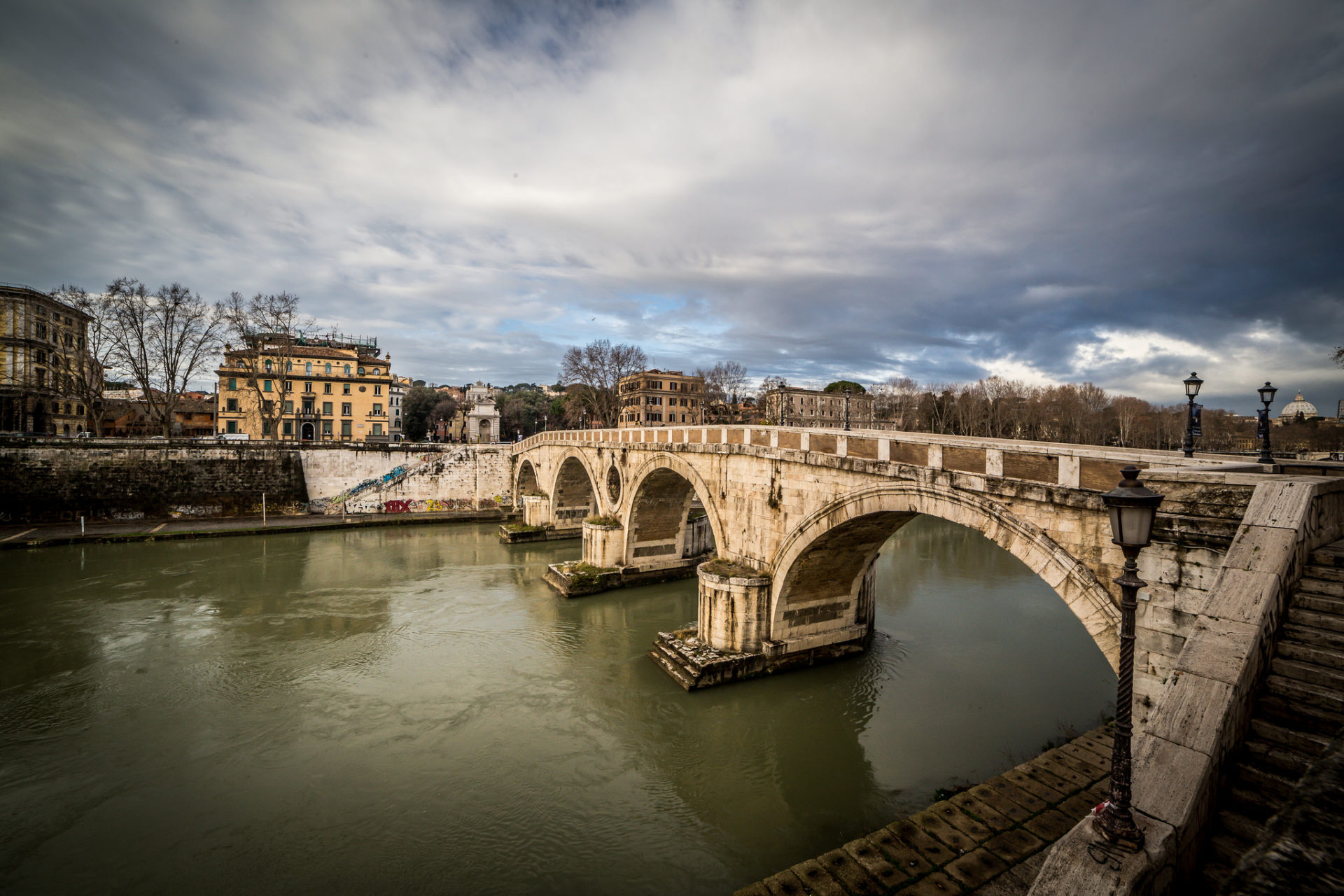 As the name suggests, the construction of the road is linked with Pope Julius II, who commissioned it in the 16th century as part of his grand plan to reorganize the medieval urban structure of Rome. Connecting Ponte Sisto with the church of San Giovanni dei Fiorentini, it served a dual purpose. On the one hand, it facilitated commerce along Tiber river, as it provided a link with the port of Ripa Grande. On the other one, it also served as a safer route for pilgrims heading to the Papal basilica.
To learn more about commerce in Rome take a look at our Daily Life in Ancient Rome Tour.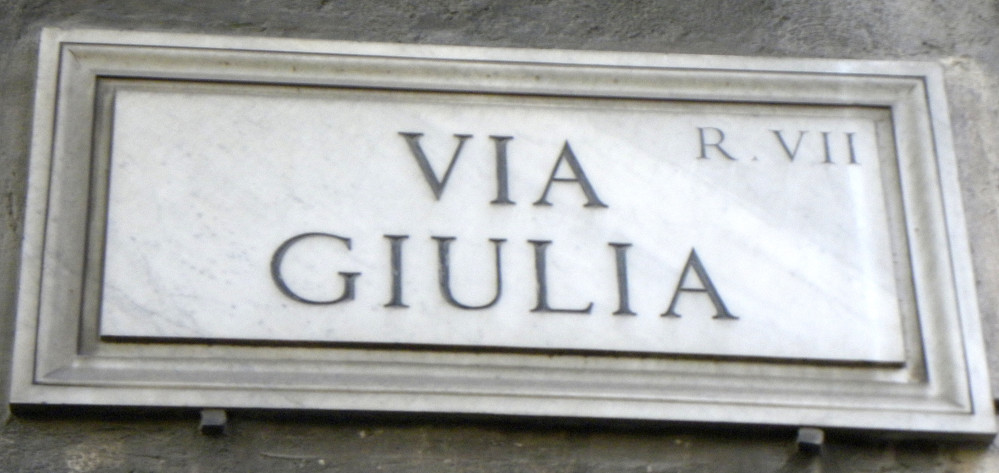 Over time, this historic Roman road became one of the most elegant spots in the city. Here wealthy bankers and rich merchants had their homes, and still today it's considered prime real estate. The Via Giulia is also the perfect setting for a stroll—or passeggiata as Italians call it—at twilight. Churches and elegant buildings flank both sides of the road, together with art galleries and antiques shops.
To experience a Roman passeggiata try our Twilight in Rome Tour.
Death in via Giulia
The are many recognizable elements along this road, but three in particular will catch your attention.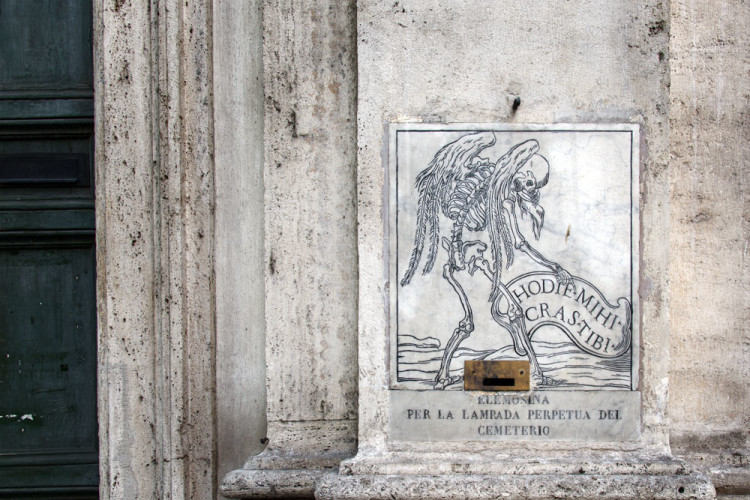 First, the Church of Santa Maria dell'Orazione e Morte. Built by a confraternity that dealt with burying abandoned corpses in Rome. The façade is dotted with death imagery. Inside, through a door to the left of the main altar, a chamber decorated with human bones and skulls is an eerie reminder of the utilitarian issue of burying the dead. While it is rarely open to visitors, this church is worth stopping by.
Wine Fountain
Nearby, along this historic Roman road, lies the Fontana del Mascherone. Commissioned by the powerful Farnese family and designed by the architect Girolamo Rainaldi, it derives its name from the big mask (mascherone) with barred eyes that characterizes it.
It became fully operational in 1612, when it was connected to the aqueduct Paulus. One fun anecdote that we often share on our Rome Wine Tour is linked to the history of this fountain. According to legen, on one night of the year 1720, it was wine—not water—that spilled from the fountain's mouth, during a massive celebration along Via Giulia. Unfortunately, the water today is not drinkable. So, don't give it a try.
Michelangelo's Arch
Last but not least, we love to stroll under the Farnese Arch, designed by Michelangelo in 1603. Originally it was intended to connect Palazzo Farnese to Villa Farnesina, on the other bank of the Tiber. Today, it is one of the most famous and loved symbols of this historic Roman road.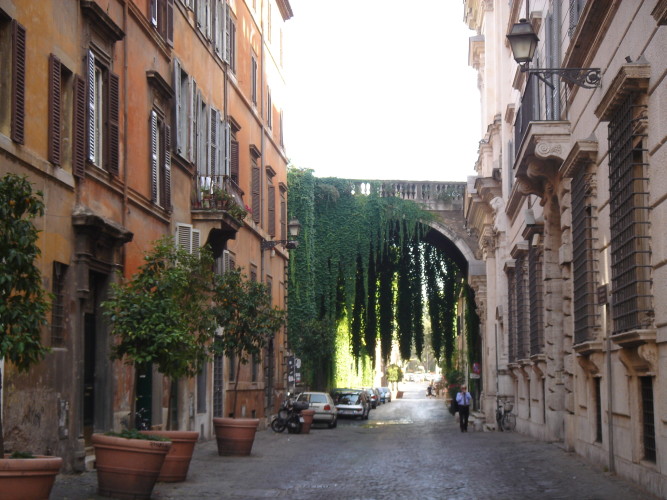 Comments