Vienna is famous for its seasonal fog, but the Viennese truly thrive on chasing away the winter chill with food, drink, and entertainments that make this one of the most festive cities to visit toward the end of the year. Here are some things to look for if you pass through Vienna in the next few months.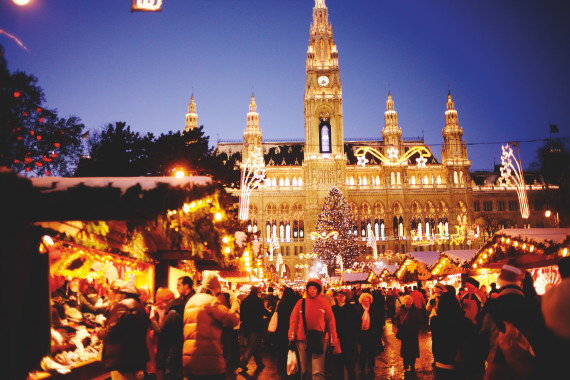 Winter in the MQ
From November 5 to December 23, Vienna's Museum Quarter is transformed into a winter wonderland, with six ice pavilions, a curling lane and audio-visual installations. This seasonal dose of culture is accompanied by local punch specialties to warm you up while you explore the various venues, including the mumok, Kunsthalle Wien, the Leopold, and the Architecture Centre.
Seasonal Food and Drink
Vienna is in wine country, and in the colder months there are several potent, wine-based brews to warm you to your toes. The first of these, seasonally speaking, is Sturm—a bubbly wine made from the first harvest of the year and appearing in September in both red and white varieties. Though its name means "storm," it is actually lower in alcohol. The best place to drink it is any of the numerous Viennese Heurigen—small wineries that since the emperor licensed them in the 18th century have been serving their own homegrown vintages. There are Heurigen in many of the outlying districts of the city, and we explore two of them in our Vineyards of Vienna tour.
As the colder weather arrives so too do the traditional Glühwein (mulled wine) and Punsch (punch). Glühwein has been served basically unchanged since the middle ages; it is mulled red wine, heated with spices. Punsch is stronger—a heady mixture of red wine, rum, fruit juice, and spice. It comes in an astonishing array of flavors, and also in a non-alcoholic variety; look for signs offering "Kinderpunsch" (children's punch). Both Glühwein and Punsch are served at open-air huts and sausage stands where their warmth is essential. But if the chill gets to you, try some traditional Marroni (chestnuts) straight off a fire, or the gebrannte Mandeln (roasted almonds), served hot in a paper cone. For a taste of local traditional, try one of our Vienna food tours with a gastronome.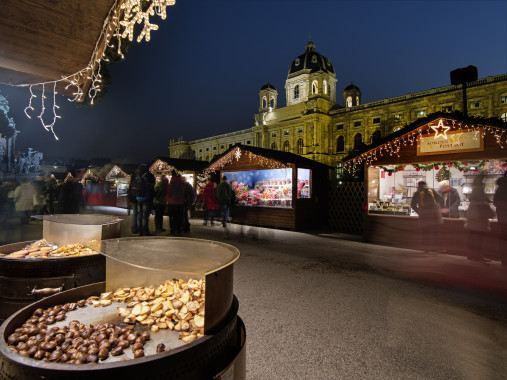 Christmas Markets
These utterly adorable little advent markets will spring up in about a dozen different locations around the city in mid-November, and stay open daily until Christmas (only one or two will continue briefly into the new year). With origins in the middle ages, they give a little taste of how the city might have felt in the era when all of Vienna consisted of the current first district, a crowded warren of wooden structures within the city walls. Christmas Markets in Vienna are miniature arts and crafts villages, where small stalls sell a variety of handmade goods (some local, some brought in from eastern Europe) and delicious treats. Christmas tree ornaments, pottery, toys—it's a dream come true for the last-minute holiday gift-buyer. The food stands will sell plenty of the aforementioned Glühwein and Punsch, and with good reason: one eats outdoors, at standing tables. Dress warmly.
Our unique seasonal tasting experience takes place at the Christmas Village in Vienna's former general hospital, now the campus for the social sciences and humanities of the University of Vienna. The quiet corners of this cozy local market give plenty of opportunity to pause and savor the various regional specialties that are only available during the holiday season. The markets offer a wide selection of savory dishes, and the main meal will include a selection of roast potatoes or potato specialties, roast chestnuts, soup, or sausages – enough to sate large appetites or share with friends or family.
The markets range from tiny to sprawling, but all of them are extremely child-friendly. This site has a complete list of the Christmas Markets, and we can point out a couple particularly worth a visit: there are markets at the palaces of Schönbrunn and Belvedere that can be combined with visits to these historic sites.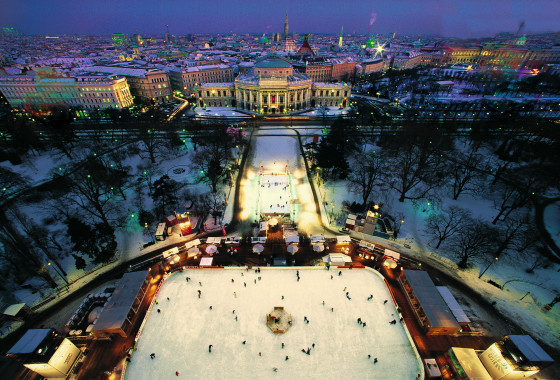 Ice Skating
It doesn't actually snow much in Vienna itself, yet in the winter there's always ice—in the form of several popular outdoor ice skating rinks. Two of them in particular have scenic and historic backdrops. The neo-Gothic Rathaus, Vienna's late-19th-century town hall, provides a dramatic background to the Eistraum (Ice Dream), a large skating area ringed by stalls selling all of the usual winter treats, from the ever-present Glühwein to waffles and spiral-cut potatoes. The rink is hugely popular—it seems all of Vienna passes through to take a spin, and it's an easy matter to rent a pair of skates and join in.
If you'd like even more of an ice skating adventure, you can take a combination of the U3 subway line and a city bus, or just a taxi, into the Wienerwald, the woods outside Vienna, to the Schloss Wilhelminenberg. This elaborate early-20th century palace (now a hotel) was the residence of an Austrian Archduke, and it gives a sense of the opulence associated with the very tail end of the empire. Beginning in late November, it hosts an astonishing ice skating rink, with a view out over the hills and down to the city below.
This post was updated by Natalie Holmes on 11/24/15.
Comments