Visiting Amsterdam can be daunting for the first-timer. With its wealth of world-class art and architecture, a history as one of the world's most important trading cities, and its legendary winding canals, 48 hours in the city can leave even the savviest traveler feeling overwhelmed. Moreover, its popularity among tourists can leave those looking to soak in the local culture frustrated; at times, you may even hear English spoken more frequently than Dutch. With this in mind, we've compiled our ideal itinerary for visiting Amsterdam in 48 hours.
Day 1 – Houseboats and Bites, Visiting Amsterdam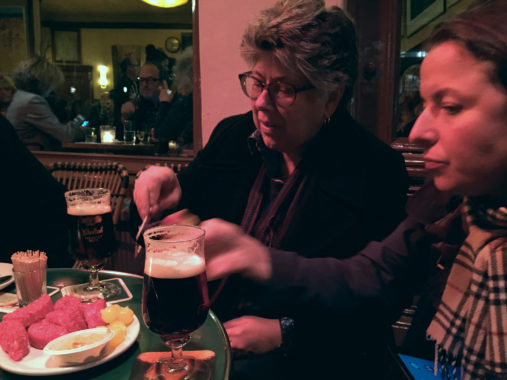 Before visiting Amsterdam, we recommend renting a houseboat for your short stay.  Although always a bit small, houseboats are a charming landing pad for a short stay and will help put you in the mindset of this canal-centric city.
For your first night in Amsterdam, don't worry about seeing the sites right away; rather, get to know the local culture through your stomach.  It's a great way to slow down, relax, and smooth over any, uh, "hunger-related issues" you might have with your fellow travelers. Our Brews & Bites pub tour will take you to a selection of favorite bars and food stops and give you a chance to sample local tastes—as well as rub elbows with the locals—but we also recommend Cafe 't Smalle for its cozy setting or the EYE restaurant for its fantastic view. For more recommendations, check out our list of the eight best pubs in Amsterdam.
Day 2 – Sightseeing and Local Sounds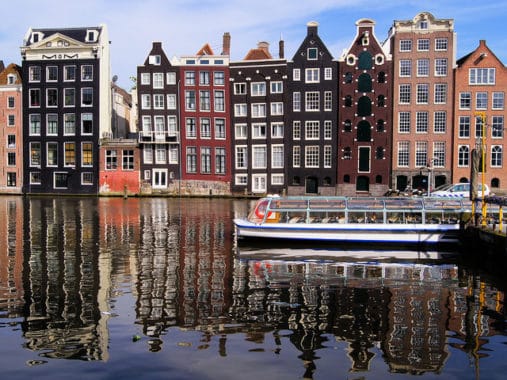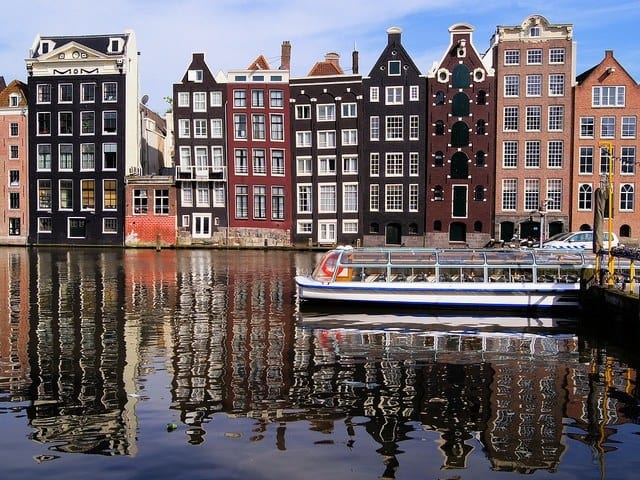 Get an early start and grab a solid breakfast at a local cafe along your way to the the Bloemenmarkt, Amsterdam's floating flower market. You'll find more than just flowers here, as it's also a good place to get any souvenirs and typical Dutch treats such as stroopwaffels and herring. Note to gardeners—if you're shopping for tulip bulbs here, US and Canadian customs only permit certain varieties. Make sure to only purchase bulbs that carry that appropriate certificate.
Now that you've gotten any gift-buying out of the way, familiarize yourself with the history of Amsterdam on our Investors and Explorers walking tour. Starting from the West India House and winding through the canals, a local historian will walk you through the Dutch Golden Age and show you how Dutch colonialism and trade impacted the world.
Getting hungry again? Finding a quick lunch is easy in Amsterdam. If you're looking for classic Dutch cuisine, try the bitterballen (fried meat balls) with fries, but given the city's status as an immigrant hub particularly among Turks, we also recommend checking out a falafel stand.
For the afternoon, take our Amsterdam: Model City walking tour if you're interested in going a bit deeper into the city's history and future. By examining the architecture, you'll explore the urban development of Amsterdam from its medieval origins and onward. Alternatively, those interested in urban planning should head up to IJburg, a neighborhood built upon manmade islands designed with rising sea levels in mind. While you're there, stop by Brouwerij 't IJ for local craft beer (and a giant windmill).
After a quick rest at the houseboat, take advantage of Amsterdam's lively music scene. De Kring or the Bimhuis are excellent options for jazz aficionados, or you can try the Paradiso for a wider variety of acts. Have no fear about the language barrier—Amsterdam is a hub for musicians from all over the world, so English is extremely common.
Day 3 – Van Gogh or Vondelpark?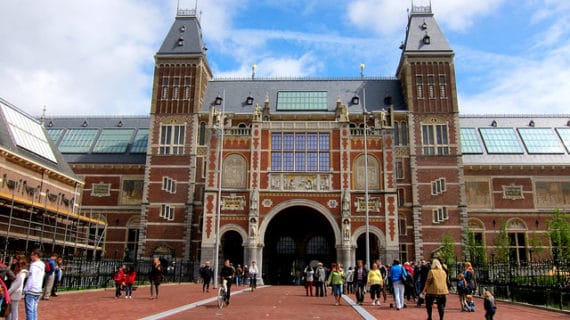 For your last day in Amsterdam, a must-see is the Van Gogh Museum. Arrive early to beat the crowds, or even take a tour of the museum with one of our art historians. Not enough art for you? We even offer a combination tour of both the Rijksmuseum and Van Gogh.
If art isn't your thing, you can also relax like a local in the gorgeous Vondelpark.  As the park is quite large, it's best to rent a bike and bring a light picnic with you. You'll be sure to find a nice spot with along the waterside to stop and snack.
Looking to go a bit deeper? Check out our list of lesser-known things to do in Amsterdam.
Comments