Bangkok is in a state of flux. Once charmingly ramshackle, the city has embraced modernity incredibly quickly: skyscrapers seemingly pop up out of nowhere, the tuk-tuk has been supplanted by the fast, efficient BTS SkyTrain. While many visitors come expecting little more than temples and pad thai, visiting Bangkok means diving into a vibrant metropolis—a truly 21st century city. Here's our guide: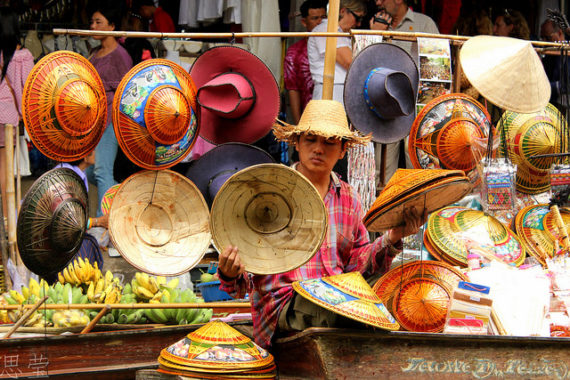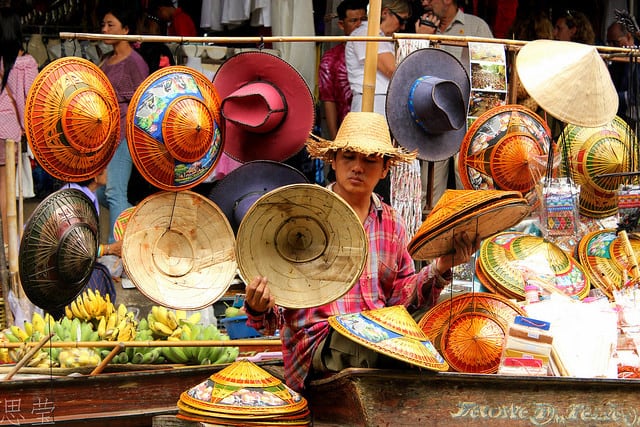 Visiting Bangkok – Day One
10am | Taling Chan Floating Market
While most floating markets are located far outside the city, Taling Chan is just a short trip away from Bangkok (12km). It is one of the smaller floating markets within close reach of Bangkok, making it convenient to explore without having to face massive crowds. You can enjoy a wide range of exotic foods while taking a peak into the locals' lives across the water. Don't forget to walk through the stalls for little snacks, flowers, homemade baked goods, and souvenirs you can take home.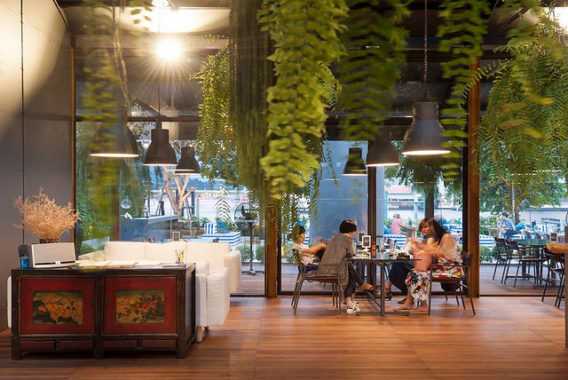 4pm | The Jam Factory
Whether you are looking for a unique piece of handmade jewelry, delicious cup of coffee, or would simply like to stroll through a leafy garden, The Jam Factory has it all. This all-in-one venue is based on the concept of being a mixed use community for all things creative, specifically supporting local producers. Serving as a café, gallery, bookstore, restaurant, and home goods store, The Jam Factory is a perfect place to spend your afternoon and hang out with locals. They often host art exhibitions, pop-up markets, and live music events so make sure to check out their website beforehand.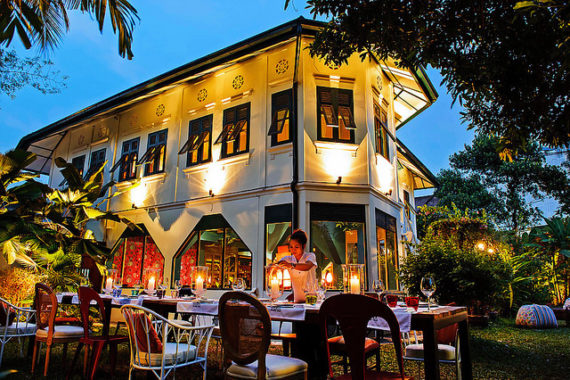 7pm | Issaya Siamese Club
Street food is obligatory when visiting Bangkok; however, we'd also like to emphasize the excellence of some of the city's higher end options. Founded by Thailand's first international 'celebrity chef' Ian Kittichai, Issaya Siamese Club is located on a hidden alleyway near Rama IV road. Situated in a heritage house surrounded by gardens, the restaurant offers cozy, intimate vibes in spades—in fact, it was named as one of the most romantic restaurants in Bangkok. Meanwhile, the food provides an updated take on traditional Thai food (not terribly surprising, perhaps, but the execution is superb). Some of our favorites are Yum Hua Plee (a banana blossom salad), Tdom Klong (spicy and sour seafood soup), and coconut panna cotta.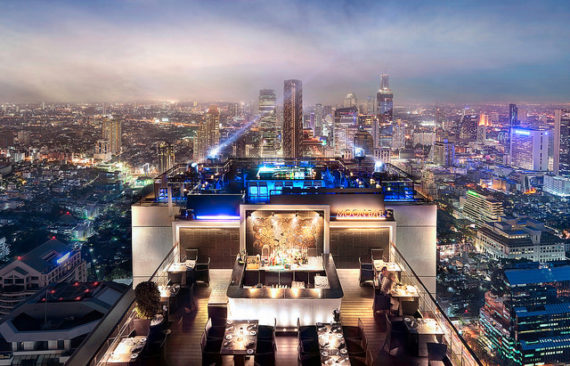 10pm | Moon Bar
Once night falls, the city lights sparkle and Bangkok comes to life. For the best view of the city, head to Moon Bar. Located on the 61st floor of Banyan Tree Hotel, this rooftop bar offers a spectacular view accentuated by vibrant colors. The price range is on higher end, but it's well-worth it for well-crafted exotic cocktails and striking views. For sunset-watching, make sure to get there around 6pm. (Dress code: No shorts and flip flops).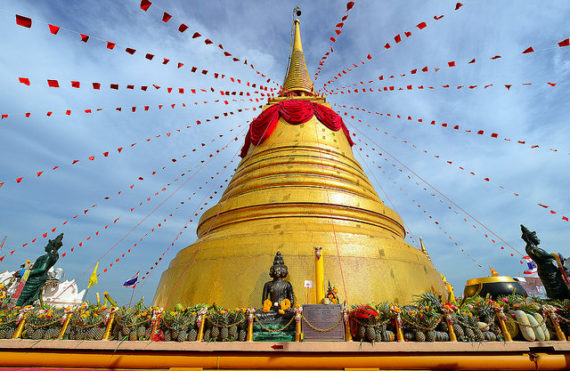 9am |  Wat Saket – Golden Mount
Bangkok's temples are known the world over; however, even among the wealth of options available, Wat Saket is not to be missed when visiting Bangkok. A Buddhist temple located on the Golden Mount, built during the reign of Rama 5 on a 78-meter artificial hill crowned with a gold chedi, Wat Saket is the only hilltop temple in Bangkok and offers stunning panoramic views of the city along with spectacular architectural features to enjoy. Explore Wat Saket with a local historian on our Bangkok City Tour.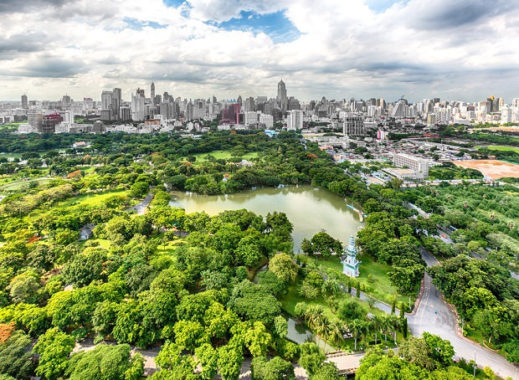 2pm | Lumpini Park
Located in the heart of Bangkok, Lumpini Park provides a respite from the hectic surrounding area, lush with flowers and palm trees. While strolling through the park, you will see birds flying around, locals practicing dance moves, tourists paddleboarding on the lake, and animal lovers observing lizards on the grass. Besides the nature-friendly activities, the park is also home to some of Bangkok's major historical monuments, like Thai Lanna Pavilion, Clock Tower, Chinese Pavilion, and King Rama XI Statue.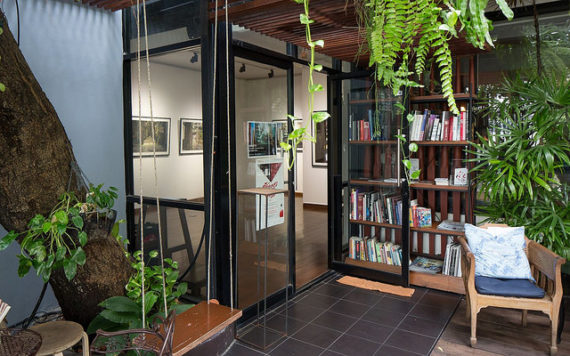 5pm | RMA Institute
While Bangkok may not be thought of as a conventional destination for those seeking art, its gallery scene—like much of the rest of the city—is burgeoning. Our favorite is RMA Institute. Established in 2010, this non-profit art space is full of contemporary exhibitions and well-curated experiments. The gallery is just a few minutes off the Nana Skytrain line, making it a convenient stop on a larger gallery expedition. The space provides special performances, photography workshops, and artist talks on a regular basis, so check out their exhibition calendar before planning your visit.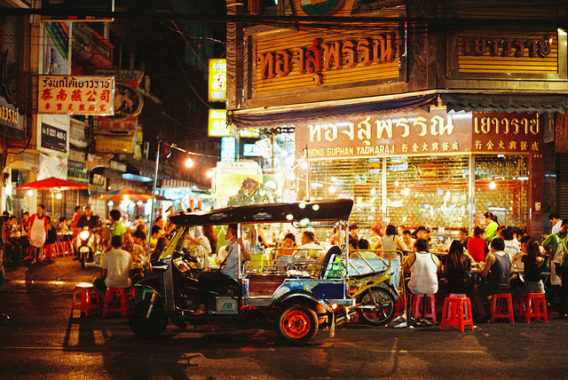 7pm | Chinatown Street Market 
Bangkok's Chinatown, also known as Yaowarat, is considered the world's oldest Chinatown. The busy markets on narrow streets, Chinese temples, and neon signs can be overwhelming at first, but you need only follow your nose (exempting the occasional smell of durian) to realize that Yaowarat is a culinary paradise. From small restaurants to thousands of open air market stalls, a stunning variety of distinctly Bangkok food is available, whether you want sophisticated seafood plates or Thai-Chinese fusion street snacks. For extra guidance, we recommend our Bangkok Food Tour with a local expert.
Those interested in Bangkok's stunning religious architecture should also see our guide to thee of Bangkok's Must See Temples.
Comments