Thanks to its favorable climate, fascinating history, and amazing foodie scene, deep travelers never get tired of visiting Barcelona. Based on the types of questions we field from clients signing up for our Barcelona walking tours, we thought we'd put together our ideal itinerary for the culturally curious traveller including some of our favourite of those tours (of course).
Friday Afternoon
Get your bearings around your barrio (neighborhood). Before you go, here's some suggestions about our top picks to help you decide where to stay in Barcelona. Or if you'd like a little help from a local expert, try our Welcome to Barcelona orientation tour, in which you'll meet a local insider and get the inside track on the best things to see in Barcelona on your weekend away.
Later, make like the locals do and head out for some Friday night nibbles and drinks. The Poble Sec is a well-known neighbourhood for tapas and has plenty of great bars and restaurants.  It's where we offer our Barcelona tapas tour which is definitely worth considering if you're a dedicated foodie and want to start off your trip in a delicious and informative way.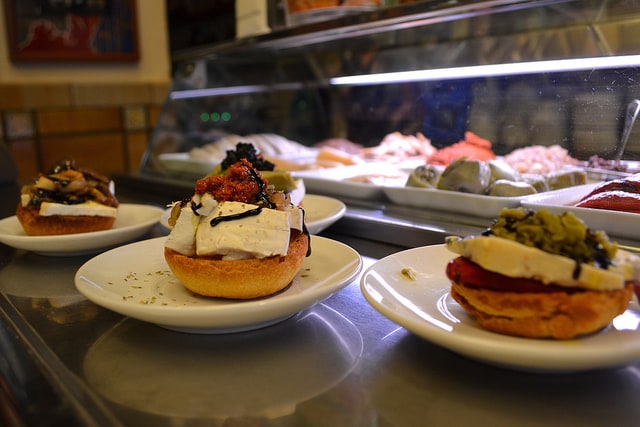 You could always continue your night with a classy cocktail at Dry Martini.
Then when it's time to turn in, we love Casa Fuster in Eixample for the chance to spend the night in an iconic Art Nouveau building, or the Hotel Neri for a seriously sophisticated stay in the heart of the Gothic Quarter. If you're in need of Barcelona apartment rental suggestions, we recommend Aspacios for fully-serviced boutique apartments in super convenient locations.
Saturday Suggestions
Start your day with a hearty Catalan breakfast of a nice strong coffee and some pa amb tomaquet, toasted bread smeared with tomato, olive oil and garlic. This local staple is pretty ubiquitous in Barcelona but we like Mostassa's take on it with multigrain sourdough bread.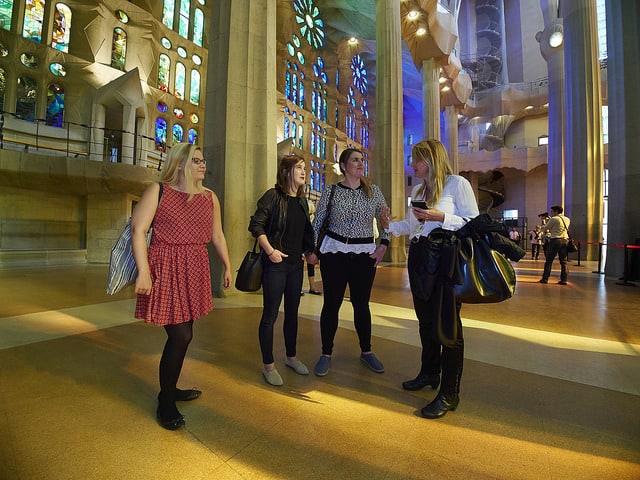 All about architecture? Our brand new full-day Gaudí in Barcelona tour is a great way to cover a lot of the most important works of Barcelona's most famous architect. On this tour we'll visit Casa Batlló and pass by the Casa Milà before moving on to the stunning Sagrada Familia. We finish off with a trip to Park Güell to check out the colorful and intricate mosaics set amidst the views of the Barcelona skyline, all the while learning about Gaudí's unique vision and the historical climate of the Barcelona in the 19th century that made his masterpieces possible.
Of course there's time allowed for lunch on this itinerary. Buenas Migas is a solid choice for a quick pit stop. We love their foccaccia and friendly atmosphere. Or if you'd prefer a more traditional sit down lunch, the Cerveceria Catalana is a good bet. Their tapas are pretty legendary.
Offbeat Saturday Plans for Visiting Barcelona
Maybe you've been to Barcelona before and are looking for an alternative plan. In that case, we'd recommend a trip up Montjuïc as a cool option. (Note, we can help facilitate this with our Montjüic Mountain Tour. Or perhaps an afternoon learning about Barcelona during the Civil War on our Spanish Civil War in Barcelona tour, especially now that the plans for the national museum of the war are getting off the ground.
Can't stick the crowds at Sagrada Familia?  As much as we think Gaudí is great, he's only one of a whole range of super talented architects who shaped the city. We always recommend squeezing in some other sites while visiting Barcelona if you can. One of our favorites can be found  just 10 minutes away from the world famous basilica, and is much lesser known. The Hospital Sant Pau by Lluís Domènech i Montaner (an architect, professor and writer who counted Gaudí amongst his students) is the largest art nouveau site in the world. It was designed according to the idea that being in beautiful and tranquil surroundings could help patients along the road to recovery. Strolling through its beautifully decorated hallways, it's easy to see why. In fact, it was actually still used for healthcare purposes right up until 2009! These days the site is home to leading institutions in the fields of sustainability, health and education and open to the public to visit as well. It really has to be seen to be believed. (N.B., we include this as part of our Sagrada Familia tour as it really helps to contextualize Gaudí.)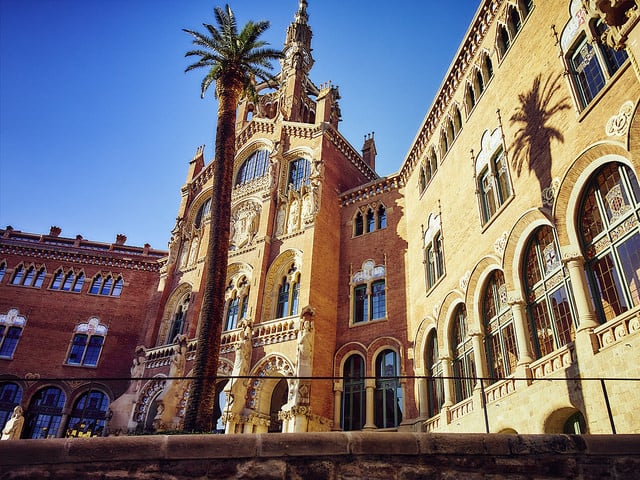 Saturday Night
At this point we're ready to unwind with a crisp glass of Catalan Cava. Our go to spot when visiting Barcelona is Can Paixano. Hidden away in a street off Barceloneta beach, this place is lively, reasonably priced and has fantastic range of wines to try as well as sandwiches and ham and cheese plates if you are feeling peckish.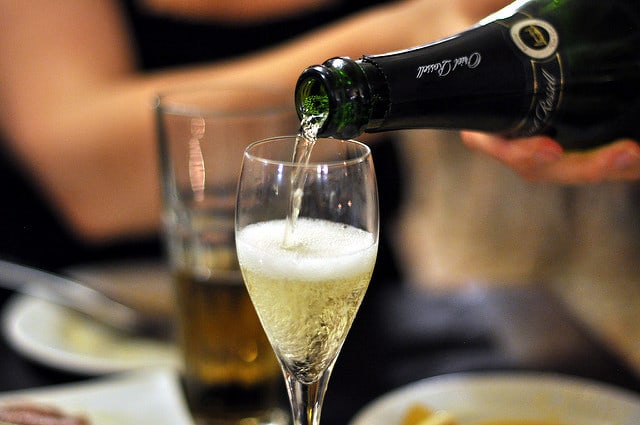 Of course, Saturday night in Barcelona gives us endless options: You could check out a concert at the Palau de Musica Catalana, another stunning modernista building designed by  Domènech i Montaner whose opulent surroundings ensure that the musical experiences here are very special.
If you're a soccer fan, you might want to see if FC Barcelona are playing at home that weekend to watch this world class team dominate at the Camp Nou stadium. Normal league games are relatively easy to get tickets for, though if it happens to be a 'clasico' i.e. a match between Barcelona and their bitter rivals Real Madrid, then tickets are near impossible to get hold of. In that case, we'd say catch the game in a local bar instead: crowding round the screen in a room full of passionate culés (Barça fans), it's hard not to get caught up in the excitement.
If you'd rather just have a beer and see where the night takes you, why not try the renovated Fábrica Moritz. Located within a gorgeous building (there are a lot of those round here) in el Raval that dates back to 1864, it still serves fresh unpasteurized varieties of this quintessentially Catalan beer brewed on site. It is also home to a concept store, restaurant and wine bar and plays host to a ton of cool events.
Sunday Morning
Sunday morning is a very typical time to treat yourself to churros con chocolate, an indulgent mix of gooey melted chocolate and doughy sugar dusted churros. We love Granja Dulcinea for this. The Catalans are very proud of their chocolate making traditions, so much so in fact that we've designed a whole  Barcelona Chocolate tour around it.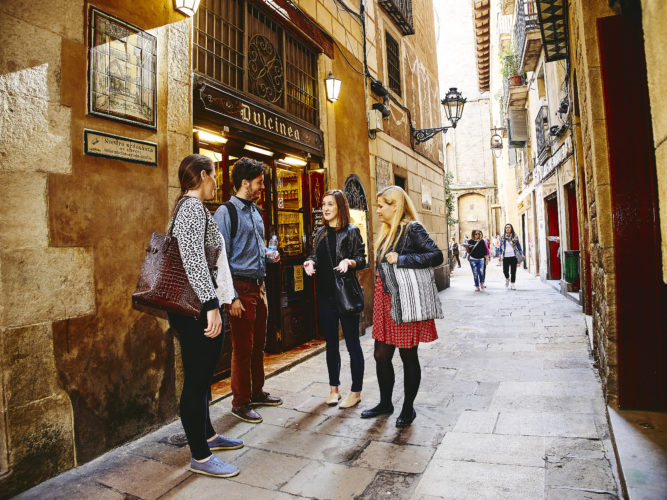 From here you're within easy reach of the Gothic Quarter and El Born, where you can wander through the winding streets of oldest part of Barcelona, imagining what life was like for the Romans in the medieval city of Barcino, the Jews who thrived in the area around the Cathedral known as the Call Jueu before the Spanish Inquisition, or the Catalan-Aragonese Monarchs who once occupied the Palau Reial Major in the Plaça del Rei. The gorgeous Gothic buildings to be found in this square are now home to the HQ of the Barcelona City History Museum a great stop when visiting Barcelona.
Sunday Afternoon
We think Cometa pla makes for a great lunch spot in el Barri Gótic (and its varied vegetarian menu can offset the churros ;) ). Although if you want to partake in a very particular local foodie tradition, it is calçotada season at the moment. Calçots are large green onions which are prepared in the traditional way by roasting them on a large grill and serving with Romesco sauce and copious amounts of wine. There are a number of charming towns just outside Barcelona which are famous for this, but a select few places in the city also do it rather well, like Carmen in the Sants district.
For museum buffs, the Museu Picasso is free on Sundays afternoons, from 3pm onwards. Although this does mean it gets crazy crowded, so we recommend to arrive early. If you'd prefer to beat the crowds and explore Picasso's oeuvre with a scholar equipped with skip the line tickets, you might want to consider our Picasso Museum in Barcelona Tour.
Alternatively, you could spend a few hours exploring the trendy Raval area which has heaps of history and cool shopping options.
Sunday Evening
Bring your time visiting Barcelona to a close with dinner and drinks in the lively Gràcia neighborhood. Another vibrant part of the city with a colorful past, it's nice to stop by after dark thanks to its abundance of lively bars and restaurants. We've spent many a happy evening along Carrer Torrent de L'Olla in search of something to whet our appetites and we find La Pepita is a particularly good option for tapas and top notch Catalan vermouth.
Got a Few More Days? Ideas Beyond Barcelona
We always advocate spending more than just a weekend visiting Barcelona if you have time. If that's your plan, you might want to consider one of our excursions or a customized Barcelona private tour. We can help you get lost in the Jewish Call in Girona, hike magnificent Monserrat, or peek into the eccentric mind of Salvador Dalí at his fantastically quirky museum in Figueres.
Comments