Ah, Paris, the city of light, love, and endless clichés. Let us help you avoid them and instead experience the French capital like a local. Whether you're looking to take our Paris tours or explore entirely independently, the below guide for visiting Paris in 36 hours is geared for the culturally curious traveller. If that's you, keep reading…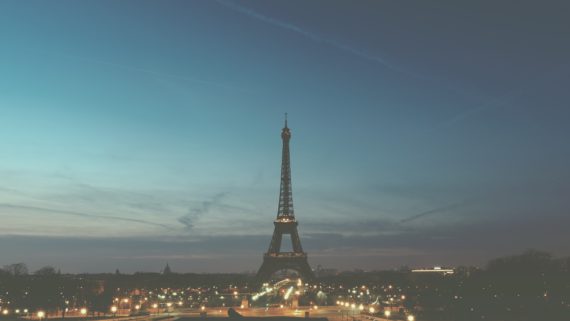 Friday
4:30pm – Le Louvre
Ever dreamed of having the Mona Lisa to yourself? We'll let you in on a secret: this palatial museum, one of the world's most visited, is open until 9:30pm on both Wednesdays and Fridays. While we can't guarantee there won't be other souls wandering the galleries during evening hours, there are drastically fewer people than during the day. As such, it's no surprise our experts love giving our Louvre tour in the evening. It allows us to gather in front of and discuss each piece truly unperturbed by crowds. Yes, even the Mona Lisa.
Check out our blog post How to Tour the Louvre for other tips.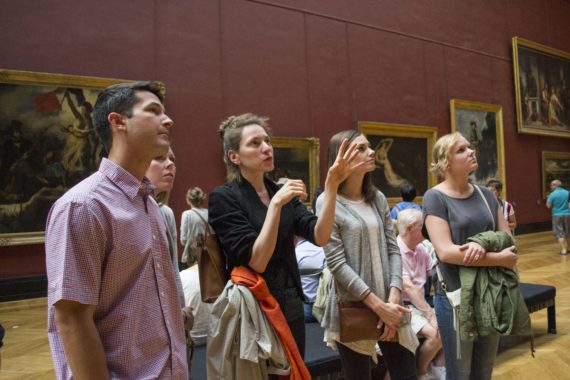 9:30pm – Le Jazz Hot!
Many don't realize Paris played an important role in the development of American jazz. Its lack of racial segregation was a welcome change for American black musicians in the post-war period, and icons like Dizzy Gillespie and Miles Davis regularly recorded and performed in its popular underground clubs. The contemporary scene is equally hot, and there are plenty of options for taking in the sweet sounds of jazz alongside Parisian musicophiles. Not far from the Musée du Louvre is the Duc des Lombards, a landmark club that hosts jazz artists from around the world. Catch a 9:30pm show over dinner. If you're feeling wild, stay on for the after-hours jam session. Want to go further? Our tour on the history of jazz in Paris, led by a renowned local musician, is a unique option for those really wanting to delve into the subject.
Saturday
10am – Exploring the Paris of Haussmann
Between 1853 and 1870, Paris underwent a drastic transformation. Directed by prefect Georges-Eugène Haussmann, the medieval city was demolished in favor of the wide boulevards and uniform apartment blocks for which Paris is known today. Our Haussmann's Paris tour, led by an expert in urban planning, provides a context for understanding the why and the how of this massive public project, its socio-political implications, and its far reaching influence (did you know that cities from Philadelphia to Barcelona were inspired by Haussmann's plan?). A must for any culturally curious traveler visiting Paris.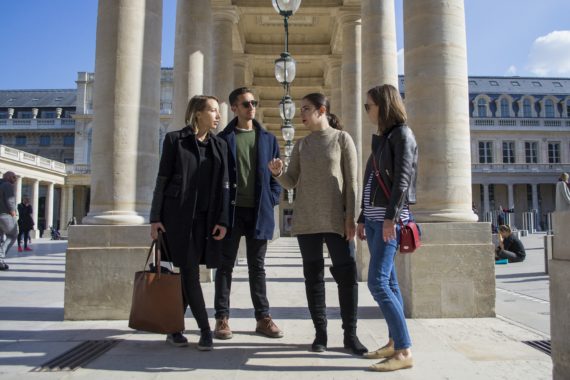 1:30pm – Au Bistro
No trip to Paris would be complete without a meal at a traditional bistro. And you won't find more traditional than Au Bistro, a cozy, central spot that will transport you to another era. Don't be intimidated by its brusque waitstaff and tight group of regulars (it's Paris, after all). Find a seat, squeeze in, and order the plat du jour, which is usually market fresh. On Saturdays the charismatic owner makes an appearance.
6pm – The Art of the Apéro
The apéritif (apéro for short) is France's classy answer to happy hour and our preferred way to relax after a long day of sightseeing (life is hard). Sure, a glass of bubbly or wine at any traditional cafe-bar will do, but note that the cocktail is currently taking Paris by storm, and there are a plethora of cool spots where liquor lovers can get their fix. We like the bars along rue Frochot in SoPi (South Pigalle), where establishments like LuLu White, the Grand Pigalle Hotel, and Les Justes are welcoming the most fashionable of Parisians. Want to head elsewhere in the city? The blog 52 Martinis is an excellent resource on the cocktail scene here.
Sunday
9am – hit the market
Paris's Marché d'Aligre in the 12th arrondissement is one of the city's oldest, and it's frequented by neighborhood residents and diehard foodies alike. With its outdoor produce vendors, historic covered section, and weekend flea market, you're certain to find a range of the highest quality local items. One thing you don't (yet) find too much of? Tourists, which is why we choose to do our Paris market tour here. Led by chefs and food journalists, our tour provides a glimpse into market culture. With tastings, of course.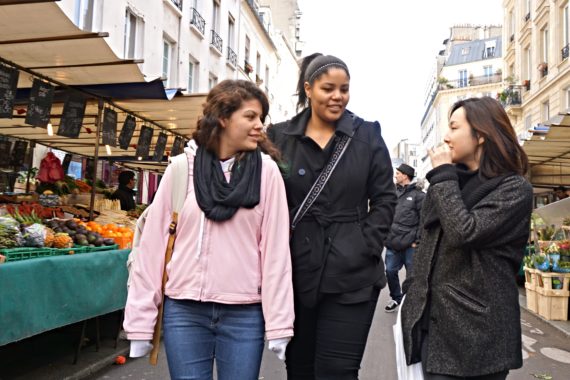 12pm – Gentle Gourmet
It's hard to believe a vegan restaurant could succeed in the land of meat and cheese, but succeed it does. The Gentle Cafe, which opened as a homey vegan BnB before later transforming into a critically-acclaimed restaurant, serves up organic, local, seasonal vegan fare. Grilled seitan in a Pommeau de Normandie sauce; zucchini soup from the restaurant's own Norman garden; gluten-free macarons. A treat for any lover of French food, even without steak frites on the menu.
3pm – Promenade Plantée
Long before the High Line in New York, Paris had its Promenade Plantée (planted promenade). Also known as the coulée verte (green path), this abandoned elevated train line was transformed into a public park. Inagurated in 1993, it was for a while the world's only elevated park. Its 80s landscape design may look slightly dated now, but we find it a delightfully offbeat way to explore the neighborhoods between Bastille and Bois de Vincennes (peeking from above!).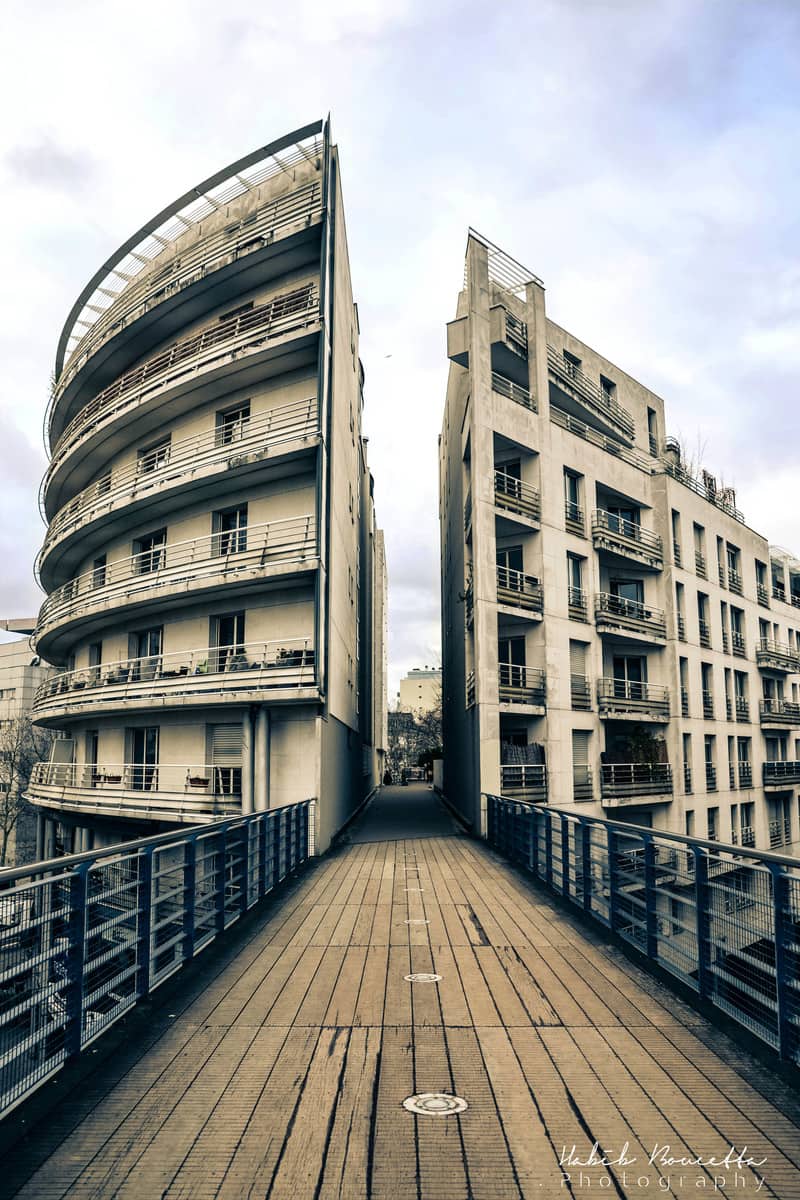 Where to Stay When Visiting Paris
The aforementioned Grand Pigalle Hotel has stylish rooms and is conveniently located a few steps from Pigalle metro (lines 12 and 2). Big spenders will love the historic Hôtel Le Bristol with its top notch concierge team.
If apartments are more your style, we're newly partnered with rental agency Paris Attitude, a leader in the temporary rental of furnished apartments in the Paris region. We also highly recommend the apartments (and wonderful service) at Perfectly Paris, Haven In, Paris Perfect, Just France, and Paris Copia.
Comments