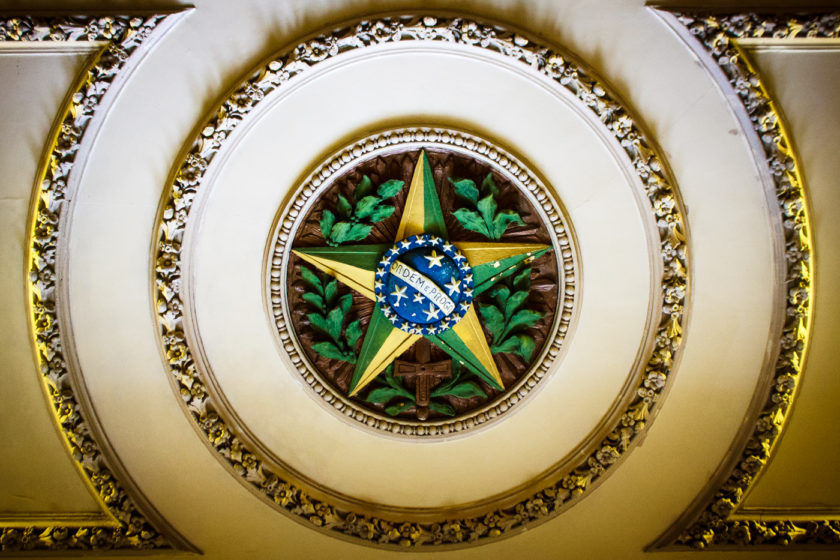 There's good reason why UNESCO named Rio as its first Cultural Landscape of significance in 2012. In visiting Rio de Janeiro, it's not just the jagged mountains of tropical paradise, white sand beaches, sprawling metropolis, friendly people (often called the happiest on earth), or the many ways of living that make Rio unique, but all of these factors combined. It simply is not a place you can wrap your head around in 48 hours, and still difficult in 72, but we've done our best to distill Rio into 3 days of non-stop history, beauty, and culture.
Day 1: Visiting Rio History in Context
9:30 am – Founding Rio
It's always best to start at the beginning, so after a hearty cafe da manhã (breakfast, or literally 'morning coffee'), find your way to the heart of downtown to explore some of Rio's most important sights.  We think the Convento de Santo Antonio, one of the oldest buildings in the city, Praça XV, and the distinct brutalist Cathedral of Saint Sebastian are all can't-miss. Alternatively, for a deeper look at each of these sites, we recommend our history of Rio walking tour. On this 3-hour introduction to not just Rio, but the country as a whole, your docent constructs a chronological explanation of Brazilian history and shows how Rio was at the center of each of the country's major moments. The tour includes a stop at the famous Confeiteria Colombo, the first café of Brazilian elite, where you may taste one of their famous desserts and relive its opulent history.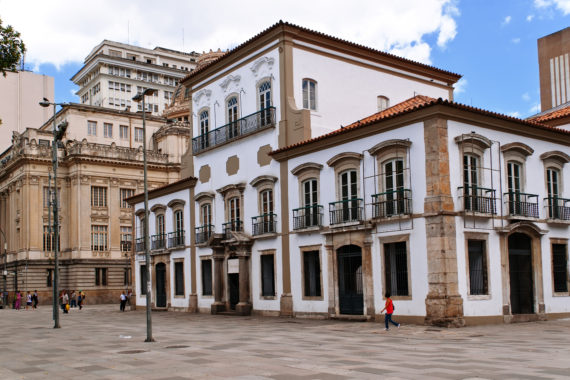 1pm – Lunch
Our history of Rio tour also includes a glimpse of Rua do Comercio (Market Street), where we recommend a visit to enjoy lunch in one of the trendy cafés that have cropped up in the historic merchant buildings over the last couple years. Of particular interest might be Cais do Oriente, located in a beautifully renovated warehouse that historically housed spices and goods from the far East.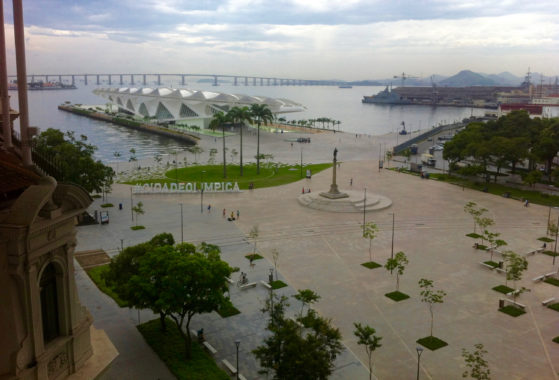 2:30 – Renewing Rio
For a more complete look at Rio from Colonialism until today, we also recommend Renewing Rio – a Tour of Rio's Revitalization, which dives into the challenges and opportunities that face the Marvelous City. We begin at the revitalized Praça Mauá, where the Museum of Tomorrow and the Museum of Art of Rio are located, and then wind through streets caught between notions of economic progress and historical preservation. Apart from housing the Olympic Boulevard, the area is also known as Pequena Africa due to the persistence of Afro-Brazilian cultural expressions like samba that have developed since the time when African slaves were brought, bought, and sold here.
6pm – Sunset
Without missing a beat, you'd head to the South Zone, where your hotel or accommodation is likely to be while visiting Rio, and straight to the large rock outcropping which divides Copacabana and Ipanema beaches for sunset. At Arporador (named 'Harpooneer' for the whale hunting that was common here) the local tradition dictates arriving about 30 minutes before sunset and finding a comfy spot on a rock to sit and honor the last few minutes of the day. As the last rays disappear behind the city skyline, the crowd sends the sun off with a roaring applause. Be sure to bring a jacket, as the wind can be quite strong after the sun goes down.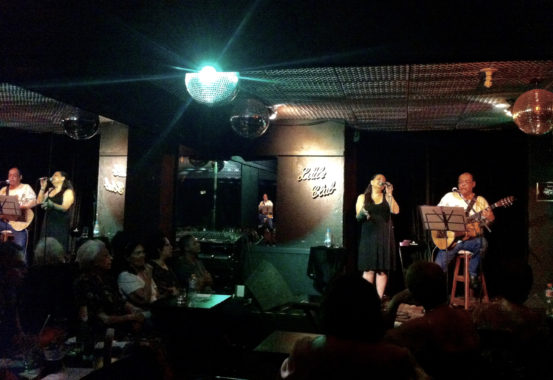 8:30pm – Bossa Nova
Perhaps after a quick stop at the hotel to freshen up, you're ready for your first night on the town. We'd recommend you stay local this evening and head to Beco das Garrafas, a strip of three music venues that helped ignite the creation of Bossa Nova music in Copacabana in the 1950's. The venues were recently reopened after decades of abandonment and today host nightly shows featuring top bossa nova musicians from Rio and elsewhere. If you want a deeper look at the genre, don't miss our Bossa Nova tour.
Day 2: Visiting Rio nature and culture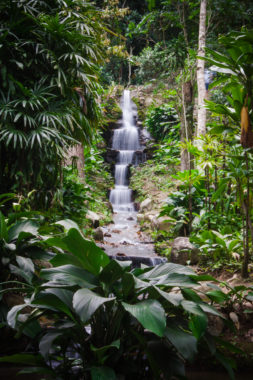 8am – Morning jog
Start Day 2 with a stroll through some of Rio's most beloved green spaces. If you are a jogger or biker, there is a wonderful 7km circuit around the "Heart of Rio" (coined for its vague heart shape) Lagoa Rodrigo de Freitas, or simply Lagoa.
9:30 – Botanical garden
From Lagoa it's a short walk to Jardim Botanico, one of the first botanical gardens established in the New World, in 1808. Originally it was a plant nursery for Imperial spices such as cinnamon and pepper that were too expensive to import. There is an entry fee of R$15 (cash only) and you might be tempted to spend a full day getting lost between the cactus garden, the Atlantic forest trail, the orchid house, or the carnivorous plant pavilion.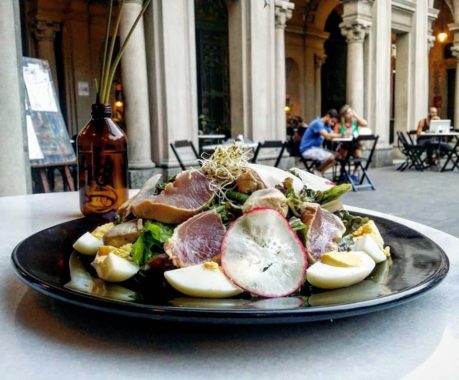 12:30 – Lunch
Once your stomach starts to grumble, you can either grab a lovely meal in the garden entrance or head to Parque Lage just a few blocks away for one of the most memorable cafes in all the city—the Plage Café, located inside the main building at the center of the park. This incredibly romantic mansion and accompanying gardens were a gift to the 20th century Italian singer Gabriella Besanzoni from her Brazilian husband, who commissioned the palace along with garden features such as a castle tower above a maze-like grotto as a symbol of his love for his wife. Today it houses an art school and the surrounding park is open to the public during daylight hours.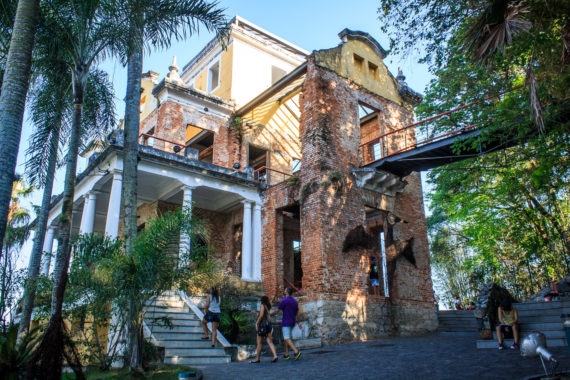 2:30 – Santa Teresa
One fact about visiting Rio de Janeiro that may start to become obvious at this point is that every neighborhood has a character all its own. One of these unique neighborhoods we love is bucolic Santa Teresa, situated atop a hill in downtown. Take the beloved Bondinho tram and explore the neighborhood, examining up-close the inventive early 20th century art deco and art nouveau homes, many of which are still owned by artists and intellectuals related to the aristocratic families of Rio´s belle epoque era. (Santa Teresa is also the focus of one of Context's best-selling Rio walks.)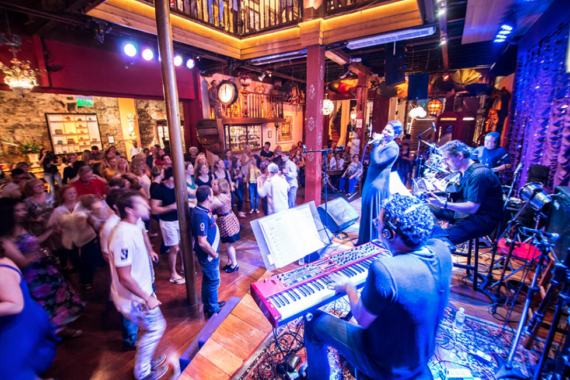 5:30 – Lapa
Just below Santa Teresa are the famous Arcos da Lapa and the Lapa neighborhood. This is Rio's hotbed for music and nightlife. It can be tricky to know how to navigate this raw but merry area while visiting Rio de Janeiro, so we have designed a walk to continue seamlessly from Santa Teresa into the very best of Lapa evening culture. This nightlife tour begins at the funky-cool Selarón Steps and continues in a traditional Portuguese restaurant for a taste of green wine and codfish patties, before stopping in a cachaçaria to make (and taste) the drink like a Brazilian. We then take in the outdoor atmosphere, perhaps stopping for a street snack or to see an informal jam session, soaking in the general vibe of the evening. Our final stop is hailed as one of the top bars/music venues in the world, Rio Scenarium—a reputation we believe it upholds. The musicians are top-notch, the service impeccable, and the 4 floors of Rio memorabilia absolutely fascinating. It's like stepping directly into the Carioca heart and mind.  We have a reservation in front of the stage, where every night the best of Rio's samba musicians and dancers can be seen. Though our tour ends here, you may just stay until the daybreak, sambaing with some of Rio's greatest.
BONUS!
Day 3: Visiting Rio Icons and Landmarks
But wait! You may be asking yourself, "What about all those Rio 'must-dos' like the beaches, Christ the Redeemer and the bottomless rotating meat dinners? Yes, this too is Rio, and if you have another day or two remaining while visiting Rio de Janeiro (we highly recommend at least a week) here is a bonus itinerary for the 'postcard' Rio destinations you must hit: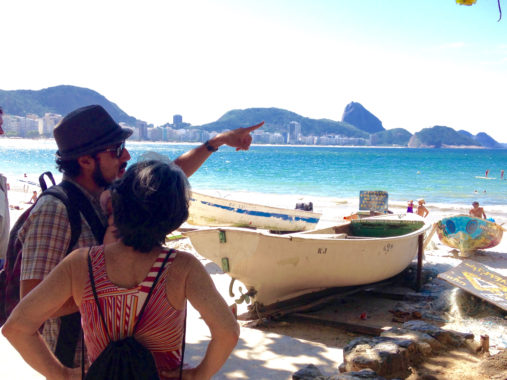 8am – Iconic Rio
Start with a visit to the Christ the Redeemer statue on Corcovado Mountain, then continue on to Copacabana beach. On our Rio highlights tour, we get the scoop behind the icons of Rio and discover the political climate that enabled the creation of these landmarks.
9am – Welcome orientation
If big crowds are not your thing, you may instead want to consider taking a Welcome to Rio orientation. Context features this walk in every city we operate, giving curious travelers inside tips so that they can enjoy the city like a local. Rio is so different from many popular sites in North America or Europe, so this may be a valuable way to spend your morning.
11am – Beach
After your morning tour (or before, or anytime), it´s time to stock-up on vitamin D at the beach. Copacabana, Ipanema, and Leblon beaches are the most famous and likely nearest to your accommodation, so it makes it easy to fit in a quick nap in the sand or dip in the ocean at any point while visiting Rio de Janeiro. We recommend you buy a canga—sarong—to lay on instead of a towel so as not to scream to all the vendors "Come sell me things, I'm a tourist!" It's also best to leave everything valuable at the hotel so you can sunbathe worry-free.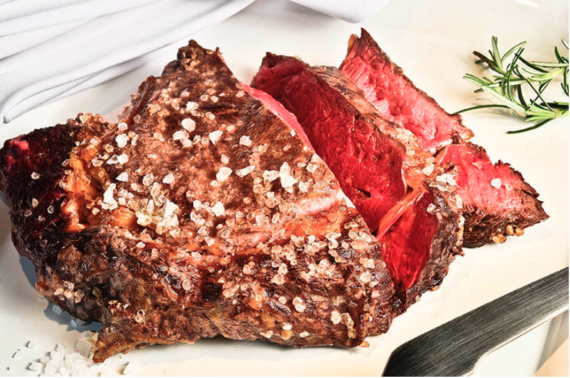 1pm – Churrasco
Prepare for epicurean gluttony as you enter Churrascaria Palace, or any other Churrascaria (we like Churrascaria Palace in particular for being a family-run neighborhood staple, as well as its nightly live Bossa Nova). Plan on eating meat, endlessly, for hours, on continual rotation until you cannot take another bite. Sure, there is an ample salad and dessert bar (at which vegetarians can get their fill as well) but you did not come here for that, did you?
3pm – Beach
Repeat beach experience to aid digestion. Perhaps this time at a little-known pleasant stretch of sand called Praia Vermelha at the base of Sugarloaf Mountain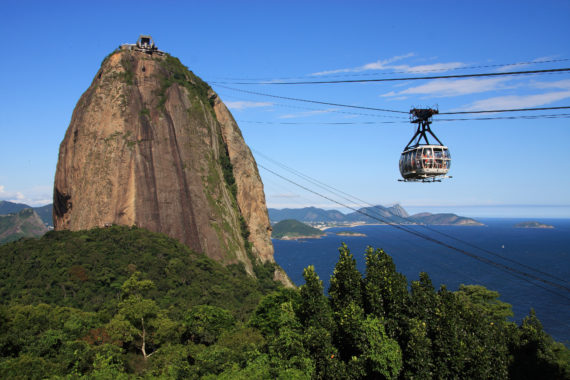 5pm – Sugarloaf
Sugarloaf Mountain (Pão de Açucar) is most rewarding at sunset. Although it is a busy attraction, the cable cars run frequently and the ride is quick, so the wait is fairly minimal. Bring your camera and a jacket for the wind. This is a great way to spend your last few hours in Rio because it provides not just a great panoramic view of the city to the west and the ocean to the east, but also an opportunity to reflect on all the places you have visited as you recognize them from a bird's eye perspective.
Warning: By following the intense but fool-proof itinerary outlined here, you may just leave here feeling like a local, and well, you might just never make that flight back home. Trust me, I'm speaking from personal experience.
Amber D. Nelson is an architect, a Rio docent, and our South America Destination Manager based here after visiting Rio de Janeiro, falling in love with the city and never looking back.
Comments