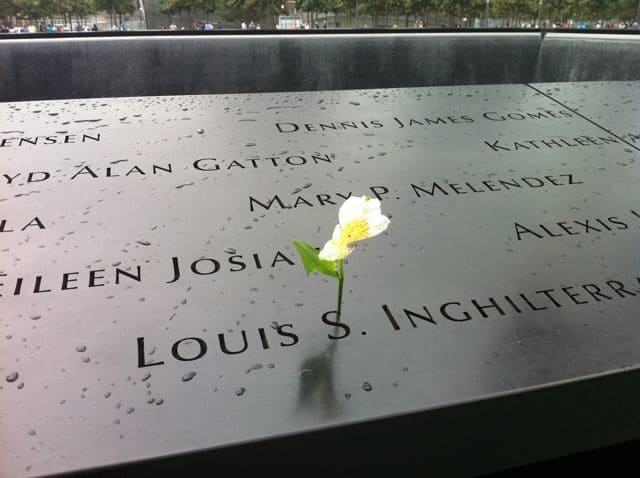 Although construction proceeds apace on the skycrapers that will fill the void on the tip of Manhattan, the 9/11 Memorial opened this week in the wake of the 10-year anniversary. Because the site is still under construction, visitation is tightly controlled and limited to those who pre-book on the Memorial website. As of today, the earliest tickets available are for November 14. 
We managed to visit the site today as part of an event sponsored by Inc. Magazine for local businesses on the Inc 5000 list, and therefore got a sneak preview of what the site will look like when it's finished. Currently, the two main memorial spaces are complete—these are the square fountains that mark the footprints of the World Trade Towers. Each fountain is ringed by bronze etched with the names of all the victims of 9/11, not just in New York City but also in Washington, DC and rural Pennsylvania.
The fountains, designed by architect Michael Arad, are set into a landscape designed by landscape architect Peter Walker, a minimalist space composed by ribbons of cobblestone set with a grove of white oaks. The cobbles were all donated by businesses and individuals, including Context. But, in a very tasteful gesture the sponsorship is kept virtual—you have to go online or use the 9/11 Memorial app in order to see which stone was donated by whom, and in whose name. (Our's is located near tree Q105 and honors Joshua Piver, who worked in the towers.)
Once you secure your visit reservation you must redeem it at Albany and Greenwich Street, and then navigate a series of construction corridors with the sound of major skyscraper construction happening all around you. Daniel Liebskind's World Trade 1 tower is about halfway finished, with major tenants like Conde Nast signing up for as much as 1 million square feet of office space. Despite the cacophony, once we reached the interior of the space, a sense of peace pervaded. There's an openness to the site that is unexpected and atypical for this part of the city. Even today you can get a very real sense of how this site has been reclaimed for the better.
There is no cost to visit the memorial.
Comments