Make no mistake: we love Madrid and the many things to do in Madrid itself, but we also love how it is so well-connected to many other fascinating places around Spain. It's super easy to hop on a train to visit other nearby cities and one of our favorites is to the majestic City of Three Cultures, Toledo. As such, We've put together a guide for visiting Toledo from Madrid by train and give you the lowdown on our favorite things to do in Toledo.
Catching the Madrid to Toledo Train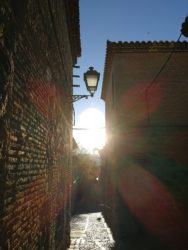 Madrid to Toledo by train really could not be easier: the RENFE Avant service from Atocha station takes just over half an hour and usually costs around 10 euros each way. Trains depart hourly at 20 or 50 past the hour. We recommend booking online in advance so you don't have to wait in line at the station and can select your seats ahead of time. If you sign up for our Madrid to Toledo tour, we can take care of this for you.