Ah, our favorite dilemma. What to eat in Naples? Obviously pizza comes immediately to mind, and there are no shortages of pizzerias. But, when we're wandering the streets after a day of leading walking tours in Naples, our taste buds tend to wander to Neapolitan street food—and the more offbeat the better.
Herewith, five suggestions for letting your stomach lead you in Naples.
Taralli 'nzogna e pepe (Lard and Pepper Taralli, flavored with ground almonds)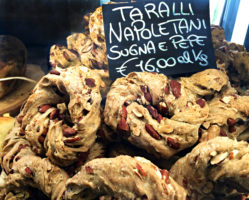 This is a timeless and traditional street food in Naples, and one of the first things we think of when we ponder what to eat in Naples. Locals usually accompany the taralli 'nzogna e pepe with cold beer sitting on the rocks of the seafront promenade. Until the 80's taralli merchants, specifically called tarallari, used to sell them in the streets, in oiser baskets covered by a wool cloth to keep them warm and crispy. Today, Leopoldo Infante bakeries sell the best taralli. 
What to Eat in Naples at the Holidays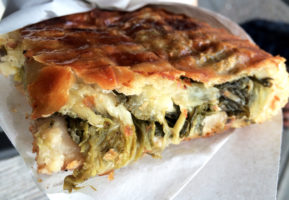 Pizza di Scarola or escarole pie is an ancient dish this is traditional on Christmas Eve for Neapolitan families. We love it on the go. What to expect? A savory double crust stuffed pie filled with anchovies and escarole gives a distinct sweet and sour flavor. Neapolitans love it and make sure to pass on the family recipe to younger generations. All pizzerias make it. Check out the many available in Via dei Tribunali, especially pizzeria Sorbillo.
Frittata di maccheroni (pasta omelette)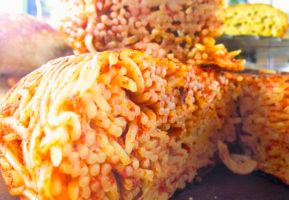 Although its name may make us erroneously think of macaroni pasta, this special and definitely nutritious thick omelette is actually made with spaghetti or the day-before pasta leftovers. A great example of food recycling, and a delicious meal to eat with your hands. Neapolitans often eat pasta for lunch and dinner, therefore what is left gets turned into an omelette with eggs, mozzarella and tomato sauce. In fact, food in Naples never goes to waste. Thick slices of frittata in their street food formula are packed for a nutritious meal day trips to the countryside, or to the beach… of course. So, here we go and pack our own slice… or two! We reccomend stopping at La figlia del Presidente.
Sartù di Riso (Rice Timbale)
An emblematic dish of Neapolitan cuisine created during the Kingdom of the Two Sicilies, when the French Bourbons ruled Naples. Local nobility treated themselves with French inspired gastronomy and their cooks, known as monzù (an italianization of the word monsieur), would go out of their way to please their masters. Hence, they came up with the sartù using local ingredients. Sartù comes from French sur tout, meaning "above all" as rice covers the filling. It is a rice timbale with rich tomato sauce (locally known as ragù) and an array of other ingredients, such as peas, meat, eggs. It requires a lengthy preparation, we tried it ourself getting busy in the kitchen for over 5 hours, so plan ahead and cancel any other activities from your agenda.
Fiocco di Neve Brioche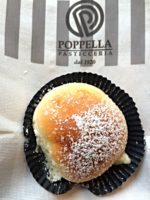 The last stop of our food in Naples journey is dedicated to our sweet tooth. The fiocco di neve (snowflake) is a puffy brioche filled with to-die-for creamy filling, made with ricotta cheese and buffalo milk cream. This unique delicacy is currently the rage amongst Neapolitans. Pasticceria Poppella, tucked in the Sanità neighborhood, owns its recipe secret, but eagerly shares the story behind this brioche. We are told it traces back to World War II. Back then, inhabitants of Sanità found protection from bombardments in the air-raid shelter Catacombs of San Gaudioso. There, two young lovers, Vittorio and Clara, a soldier and a neapolitan woman promised to meet again if a snow flake would fall. Against the odds, it snowed that night and the two lovers met again when the raid was over. The fiocco di neve is now a staple food in Naples and Poppella paid homage to such a romantic story.
For more insight on food in Naples try our Naples Food Tour, which includes a pizza making class.
Comments