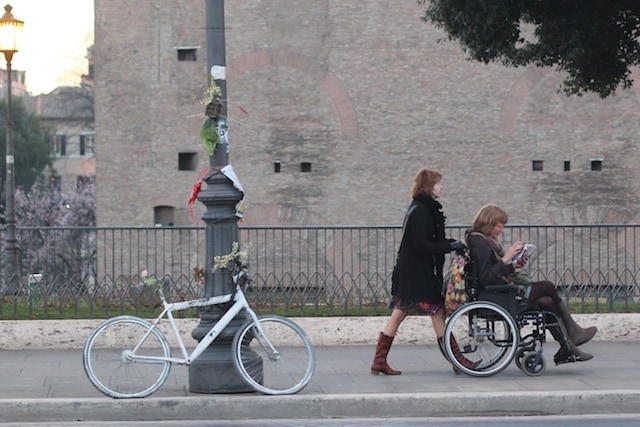 Context Travel is sensitive to the obstacles facing travelers with mobility limitations. Most of the cities we visit are very old, harking back centuries or even millennia, meaning one must grapple with layouts that can date back to Roman or Medieval times and are often dotted with potholes, cobblestones and various other pitfalls.  Museums, churches, monuments and archaeological sites vary greatly in their degree of access, ranging from fully accessible to completely inaccessible. People who use wheelchairs, scooters, walkers, canes and crutches are likely to face a myriad of difficulties – ranging from uneven sidewalk surfaces, steep terrain and lack of curb ramps, to parked cars and motorcycles blocking the way, to tiny or malfunctioning museum elevators and inaccessible restrooms. Thus, we've put together this helpful guide on where to rent a wheelchair in Italy.
Despite these obstacles, Context has been able to accommodate travelers with a variety of mobility disabilities, including electric wheelchair users, through a range of services via our mobility program. Our staff is equipped to provide pre-booking assistance and guidance to visitors with mobility concerns, in order to plan personalized walks that fit their individual mobility limitations.
The Italian cities in which we operate face their own unique challenges, from the bridges in Venice to the cobbled streets to Rome. While some museums do provide foldable wheelchairs, their quality and availability can be variable and limited to that particular site.  The following is a list of pharmacies and medical supply stores that provide wheel chair rentals. Please note that most rentals have a minimum of at least 15 days and include a returnable deposit. While we have put together this curated list of where to rent a wheelchair in Italy, we cannot provide detailed pricing information, as that is subject to change, as is availability. We strongly encourage you to reach out to these vendors directly for any questions of concerns in regards to wheelchair rental.
Rome

SANCO
Piazza A. Meucci, 6 – (+39) 06.5594526
euro 2.50 a day minimum 15 days
foldable wheelchair (different measures depending on weight)

ORTHOMED
Via Lampedusa, 6 – (+39) 06.8181838
minimum 15 days : foldable wheelchair
Can be returned earlier

M.A.S. SpA
viale Regina Margherita, 158 – (+39) 06.8552834
deposit needed
foldable wheelchair

Florence
GUALTIERI CENTER ORTOPEDIA
Via Alderotti , 67 – (+39) 055.4360386
ORTOPEDIA PAOLETTI
Via Scipione Ammirato, 29R – (+39) 055.677007
PERMOBIL DISTRIBUTION
Via Tartini, 5D – (+39) 055.360562
Venice
Sanitaria ai Miracoli
Cannaregio 6049 – (+39) 041.5203513
Sanitrans
Cannaregio 1091/a  – (+39) 041.5239977
Naples
Ortopedia Petta
Via Calata di Capodichino 181 – (+39) 081.7510412
Comments