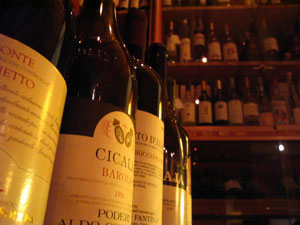 As winter approaches and I start living in last year's favorite sweater, I find myself pulling out my best cold weather recipes as well. Growing up in California, where seasons are much less marked, it is not unlikely to eat gelato in the winter or soup in the summer. In Italy, however, life is very much dictated by the change in weather. Italians have a day when they perform the cambio di stagione, packing away their summer clothes and replacing them with their sweaters and coats. So too Italian chefs honor the change in season by modifying their recipes. This of course is good news; the food is always fresh and seasonal. But when Italian restaurants start turning their ovens back on for those wonderful winter recipes, what wines to pair with all this comfort food? Firstly, think red. Hearty winter fare, not to mention cold nights, seems to defy a well-chilled white. Secondly, the most important thing to remember is to pair heavy with heavy and light with light. You don't want your food to overwhelm the wine, and you want the wine to complement instead of clash.
If you're starting with a classic plate of salumi, sliced cured meats, a simple Chianti from the Colli Senesi is a wonderful choice. The tannin and acidity match perfectly with the fat of the meat. Alternatively, the poor, maligned Lambrusco can be a great accompaniment with its fizziness and fruity softness. A classic regional pairing is Lambrusco and cotechino, cured pork. Here in Italy Lambrusco is usually dry, the sweeter versions, are mainly used for export to the U.S. and Germany and ignored by the local market. The ubiquitous bruschetta is a nice pairing with a young Rosso Piceno from the Marche, which blends montepulciano and sangiovese grapes. If you move on to a hearty soup, you can't go wrong with a red with substantial fruit, especially if there are legumes involved. Pasta e fagioli or pasta e ceci (soup with pasta and beans and soup with chickpeas, respectively) are wonderful with a Cerasuolo di Vittoria from Sicily or a Velletri Rossi from the hills near Rome.
Moving on to more substantial dishes it becomes important to remember several rules. While secondi call for the biggest and the best wines, pasta and rice (primi) dilute the sauce, and therefore require a little more delicacy in their wines. So if you reserve your Brunello di Montalcino for your bistecca fiorentina, use the same Chianti Classico you had with your appetizer for your pasta dish. For pasta stuffed with meat (tortelloni, etc.) look for a wine that has less tannin and more fruit, a Bonarda from the Oltrepo Pavese or a Pinot Nero from Trentino, for example. Lasagne and other pastas from the oven with meat and tomato sauces pair beautifully with wines that have some tannin, great acidity, and bright fruit. Barbera d'Alba or a Bardolino from the Veneto comes to mind. Vegetarians don't despair, not only meat lovers can enjoy their primi with red wine. Pastas with strong cheeses like gorgonzola or creamy dishes with truffle are made for a Nebbiolo delle Langhe from Piedmont. Made from the same grape that goes into the "king and queen of wines," Barolo and Barbaresco, a simple Nebbiolo can be a great economic alternative.
For secondi, it's time to move up a notch in structure and complexity. With chicken it's wise to choose a lighter red, for example a Merlot from Friuli. If it's chicken cacciatora or chicken cooked with flavorful sauces, you can choose a young red with a little more weight, such as a Dolcetto d'Alba or a Schiava from Trentino. Roman pork dishes pair well with the local reds Cesanese del Piglio and Cerveteri Rosso, while Roman offal dishes require young, soft rich reds like Teroldego Rotaliano or Lagrien Dunkel. Prime cuts of meat, prepared with the utmost care, present the moment to bring out the finest bottles. Wines that manage to combine elegance and power, with amazing complexity are perfect in this situation. Barbaresco and Barolo from Piedmont, Pinot Nero from Trentino, Brunello di Montalcino, Super Tuscans, and Aglianico del Vulture from Basilicata are all excellent choices. They would also be wonderful should you opt for a cheese course.
Finally, if you can manage one more dish, Italy offers some wonderful dessert wines to end your meal in style. The most famous is perhaps Vin Santo from Tuscany. Its structure and relative dryness make it a perfect match with hard cookies in the classic Tuscan dessert Vin Santo and cantuccini. Delicate dishes with cream like millefoglie require equal delicacy in the wine, a Moscato d'Asti is a wonderful choice. If you have fresh fruit, especially strawberries, the fizzy red Brachetto d'Aqui with its intense fruit flavor is a natural. Chocolate creates difficulty for most wines, but a Recioto della Valpolicella, Italy's answer to Port, rises to the occasion. The only cause for disappointment is Tiramisu. The coffee involved would clash with the wine, so pair it with espresso or a glass of water! If you really don't want the night to end, finish things off with a glass of grappa. Italians say it will help you digest all that food you've just indulged in. Remember that these are just guidelines; there are endless possibilities for pairing wine and food, and the only way to discover what you like is to experiment. But, especially in Italy, what an enjoyable exercise!
Buon appetito!
–Heather Hanson
Comments